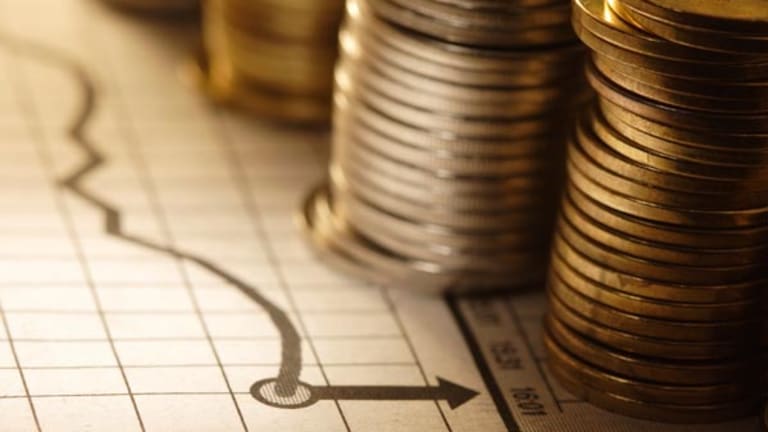 Wait for Favored Fertilizer Stock to Cool
CF Industries is hot, having doubled in a year, but risks are ramping up.
BOSTON (TheStreet) -- Higher agriculture prices, stemming from what some fund managers, including Jim Rogers, are calling a commodities super-cycle, are boosting fertilizer stocks.
Potash
(POT)
,
Agrium
(AGU)
and
Monsanto
(MON)
have taken their place next to tech darlings, including
Apple
(AAPL) - Get Apple Inc. (AAPL) Report
and
Priceline.com
(PCLN)
as hot plays for investors. In the past, only sector fund managers and sophisticated farmers cared about such equity investments.
Stephen Wilson, CEO of CF Industries
As emerging economies are gaining wealth, their burgeoning middle classes are consuming more meat, and this puts pressure on farmers to produce a greater quantity of grain for feed. Currently, one fertilizer stock stands out, as both a buy- and a sell-side favorite.
CF Industries
(CF) - Get CF Industries Holdings, Inc. Report
receives "buy" or "overweight" recommendations from 68% of researchers in coverage. More telling, 17, or 85%, of the company's 20 largest shareholders amplified their stakes during the first quarter. Among the smart money buying shares is David Tepper's hedge fund,
Appaloosa Management
. Tepper added another 283,493 shares of CF Industries during the last quarter, bringing his bet to 1.3% of the float, now ranking as the 12th-largest investor in the company. That was a prescient bet, as CF's quarterly report demonstrated solid growth.
First-quarter sales and adjusted profit more than doubled to just under $1.2 billion and $3.91 a share, respectively, as the
Terra
acquisition, completed last April, bolstered expansion. CF beat analysts' consensus earnings projection by 27%, but missed their sales target by 2.1%.
CF is the second-largest nitrogen fertilizer producer in the world and the third-biggest phosphate fertilizer producer. Natural gas, a key input cost, has remained low as selling prices climbed amid demand recovery. CF's quarterly gross margin widened from 31% to 53% and its operating margin rose from 22% to 42%, ranking in the 99th industry percentile.
Among the optimists on CF is
Credit Suisse
, which ranks its stock "outperform" and has a $168 target on the stock, suggesting 16% upside. CF's stock has appreciated 113% in the past 12 months and 7% in 2011. Shares popped nearly 4% yesterday on an upgrade at
JPMorgan
. Credit Suisse's first-quarter estimates were trounced by CF, leading to an affirmation of confidence in the company's pricing power. Unfavorable weather conditions in the Corn Belt present a second-quarter headwind. But, strong demand should prevail.
Interestingly, CF's sales volume, measured in millions of tons sold, missed expectations. Volume hit 2.84 million during the first quarter, below Credit Suisse's 2.95 million projection. The average selling price, at $326 per ton, beat the bank's $321 estimate as did the selling prices and gross profit for each of CF's units, ranging from ammonia to phosphate. Upon further analysis of results, Credit Suisse boosted its earnings estimates for CF, but left its price target unchanged. The bank expects $17.80 of 2011 per-share earnings, up from $16.62.
Its previous forecast was already above consensus, which is currently $15.80, due to "a lower tax rate, and higher UAN, or urea ammonium nitrate, prices and volumes," which will be "partially offset by lower ammonia and phosphate levels." The downside to CF, which was previously stressed by suddenly optimistic researcher JPMorgan is that 2011 will mark peak profits for the fertilizer company. Analysts forecast, on average, a decline to $14.04 of profit in 2012, whereas Credit Suisse expects a drop to $15.66.
In 2013, Credit Suisse expects a more substantial year-over-year profit drop of 19% to $12.75. While price appreciation may suggest that this presents risk to the stock price, valuation does not. CF trades at a forward earnings multiple of less than 11, a book value multiple of 2.3 and a cash flow multiple of 5.6, respective discounts of 32%, 63% and 70% to peer averages. So, one could argue that investors are already pricing in a drop-off in earnings and that, on a longer-term basis, CF is exceptionally cheap.
The stock's PEG ratio, calculated by dividing its trailing earnings multiple by analysts' terminal earnings growth forecast, at 0.1, indicates a 90% discount to estimated fair value. The aforementioned trends, mainly the growth of meat consumption in emerging markets, will provide a tailwind to CF's business as will declining yields across the globe as farmers strive to maximize the efficiency of their land by supplementing with fertilizers. Investors may sell CF in late 2011 as the earnings outlook worsens, presenting a rare opportunity to steady buy-and-hold investors.
Competitors Potash, Agrium and Monsanto may suffer comparable setbacks.
JPMorgan
previously recommended that clients avoid agricultural stocks and, specifically, CF, as "agricultural companies have probably attained an earnings peak from which they are descending, and the petrochemical companies are on their way to a peak." JPMorgan, in a note yesterday, said CF Industries still has healthy cash flow. It lifted its price target to $170.
Going further, as QE2 ends and Federal Reserve policy normalization commences, risk assets may be sold. JPMorgan noted in early May that "agricultural companies are also risk assets and the market's perception of economic risk can negatively affect their valuation. Accordingly, we await a more appropriate entry point." It caved and upgraded CF yesterday, but its caution is still relevant to individual investors.
Given near-term risks to CF's business and the possibility that higher-beta stocks continue to underperform, as they've been doing over the past few weeks, it may be best to wait for this high-flying, but still cheap, stock to get even cheaper. The long-term story makes CF a compelling "buy," but it may be prudent to wait until QE2's looming conclusion.
-- Written by Jake Lynch in Boston.
Readers Also Like:
Bull Market in Stocks Draws to a Close
The 10 Cheapest Financial Stocks
Disclosure: TheStreet's editorial policy prohibits staff editors, reporters and analysts from holding positions in any individual stocks.