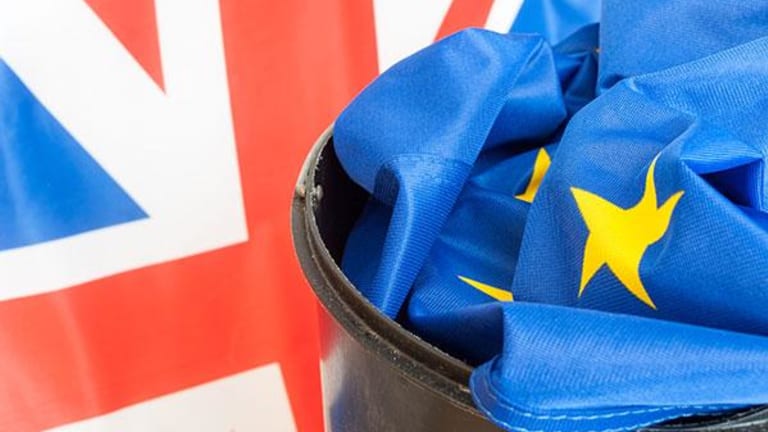 Wait Before Bottom-Fishing 'Brexit'-Damaged Stocks
Here are some British stocks to consider. But don't buy now, wait for them to come lower.
Rule Britannia!
The Leave vote is a victory for sovereignty and self-rule. It is also a total repudiation specifically of open borders, and more generally a rejection of the very concept of a European socialist superstate, which is so clearly failing in action.
OK, I'm done with politics. Better talk about stocks. I lived in the United Kingdom for five years, working for UBS (UBS) - Get Report , a stalwart in the City of London. Let me tell you, "Brexit" is every City banker's worst nightmare.
HSBC (HSBC) - Get Report is the second-largest component of the FTSE All-share Index. I warned you two weeks ago in my column that HSBC had immense downside. I hope you listened. It will be very ugly for HSBC on Friday.
Other financials in the FTSE Top 100 are Barclays (BCS) - Get Report at No. 18, RBS (RBS) - Get Report at No. 19 and Standard Chartered (SCBFF) at No. 25.
So that's four big banks in the top 25 of the "footsie." Yikes. It's stating the obvious to say that Friday is going to be a horrible one for those four stocks, but it may be less obvious to say "don't bottom fish."
Remember that under Article 50 of the Treaty on European Union, a member state's decision to initiate the process of leaving the European Union begins a two-year exit process.
Do you think that in that two-year period there will be confusion, head fakes, and general apprehension surrounding the impact of Brexit on the financial sector?
I do.
Therefore I don't think Friday is the bottom for U.K. financials. You will be able to get them more cheaply. I also believe this applies to Deutsche Bank (DB) - Get Report , a target of scorn in multiple Real Money columns, and other financials in continental Europe. Those stocks are going to get hammered, too, but let's not call a bottom after one bad day. There will be worse days to come.
If you do want to fish the bottom, I would look at stocks that will benefit from a lower pound. Sterling has breached 1985 lows as I am writing this. While the Bank of England will likely intervene, they won't just be going up against George Soros this time around (and they lost to him 31 years ago, anyway).
I was just reading a Daily Telegraph article from July 27, 2014, when the pound was trading at $1.70 to the dollar. This article mentioned three British exporters that were facing massive problems from a strong pound. Fast-forward two years, and sterling is not as strong. So I think these stocks could be good Brexit-bottom plays as the pound moves into a massive headwind.
The stocks are (with U.S. ticker and FTSE rank):
BAE Systems (BAESY) , No. 29
Diageo (DEO) - Get Report , No. 11
Rolls-Royce Holdings (RYCEY) , No. 37)
They are all blue-chips, with strong brands. I especially enjoy drinks maker Diageo's products! The prospect of fire-sale valuations looms thanks to Brexit.
I have my asset-management clients almost exclusively in fixed-income securities now. I don't think I'll be buying stocks on Friday. I'll start doing the work on BAE, Rolls and Diageo, though, to be ready for that point when the market has digested its "Britain First" meal of steak and kidney pie.
Again, I don't think that will happen in Friday trading. But I will be nosing around for British bargains as the summer progresses.
Editor's Note: This article was originally published at 3:54 a.m. EDT on Real Money on June 24.
At the time of publication, Jim Collins had no positions in the stocks mentioned.