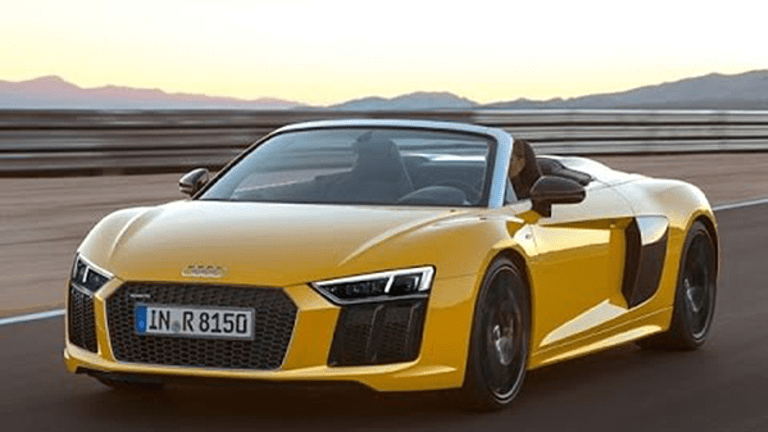 VW Slides as Audi Recalls Vehicles and More Scandal Brews in German Car Industry
Fresh scandal is brewing in the German car industry
Volkswagen AG  (VLKAY)  slid Friday, July 21, after its Audi unit said it would recall hundreds of thousands of vehicles to fix engine software in a bid to reduce their emissions output amid a fresh scandal that is brewing in the German car industry. 
Around 850,000 cars carrying specific kinds of six-cylinder and eight-cylinder engines are affected by the recall initially, although the VW Group is also expected to recall Volkswagen and Porsche-branded cars.
The announcement came just a day after German rival Daimler AG  (DDAIF) , the maker of Mercedes-Benz cars, said that it would recall around 3 million cars in order to implement engine fixes due to their output of harmful levels of emissions. The Daimler measure is expected to cost around €220m ($250 million).
Volkswagen stock fell more than 2% during early trading in Frankfurt, changing hands at an intraday low of €140.10, amid broad based losses for the sector. Daimler was down close to 2%, at a session low of €62.93. BMW AG  (BMWYY) shares were down a similar amount during early trading, touching a session low of €81.89.
Friday's recall announcement came as Spiegel Online reported that the entire German auto industry is now under suspicion of having operated as a cartel since the 1990s.
The German daily cited information disclosed to the competition authorities and has alleged that the industry discussed technology, costs, suppliers and "the exhaust purification of its diesel vehicles in secret working circles". 
More than 200 employees of the industry are said to have been involved in what could become one of the biggest cartel cases in German corporate history. 
The paper will publish a full report into the investigation on Saturday, July 22. 
A report from Reuters also suggested on Friday that the German government has agreed on a "rescue plan" with the German car industry, which will be unveiled in August. 
More of What's Trending on TheStreet:
Quiz: Which Company Makes Your Favorite Junk Food?