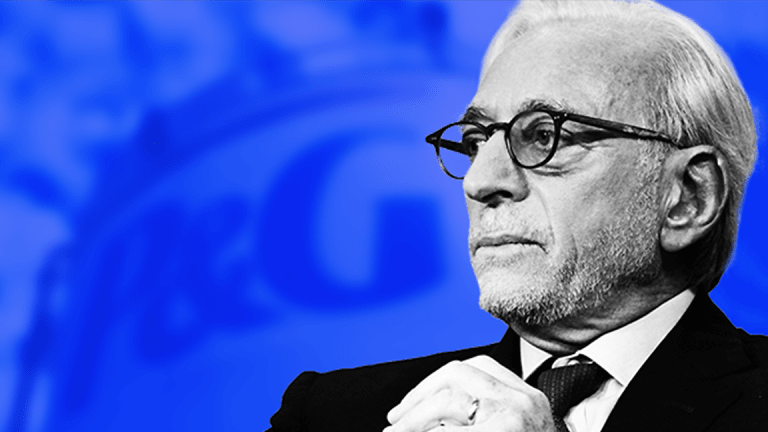 Nelson Peltz: Vote on Procter & Gamble Proxy War Is 'Too Close to Call'
At the center of the dispute was the activist investor's assertion that P&G suffers from 'suffocating bureaucracy' and should be restructured into three global business units rather than the four it has now.
Updated at 12:06 p.m.
Procter & Gamble Co.  (PG) CEO David Taylor on Tuesday said that shareholders had re-elected all incumbent directors in what appears to be a major blow to Nelson Peltz's effort to gain a board seat at the iconic U.S. packaged goods company. However, Peltz's activist fund quickly responded, saying the results are "too close to call."
"Based on preliminary results P&G shareholders have elected all 11 of the company's directors," Taylor said at the company's annual shareholder meeting. "On behalf of the P&G board of directors, I want to thank you for your support for our board and plan and input throughout the proxy contest and look forward to continuing this transformative journey."
Taylor, who did not disclose the details of the vote, said the board would continue to discuss the business with Peltz. However, Peltz's fund, Trian Partners, issued a statement from its proxy solicitors saying that the vote is "too close to call" and that it will take more time to determine the outcome. The fund said it will await certified election results by an independent inspector of elections.
Peltz spoke briefly near the beginning of P&G's meeting to note that his proxy solicitors have advised him that the contest was extremely close. Later on CNBC he said that the vote was "plus or minus" 1% and that P&G should install him on its board irregardless of the result. "Win or lose, the shareholders have spoken. Either way, today's vote is a vote for bold change. The board owes it to the shareholders to really study the issues of structure and the issues of culture," Peltz said. 
Both retail and institutional investors had been submitting their votes for over a week in what was the biggest boardroom battle in the history of director election contests.
P&G's share price dropped by almost 2% Tuesday morning before recovering a bit to trade at $90.85 a share. Peltz said the share price drop suggests to him that shareholders are unhappy. "That's what happens all the time. They want change. If they were happy the stock would go up," he said on CNBC. "I threatened the hallowed walls of that boardroom and how dare I do that." 
Need a rewind? Check out our timeline of Peltz's battle with P&G:
Even if Peltz will ultimately lose the battle, it is clear that he received the support of a large swath of both retail and institutional investors.  As a result, expect P&G to consider some of his proposals. At the center of the dispute was the activist investor's assertion that P&G suffers from "suffocating bureaucracy" and should be restructured into three global business units rather than the four it has now.
Taylor, sought to defend his turf, arguing that giving in to Peltz would be dangerous and result in a complete elimination of the company's Research & Development initiatives.
A massive restructuring into three businesses divisions rather than the four it has today, like what Peltz is seeking, is now extremely unlikely. However, smaller changes Peltz had sought, as a push to make more small acquisitions to bring in innovative brands or a re-evaluation of R&D spending, are things that the board could agree on in the wake of the election.
It might make sense to take a look at Peltz's near victory at DuPont Co. in 2015 for some guidance. Until Peltz's Procter & Gamble battle this year his effort to get board seats at DuPont represented the largest proxy fight to go to a vote at a U.S. corporation. Even though Peltz narrowly lost that fight, he threatened to return in 2016. In the months following his defeat, DuPont stock price dropped, and it subsequently replaced its CEO, Ellen Kullman. With Peltz hovering, DuPont began merger discussions with Dow Chemical, which was targeted by another activist, Dan Loeb. In the end, DuPont combined with Dow Chemical in a $150 billion merger to create DowDuPont, which will break up into three companies in the months to come.
The DuPont victory suggests that even with a loss, Peltz's campaign will likely have an impact on P&G's future especially if the company's share price and total shareholder returns are lackluster in the months and years to come.
Peltz, in his comments, suggested that P&G's culture has to be open to outsiders, people, ideas, and perspectives. "P&G has some really terrific people but we believe they are struggling under a suffocating bureaucracy," Peltz said.
Taylor shot back, asserting that the company is "hiring from the outside" to make sure it succeeds. He added that the business "has the right board" but that it also is vetting new board candidates. He reiterated several times that P&G is committed to a "transformative change" and that the company is focused on the communities where it does business. "We're committed to winning," he said.
Peltz, on CNBC, said he believed P&G's board needs changing, even though that wasn't part of the activist fund's overall plan. 
In the company's annual meeting shareholder question and answer period, several investors raised concerns with how the company handled the Peltz battle. One shareholder raised worries about how much P&G has spent on the proxy fight, with costs for the company ranging from $35 million to $100 million. One shareholder said he was concerned about a lack of innovation and another said he was disappointed by the share price.
Taylor defended the company's spending on the contest, noting that 2.5 million shareholders had to be advised. However, Peltz argued that the company spent roughly $50 million on mailings and other costs related to the battle. He added that P&G's four investment banks would likely say they are charging zero for their advisory work on the contest but that they will "make it up big" by being P&G adviser on the company's next financing or deal.
More of What's Trending on TheStreet: