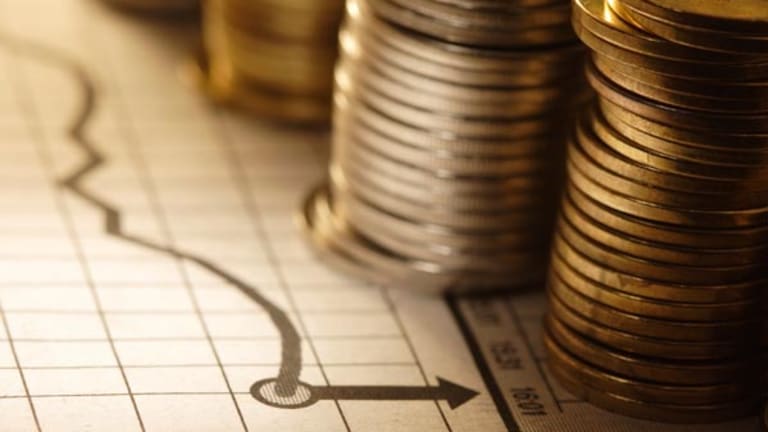 Vote Like Your Money Depends on It
Here's an update on funds that could gain from a win by either Obama or McCain.
Nine months ago, when I wrote
If McCain Wins, So Could These Funds
, Sen. John McCain was locking up the Republican Party nomination. Since then, the
Dow Jones Industrial Average
has lost 22% of its value while the Nasdaq 100 has tumbled 24.5%.
Two of my three McCain fund picks did worse than the market, with
Fidelity Select Defense and Aerospace
(FSDAX) - Get Fidelity Select Defense & Aerospace Report
off 31%, and
PowerShares Aerospace & Defense
(PPA) - Get Invesco Aerospace & Defense ETF Report
down 30.59%. A surprise victory by McCain could put stock holdings of
Honeywell
(HON) - Get Honeywell International Inc. Report
, minus 46.6%;
Lockheed Martin
(LMT) - Get Lockheed Martin Corporation Report
, down 18.7%;
Boeing
(BA) - Get The Boeing Company Report
, a decline of 33.2%; and
General Dynamics
(GD) - Get General Dynamics Corporation Report
, a drop of 26.7%, back in favor.
The one McCain pick to outperform the market, falling just 1.81% since early February, was the
SPDR S&P Biotech ETF
(XBI) - Get SPDR Biotech ETF Report
. Back on Feb. 8, McCain had yet to select a running mate. Former Pennsylvania Gov. Tom Ridge recently explained that McCain could be winning Pennsylvania if McCain had selected him.
Instead, McCain, needing to energize the Republican base, selected Alaska Gov. Sarah Palin. While this has excited right-wing social-values voters, a Vice President Palin might do the "mavericky" thing and work to defeat the support of cutting edge, scientific companies. So, in a McCain victory, SPDR S&P Biotech is now off the list, but the defense funds remain.
Also since February, when I selected
Funds That Could Profit From Clinton, Obama in Office
, the bullish picks for Sen. Barack Obama of
PowerShares Wilderhill Clean Energy Portfolio
(PBW) - Get Invesco WilderHill Clean Energy ETF Report
fizzled 54.5% and
PowerShares Dynamic Building & Construction
(PKB) - Get Invesco Dynamic Building & Construction ETF Report
crumbled 36.7%.
Likewise, my bearish picks of
iShares Dow Jones U.S. Insurance Index Fund
(IAK) - Get iShares U.S. Insurance ETF Report
crashed 47.4% and
SPDR Pharmaceuticals ETF
(XPH) - Get SPDR Pharmaceuticals ETF Report
shrank 14.5%. While the bullish picks have been trashed so far, they are well-positioned to catch a rebound in the first half of 2009 if Obama gets sworn in on Jan. 20.
In my June update of
McCain vs. Obama: Which Funds Stand to Win
, the
Claymore/Clear Global Exchanges Brokers & Asset Managers Index ETF
(EXB)
was added as a fund to watch after the election if a President McCain succeeded in funneling Social Security assets into personal accounts. Since early June, that fund has been pummeled 43.6% in the financial credit crisis. A bailout recapitalization and private accounts could help the surviving firms' return to profitability.
Plus, the additional Obama pick
Vanguard Emerging Markets ETF
(VWO) - Get Vanguard FTSE Emerging Markets ETF Report
has lost half its value over the same period as smaller economies have been disproportionally hurt by economic destruction. Increased foreign aid was cited by Obama as an area of planned spending that might have to be cut back to fund higher-priority domestic projects. So, the Vanguard Emerging Markets ETF is off the list until the U.S. economy recovers enough to fund lower-priority budget items.
Be sure to vote like your financial interest depends on it, because it does.
For more information on TheStreet.com Ratings, check out an explanation of our ratings.And for more coverage from TheStreet.com Ratings team, check out TheStreet.com Ratings section.
Kevin Baker became the senior financial analyst for TSC Ratings upon the August 2006 acquisition of Weiss Ratings by TheStreet.com, covering mutual funds. He joined the Weiss Group in 1997 as a banking and brokerage analyst. In 1999, he created the Weiss Group's first ratings to gauge the level of risk in U.S. equities. Baker received a B.S. degree in management from Rensselaer Polytechnic Institute and an M.B.A. with a finance specialization from Nova Southeastern University.