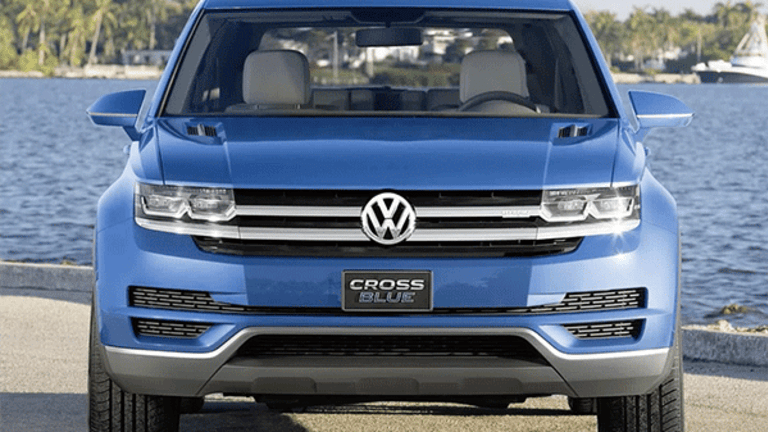 Publish date:
Volkswagen Shows Off Atlas SUV as It Takes Long Road Back From Dieselgate Woes
More shoes to fall in diesel investigation. SUV will compete against Ford Explorer and Honda Pilot.
More shoes to fall in diesel investigation. SUV will compete against Ford Explorer and Honda Pilot.
Volkswagen (VLKAY) displayed its new "family-sized" Atlas SUV designed specifically for U.S. buyers on Thursday evening in Santa Monica, Calif. - a small step in what promises to be a long journey back from VW's dieselgate troubles.
VW said the vehicle will be priced "competitively" and will go on sale in the second quarter of 2017 as a 2018 model.
The seven-seat, three-row SUV will be built in VW's Chattanooga assembly plant on the same assembly line as its Passat midsize family sedan, two models that constitute the heart of VW's U.S. model lineup. Atlas is meant to compete with Ford's Explorer, Honda's Pilot and similar size crossovers.
On Tuesday, a federal judge in San Francisco approved a nearly $15 billion settlement stemming from the revelation 13 months ago that VW had cheated on diesel-emission testing and its vehicles failed to comply with Environmental Protection Agency standards.
"This is the biggest and boldest Volkswagen we have ever built in the United States, delivering the distinctive design and craftsmanship we're known for, now with room for seven," said Hinrich Woebcken, CEO of Volkswagen's North America division. "The Atlas marks a brand new journey for Volkswagen to enter into the heart of the American market."
Woebcken, a former BMW executive, took over in North America earlier this year, part of a new cadre of top management installed as part of a corporate housecleaning that may not yet have run its course. VW officials in Santa Monica said they were eager to put the sordid chapter behind them but they await the conclusion of criminal investigations in Germany and in the U.S.
VW shares are down more than 50% from their 2015 peak, hit by the twin crises of a top management tussle for power, followed by the diesel-emissions scandal. Shares have recovered only slightly since the diesel problems emerged.
Apart from VW's corporate troubles, the automaker has chronically underperformed in the U.S. compared to its status elsewhere in the world as a top tier automaker. So far this year, VW occupies 3.2% of the U.S. market, including its Audi luxury brand -- behind such niche players as Subaru.
With the new Atlas, VW finally has chosen a name -- unlike Passat, Touareg and Scirocco -- that won't prove unmemorable or unpronounceable to American buyers. Followers of Twitter took note of this, tweeting allusions to Ayn Rand's 1957 libertarian novel "Atlas Shrugged."
Woebcken noted that Atlas is the latest VW SUV available to consumers who are flocking into the segment and away from sedans. VW also sells the Touareg, which is smaller though pricier, and Tiguan, smaller than Atlas or Touareg. He said VW is considering two more smaller SUVs for the U.S.
Doron Levin is the host of "In the Driver Seat," broadcast on SiriusXM Insight 121, Saturday at noon, encore Sunday at 9 a.m.
This article is commentary by an independent contributor. At the time of publication, the author held no positions in the stocks mentioned.