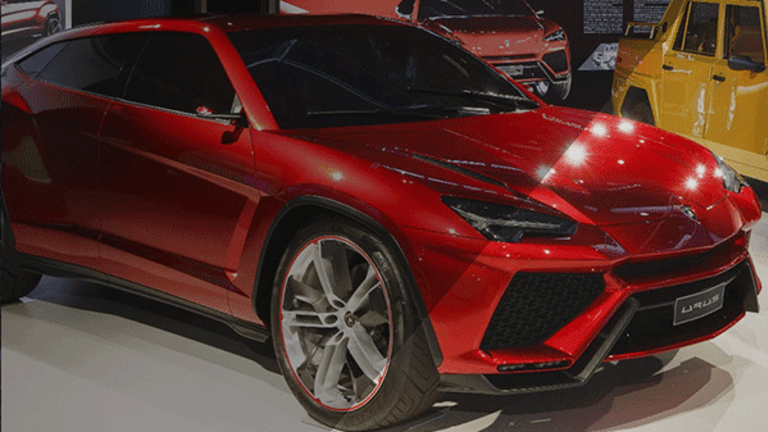 Volkswagen's Lamborghini SUV Could Double the Supercar Brand's Output After 2018
Urus drawn from concept shown in Beijing in 2012. CEO Stephano Domenicali showed the Centenario roadster on Saturday in Pebble Beach, California.
Another example of the rising global appetite for SUVs in all consumer categories will be Lamborghini's exotic Urus, now set to arrive in late 2017 or early 2018, according to the company's new chief executive.
The car, equipped with a V8 engine, likely will cost more than $200,000. In 2020, it will be powered with a plug-in gas-electric hybrid.
Stephano Domenicali, who assumed command of the Italian maker of exotic sports cars earlier this year, told Reuters in New York that the new model will roughly double output to 7,000 Lamborghini vehicles annually, implying annual production of 3,500 SUVs.
Lamborghini's Urus:
Volkswagen AG's (VLKAY) luxury brands have performed well and provided much needed profit at a moment when the company's mass market brand is under fire from dealers, regulators and shareholders. The German automaker has been engulfed in scandal since last September when the U.S. Environmental Protection Agency accused the company of deliberately faking diesel emission tests.
The automaker, operated through VW's Audi subsidiary, is expanding its factory in Sant'Agata Bolognese, Italy to handle the new model. Urus follows the example set by Porsche's Cayenne and, most recently, Bentley's Bentayga - two other high-end VW brands to offer such models.
Urus will be based on a concept shown at the 2012 Beijing Auto Show - and not on a later concept with a distinctly military bearing, code-named LM002 and dubbed "Rambo Lambo."
BMW AG, which owns Rolls-Royce, has said little about its own ultra-luxury SUV development project - beyond its expected 2018 arrival date.
Appearing on Saturday at the Pebble Beach Concours d'Elegance near Monterey, California, Domenicali unveiled the brand's Centenario roadster, which will sell for about 2 million euros. Lamborghini will build about 20 a year, he said.
A former Formula One team boss for Ferrari, Domenicali said Lamborghini will endeavor to sell 3,500 Urus SUVs annually. The company's current offering includes Aventador and Huracan two-seat exotics. But Lamborghini is reluctant to give up its 6.5-liter V12 engine, generating 690 horsepower, which is falling under increasing regulatory scrutiny as fuel efficiency and emission standards grow tighter.
Lamborghini's Aventador:
Lamborghini sold 3,245 cars in 2015, a record, including 1,000 in the U.S. The U.S. is the brand's largest market. Domenicali told Reuters the dealer network will grow to 160 worldwide from the current 132.
Doron Levin is the host of "In the Driver Seat," broadcast on SiriusXM Insight 121, Saturday at noon, encore Sunday at 9 a.m.
This article is commentary by an independent contributor. At the time of publication, the author held no positions in the stocks mentioned.