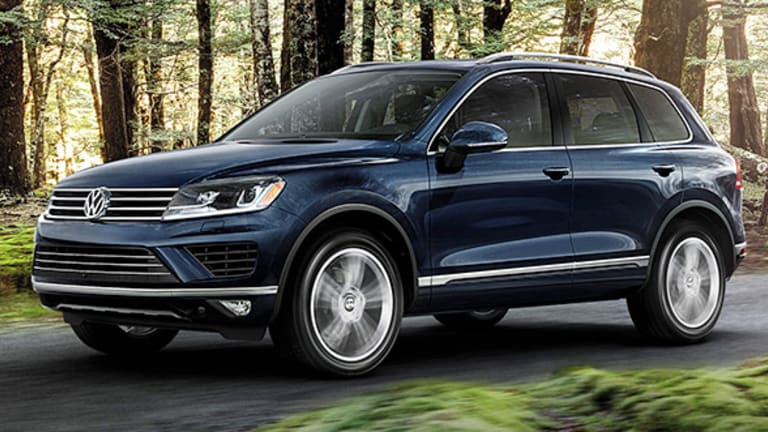 Volkswagen's Big Scandal -- Social Media Shows How Big a Blow Emissions Scandal Is
Since news of Volkswagen's diesel emissions scandal broke last week, the conversation surrounding the German automaker has gotten progressively worse.
NEW YORK (TheStreet) -- More than a quarter of social media conversations on Volkswagen (VLKAY) have centered on its diesel emissions trickery since news of the scandal broke last week, and the chatter has gotten progressively worse.
According to data from Networked Insights, an analytics software company based in Chicago, 83% of the emotionally-driven conversations currently mentioning Volkswagen on social media are negative. During the 10 days leading up to the initial emissions allegations from the EPA (September 7-17), just 20% were negative. Networked Insights analyzed posts across the entire social web, with a focus on Twitter (TWTR) - Get Twitter, Inc. Report .
The Internet has reacted with increasing severity as the story has developed.
On Sept. 18, the day the U.S. Environmental Protection Agency accused Volkswagen of installing "defeat device" software in 500,000 of its diesel vehicles to evade federal emissions guideline and trick regulators, the majority of social media chatter on Volkswagen remained positive, with about 39% taking a more pessimistic tone.
What people were talking about was centered on excitement and fear, with the social media community just starting to discuss allegations and nothing haven been proven. And about 12% of conversations were actually about how much people like Volkswagen and saying their cars had passed emissions tests.
When on Sept. 22 Volkswagen admitted that its emissions fraud involves up to 11 million vehicles and said it had set aside €6.5 billion to tackle the issue, those lingering positive sentiments all but disappeared. Ninety-three percent of emotionally-driven conversations expressed negative feelings, namely, stress and shame.
Some social media users also cracked jokes, like one person with the handle @fmarciuliano, who wrote, "All I know is Herbie would never have lied about his emissions test results. You let him down, #Volkswagen," referencing the 1968 film The Love Bug.
By the time Martin Winterkorn announced his resignation on Sept. 23, 95% of conversations on VW were negative, with the internet population using words like rocked, grapple and scandal to describe the situation.
"Social media may paint an extreme picture of emotions toward a specific topic, but that's not to downplay the reality these posts convey," said Rick Miller, vice president of customer insights at Networked Insights. "Social media's candid nature allows users to be honest, and as a result, express their opinions of brands. Knee-jerk or not, consumers are talking on social media, and while immediate responses to scandals such as the Volkswagen emissions allegations aren't the only factors to pay attention to when determining the health of the brand, these conversations are real and should be taken into account."
Volkswagen isn't the first automaker to be enveloped in scandal, and many organizations before have proven that there is life after crisis. The tone on social media can switch to positive just as fast as it goes to negative.
"Depending on the scale of a scandal, consumers often discuss the topic for a short while and then forget. We saw this with the FIFA scandal, along with other social-media blunders like Starbucks' (SBUX) - Get Starbucks Corporation Report #RaceTogether campaign," Miller said.
The 10 days before indictments were handed down to 14 former FIFA officials alleging corruption, 75% of social media conversations about the international soccer organization expressed positive sentiments. During the 10 days after the scandal broke, 96% of emotionally-driven chatter was negative. But by three months later, things were back to normal -- in fact, even better, with 82% of conversations about FIFA having an optimistic tone.
Toshiba (TOSBF) took a similar hit from an accounting scandal in which it overstated profits by $1.2 billion profits over a period of seven years -- the discovery of which ultimately resulted in the resignation of its CEO. Accounting irregularities were first disclosed in early April, but it wasn't until July that reports indicated company management was involved.
Negative emotions expressed on social media regarding Toshiba jumped to 52% of conversations from 24% of conversations before top officials' involvement was reported. Nearly a fifth of all social media discussions were about the scandal, and the vast majority of those expressed negative emotions.
Since then, sentiment on the Japanese technology company has improved, though it hasn't recovered entirely. About 41% of emotion-driven conversations about the brand on social media are negative.
"Just because an audience has moved on to a new topic doesn't mean they've forgotten. Brand damage can be insidious," said Jenn Connelly, CEO of New York-based communications agency JCPR. "When the hashtags flicker out and the press attention starts to slow, it's tempting to think you've survived. But companies have to start the hard work of rebuilding their brand damage and bolstering their reputation. Otherwise, any shortfall or bump in in the road can drum up all of the old, bad sentiment that first erupted on social media."
And for VW, there is a long road ahead.
"The company has an uphill battle in order to restore its brand reputation. Given the scale of Volkswagen's scandal and the inevitable loss of consumer trust, a rebound will require transparency, honesty and a lot of consumer forgiveness," Miller said.
"VW has to prepare to be under the microscope for the foreseeable future," Connelly said. "'Clean diesel' has been VW's calling card in the U.S. Now, not only do they have to repair their reputation -- they have to find something else to stand for and work hard to reconnect with their customers, old and new."
The company took a first step Friday by naming a new CEO, Matthias Müller.
This article is commentary by an independent contributor. At the time of publication, the author held no positions in the stocks mentioned.