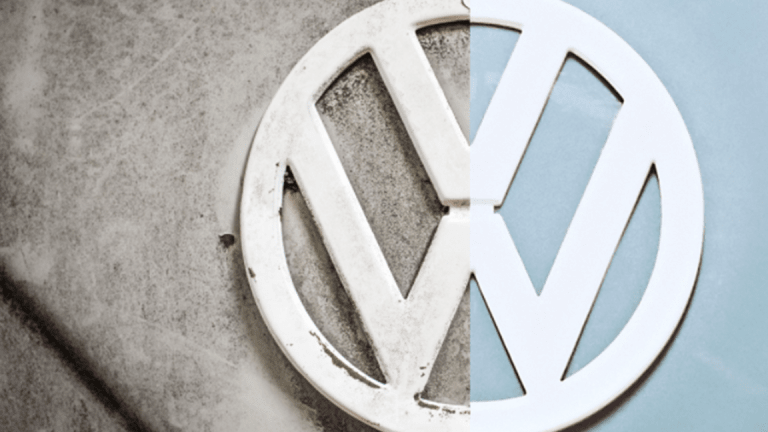 Volkswagen Is Looking to Take on Tesla in North America
Volkswagen is looking to bring its electric vehicle production to the U.S. -- taking on the country's largest electric vehicle producer Tesla.
Volkswagen is looking to bring its electric vehicle production to the U.S. -- taking on the country's largest electric vehicle producer Tesla.
Volkswagen (VLKAY) has been, and in some regards still is, in hot water over its emissions scandal that was uncovered in 2015. Since then, the automaker -- which is one of the world's largest -- has been taking steps to become more green.
Its latest move? Taking electric cars more seriously, and doing so in North America.
Many customers may not realize how many brands are under the Volkswagen umbrella. High-end autos like Bentley, Bugatti and Lamborghini all ride under the VW, as do Audi and Porsche. 
Many of those Volkswagen brands are moving electric as well. We spoke with Bentley CEO Mark Del Rosso at the Detroit Auto Show earlier this year. He explained that the trend in electrification would continue and that Bentley is seeing rising demand out of its customers.
As a result, Bentley led the charge among ultra-high-end vehicles -- no pun intended. The automaker was a trend leader with its Bentayga SUV as well. Now luxury automakers from Rolls Royce to Ferrari, Lamborghini and Aston Martin are making similar electrification and SUV plays.
Porsche and Audi are also on the electric bandwagon, bringing the Taycan and the e-Tron to market, respectively.
Volkswagen obviously has the size, scope and budget to commit to electric cars. Given that it's doing so already, the question now becomes just how much will it commit?
Apparently a lot.
This month, Volkswagen already announced it will pour $50 billion into its electrification efforts over the next five years. That's roughly the size of General Motors' (GM) - Get Report entire market cap.
Further, Volkswagen is searching for a new production plant in North America for its electric car production. "We are 100 percent deep in the process of 'We will need an electric car plant in North America,' and we're holding those conversations now," CEO Scott Keogh said at the LA Auto Show earlier this week.
This plant will accommodate production of Volkswagen's planned electric vehicle for 2020, although it's unclear if it could house production of other vehicles as well. The automaker also said it's looking to sell the vehicle in the $30,000 to $40,000 range, cheaper than its already-announced MEB Entry vehicle. It also makes it competitive to the price an intermediate-range Tesla (TSLA) - Get Report Model 3 and the yet-to-debut short-range Model 3.
However, with Tesla's clock now ticking on customers' ability to collect a federal tax credit, Volkswagen would have a leg up on the company in terms of pricing. The question is, will customers be swayed?
A $7,500 tax credit isn't as large when you're talking about a $100,000 electric vehicle. Or rather, when considering the type of customer who can afford a six-figure car. However, that tax credit becomes much more of a needle-mover when the car is $40,000 or less.
Arguably, there are three main considerations for an electric vehicle: Price, driving range and performance -- and not necessarily in that order.
So far, the specs from various electric cars, either on the market or coming to it soon, are similar or subpar compared to Tesla's current lineup. Even at a comparable price, Volkswagen may have trouble convincing electric-car shoppers to choose it over a Tesla if its performance and/or range are lagging. Further, Volkswagen still carries a hefty scarlet letter among those who take the environment seriously.
Elsewhere, Volkswagen is partnering with Tesco to deploy 2,500 free charging stations around the U.K. by 2020. The move follows other traditional energy and utility companies getting into the electric charging game, such as the recent capital raise by ChargePoint, which counts Chevron (CVX) - Get Report and American Electric Power (AEP) - Get Report as two of its investors, as well as several automakers.
As more automakers move toward electrification, the more competition Tesla will face. The question is whether this will squeeze them out or bring even more public awareness to them.
(Editor's Pick. Originally published Nov. 30.)
This article is commentary by an independent contributor. At the time of publication, the author had no positions in the stocks mentioned.