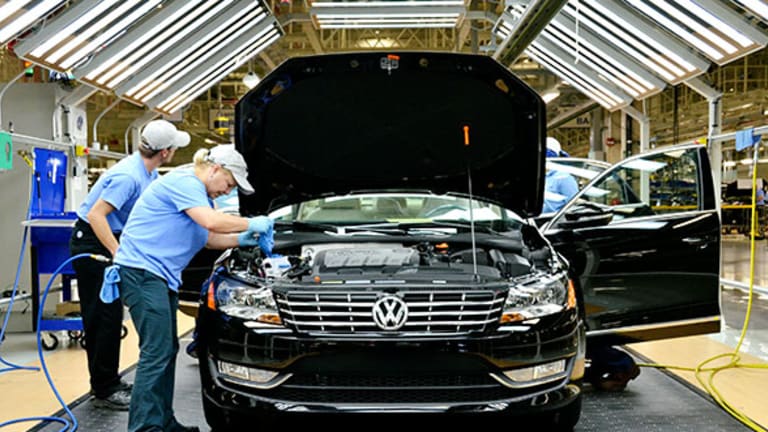 Volkswagen Dieselgate Has Some Investors Steering Clear
Dieselgate is a public-relations disaster of epic proportions. The questions are coming in a torrent and they're all the same: Should I buy Volkswagen shares on weakness?
NEW YORK (Real Money) -- The questions are coming in a torrent and they're all the same: Should I buy Volkswagen (VLKAY) shares on Dieselgate weakness?
I spent five years of my life -- first at DLJ, then UBS -- as the senior European automotive analyst. I trudged through every major airport in Europe -- and many of the minor ones -- trying to visit plants, meet senior management teams, drive the product (the fun part, admittedly) and learn this incredibly complex industry.
In that vein, more than a decade after I left the sell side, I am flattered that people still think of me as a Car Guy. It's a well-earned badge and it gives me some credibility to discuss a company that has (unfortunately for them) become the financial media's No. 1 global news story.
So, to answer the question, "Should I buy VW shares?" I have to first state my core investing philosophy: Only invest in companies that you understand.
In terms of VW -- and this is going to make me sound really arrogant -- you don't understand the company well enough to buy the stock.
Almost no one does, and, after so much time away, I'm not sure I do, either. VW's current mess -- I hate that I am calling it Dieselgate, but I am -- is a public-relations disaster of epic proportions.
VW's crime was to game a system that is made ridiculously easy to game by the EPA's organizational incompetence. The EPA's "current" emissions testing procedures were established in 1996, for goodness' sake. The targeted emissions levels are lower, but the tests themselves are the same. Did anybody really think a bunch of incredibly talented German automotive engineers -- given 20 years -- couldn't figure out a way to beat that system?
They beat the system, but in so doing they broke U.S. law. Volkswagen is now exposed to massive potential civil penalties and criminal charges for executives involved.
Simply put, Dieselgate looks bad. Really bad.

So, VW's brand will be damaged in the U.S. -- and possibly other geographies -- for years to come. The worst is far from over at VW from a PR standpoint, and I believe the 6.5 billion-euro provision it announced this morning will not be the last financial impact of Dieselgate.
But that's where the understanding comes in. Those who are calling this a "Lehman moment" for VW couldn't be more wrong. VW will persevere -- albeit under new management as CEO Martin Winterkorn's tenure has ended (Editor's note: This section updated on news.) -- and there will be a time to buy VW shares as a deep-value play.
I don't think that time will be this week, this month or even this year, but it will happen based on the following facts:
1) The U.S. is not a significant market for VW. For the first eight months of 2015, U.S. deliveries represented 6.2% of VW's global total.
2) VW's fortunes are tied to China and I don't believe that economy is disintegrating. Looking at those same eight-month deliveries figures, we see that China represented 34.5% of VW's global deliveries, and that VW's 2.26 million deliveries in China were only a few thousand units short of VW's total for all of Western Europe.
3) VW's shareholding structure lessens the damage from market volatility. After the company's uniquely German reverse merger with Porsche, VW's share ownership as of December 2014 was (ownership listed first, voting rights second):
Porsche SE: 31.5%; 50.7%
Qatar Holding: 15.4%; 17.0%
State of Lower Saxony: 12.4%; 20.0%
Others: 41.3%; 12.3%
4) VW has a very strong balance sheet. VW had 21.5 billion-euro of net liquidity in its automotive business at midyear and, if it were a stand-alone business, VW's financial services division would qualify as one of Germany's largest banks with 164 billion euros in assets.
5) VW derives profits from markets other than mass-market consumers. I believe Porsche will escape the negative publicity heaped on the core VW brand. Also, VW's truck division -- MAN and Scania -- serves a client base of commercial customers, not consumers, and generated 12.2% of the VW Group's revenue in the first half.
So, now you know a little more about the structure of the Volkswagen Group. That knowledge will be useful when the stock finds a bottom, but all the "bad facts" are going to have to hit the tape before that happens, and I don't think we're anywhere near that point today.
This article was originally published at 8 am, Sept. 23 on Real Money.
At the time of publication, Collins had no positions in the stocks mentioned.