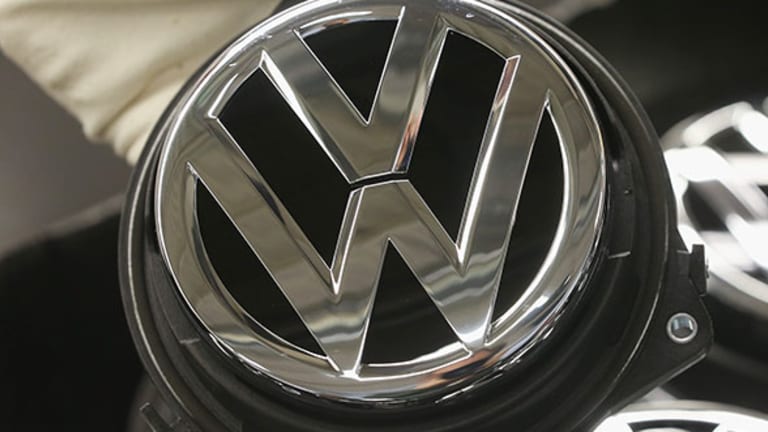 Volkswagen CEO Says Revamp Will Take Up to Three Years
Reforms are necessary regardless of the emissions scandal, Müller reportedly says.
Volkswagen (VLKAF) (VLKAY) (VLKPF) (VLKPY) CEO Matthias Muller said the German carmaker's efforts to turn around the troubled business will take two to three years to take effect.
Müller, who was appointed the chief executive officer in September 2015, told reporters his efforts to reform the Wolfsburg, Germany-based company, both on the technological and organizational front, will take up to three years to bear fruit, according to Bloomberg News. The CEO also said the company must make reforms to prepare for the future, regardless of the emissions crisis.
Volkswagen shares advanced 1.0% in Frankfurt to €129.95 ($145.67).
The company, which operates in 31 countries and more than 610,000 employees worldwide, has positioned 2016 as a year of transition. In the first six months of fiscal year 2016, the company suffered a 36.8% year-on-year decline in net income.
Volkswagen has said it expects to launch 60 or so "innovations" this year, including vehicles such as the new VW Tiguan, the Audi Q2, and the new SEAT Atec. In addition to Volkswagen, the group includes brands such as Porsche, Audi, and Bentley. 
The company has said the group will aim to achieve sustainable growth by reinforcing its participation in new areas such as electric vehicles, fuel cells and autonomous driving. Under its "Strategy 2025", the Volkswagen Group will aim to launch over 30 fully electric new vehicles across the group by that year. This would mean selling about 2 million to 3 million pure-electric cars a year, which would account for about a quarter of its sales volume, the company estimated.
Volkswagen will remain committed to the development of fuel cells, and investing several billion euros and hiring 1,000 additional software specialists for autonomous mobility solutions.