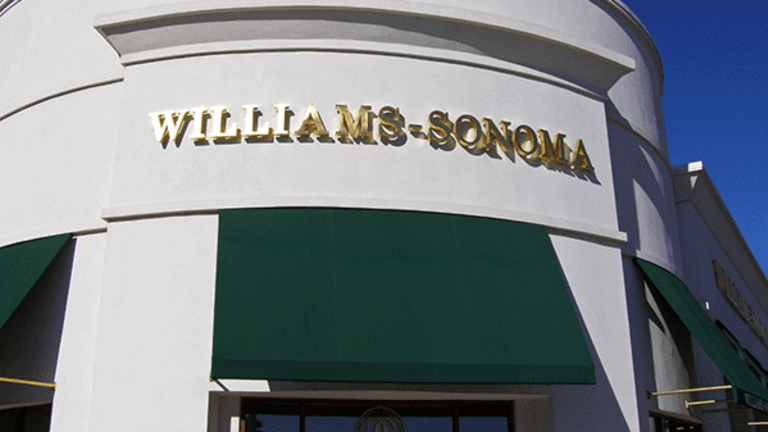 Vision of 2 Retailers; Panic's Length -- Jim Cramer's Top Thoughts
Cramer reflects on how the vision of two retailers saved them, and explains how long panic usually lasts.
Here are Jim Cramer's top thoughts on some of the biggest stories of the week.
Jim Cramer: These 2 Retailers Had Vision, and It Saved Them

If you were in retail, there were lots of ways to skin the cat. You didn't have to be roadkill.
More of What's Trending on TheStreet:
Last night, we got two different ways: the Williams-Sonoma (WSM) - Get Williams-Sonoma, Inc. Report way and the PVH Corp. (PVH) - Get PVH Corp. Report way. Both worked and produced fantastic results and much higher stock prices.
After several years of fits and starts, good and bad, hit and miss, I though this Williams-Sonoma quarter might have some staying power. WSM is a company that did a total reinvention, embracing customer relations management, time to market, time to delivery, better interface, quicker style turns and, most important, digital advertising, which led to an expanded funnel and much higher than expected numbers. As CEO Laura Alber said about the latter: "We are seeing strong new customer accounts with higher traffic trends and increased orders."
Of course, these have all been the province, until recently, of Amazon  (AMZN) - Get Amazon.com, Inc. Report , which understood customer acquisition through a broad funnel years and years ago. This concept of personalization, which you know as the "hello James" or, of course, your name, aspect of Amazon, can be imitated with extraordinary success. Again, Alber: "We've experienced an uplift with engagement and higher margins with our new personalization based emails".
The company now intends to triple those engagements, which should lead to even bigger comparable store sales gains then they have already. Given West Elm's 10% comparable store sales -- among the highest I have seen in 2017 -- that's saying something.
These are all of the tactics, by the way, that Marc Benioff at salesforce.com (CRM) - Get salesforce.com, inc. Report has been advocating for ages, but so many managers have just figured "we are going to do it our way because that's how it has always worked."
Why has Williams-Sonoma embraced the new way? I think it's because it has always been a catalogue company, and catalogue companies have always been about new lists, wider funnel, and targeting. But in retrospect, it has been flying blind. Alber gets what has to happen, and the uplift is immediate and positive.
PVH went about it a totally different way. PVH was an early adopter of both Amazon and Alibaba (BABA) - Get Alibaba Group Holding Ltd. Sponsored ADR Report for its flagship Tommy Hilfiger and Calvin Klein brands, as CEO Manny Chirico decided a long time ago that he had to diversify away from reliance on U.S.-based brick-and-mortar based retailers.
The web's been a good way to get more sales, but the real move he made was to take the bold step of expanding overseas right into one of the great contractions of all time: the European recession-depression. By buying Tommy before the recession and the brands of Calvin right in the huge European downturn, I am sure some thought he made a hugely incorrect bet. He had several miserable quarters as he waited for Europe to take off, the dollar to cool, and the U.S. to hold in. None of that happened.
But now it is all paying off. His European growth is remarkable, both in department stores and standalones. The dollar is now a tailwind. The U.S. continues to fall off, but it is almost down to 50% of total sales. He's taking share in the U.S. and that's keeping things humming, but the gross margins overseas are prodigious. Now he's applying the same skills to China, where a day like Singles' Day is gigantic for this once largely domestic enterprise.
Both of these companies could have been obliterated if they had stood still. Instead, Williams-Sonoma is just about to take off for a sustained flight and PVH is already there.
What distinguishes these two from the others in the pack? How about vision. They knew that quality clothes and quality home goods weren't enough. They had to do much more, well beyond what looked to be their ken.
Turns out it wasn't. And, first, it saved them. Now it makes them great investments.
The 30 Nastiest Storms in Recent U.S. History Have Caused Mind-Blowing Damage
Action Alerts PLUS, which Cramer co-manages as a charitable trust, has no positions in the stocks mentioned.
Originally published Aug. 24 at 6:58 a.m. EDT.
Jim Cramer: Panic Lasts About as Long as the Euphoria
The panic can't last long in this market. It lasts about as long as the euphoria. The swings are dramatic enough that you just get overrun when you try to buy something that's down big: until the next day when, unless there's really negative news, you get a better level to sell.
I think, once again, you get standout tech names and everything reverts to positive. Autodesk (ADSK) - Get Autodesk, Inc. Report is one of those standout tech names that has provided software leadership, which reminds us how strong demand really is. The stock is roaring off a much better than expected quarter.
We have a really excellent analysis of Broadcom (AVGO) - Get Broadcom Inc. Report this morning and last night for Action Alerts PLUS but there, the company seemed to be under constraints of its own customers to say how strong things are less they betray these clients -- think Apple (AAPL) - Get Apple Inc. (AAPL) Report . Its bounce-back can't be too pronounced, because of all the brave souls who bought it down $12 yesterday in after-hours trading and are now busy cashing in.
Ultimately, though, what matters is that we have a lot of "after further review" things are not so bad. That lasts for a few hours, and then the "things are really bad" crew comes in and, only really great earnings immunize you from the declines. After all, do you trust the airlines and the grocers today?
How about, as far as you can throw them?
Get an email alert each time I write an article for Real Money. Click the "+Follow" next to my byline to this article.
More of What's Trending on TheStreet:
The 30 Nastiest Storms in Recent U.S. History Have Caused Mind-Blowing Damage
Action Alerts PLUS, which Cramer co-manages as a charitable trust, is long AVGO, AAPL.
Originally published Aug. 25 at 10:04 a.m. EDT.
Click here for information on RealMoney, where you can see all the blogs, including Jim Cramer's--and reader comments--in real time.
Jim Cramer fills his blog on RealMoney every day with his up-to-the-minute reactions to what's happening in the market and his legendary ahead-of-the-crowd ideas. This week he blogged on:
What BHP means for oil.
How ADP could have avoided a showdown.
Action Alerts PLUS, which Jim Cramer co-manages, is long AVGO and AAPL.