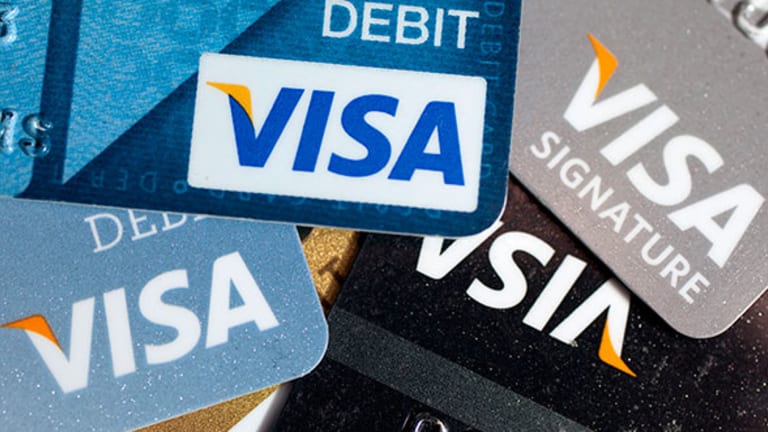 Visa's New Virtual Credit Cards Show It's Serious About B2B Payments
Visa is partnering with Viewpost to gain traction in the business-to-business payments market, making the process easier for smaller companies via virtual credit cards.
Paying bills. It's a task that no one really loves to do.
While digitization of the process has begun to make it easier for consumers, Visa (V) is focusing on ways to share that advantage with small businesses.  
That's why the San Francisco-based company announced a partnership with payments technology firm Viewpostthis week to expand the availability of virtual credit cards, already used by large corporations, to tinier companies via a network that allows electronic invoicing, payments, and real-time cash management. 
"Our collaboration with Viewpost gives small-to-medium sized businesses comprehensive financial management tools in a single portal -- right where they bank," Vicky Bindra, Visa's global head of products, said in a statement. It will "make our customers' lives easier by significantly reducing time, cost and friction around payment."
The virtual credit cards allow businesses to make payments with a secure single-use account number rather than worrying about security risks associated with a physical card. While large organizations have had the money to implement virtual card payments already, smaller firms have been daunted by the time and the cost required to make accounting systems changes, coordinate with banks and obtain payee data for each supplier.
"We make it easier for everyone: the customer of the bank, the bank, and the vendor of the bank," Max Eliscu, Viewpost CEO, said in a phone interview. "This partnership between Visa and Viewpost, in collaboration with leading financial institutions, will remove costly implementation and technology barriers to virtual card payments that historically have prevented small and midsize businesses from benefiting."
Expanding in business-to-business payments is a valuable proposition for Visa since volume in the U.S. alone may reach $160 billion by 2018, nearly double its 2015 level, Ashish Sabadra of Deutsche Bank said in a report. 
"The whole commercial space and disbursement of different kinds and business-to-business kinds of payments are very much on our radar screen," Visa CEO Alfred Kelly said on the company's quarterly earnings call in February. "We're not as strong a player as we'd like to be, but we are stacked up and spending a lot of time on this issue. And it's something that we do want to get a stronger position in."
Virtual cards were created because business owners were wary of emailing, mailing or sharing permanent credit card information with trade vendors, Eliscu said.
"It's a very secure way to make payments," he said. "You could publish the card number online and it would have no effect." 
That's because once the virtual credit card number is used, it's no longer valid. A unique card number is issued specifically for a vendor and a specific amount and never has any value beyond that.
"Businesses of any size in the U.S. can join Viewpost at no cost, securely connect their business bank account at no cost, securely connect to their suppliers and customers at no cost, and have access to unlimited free online invoicing and 24/7 tracking of transaction status," Eliscu said. 
Viewpost said there's no subscription fee to join its network. Charges are assessed per transaction and determined by the preferred or required method of payment, with a percentage applied to rebates.
Shares of Visa dropped 0.1% to $89 Wednesday, paring its year-to-date gains to 14%.