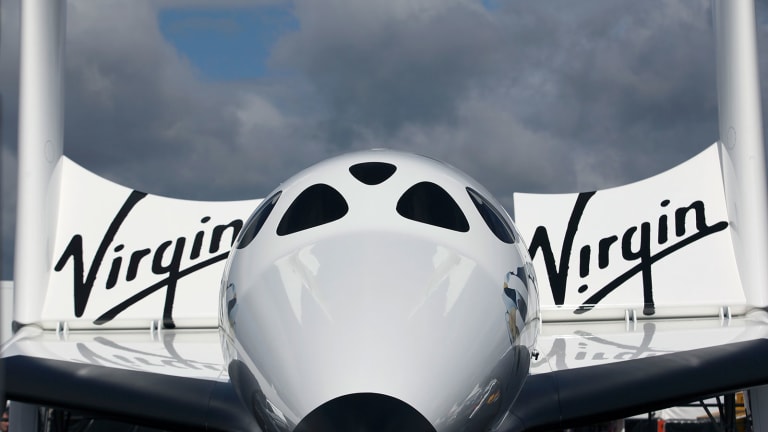 Virgin Galactic Ready for Stock Market Liftoff
Shares of the space tourism company will make their debut Monday on the New York Stock Exchange.
Shares of Virgin Galactic are poised for takeoff Monday on the New York Stock Exchange, making it the first space tourism company to go public.
Shareholders of Chamath Palihapitiya Social Capital Hedosophia Holdings Corp. IPOA gave a green light to a merger with Sir Richard Branson's Virgin Galactic Holdings, according to filings with the Securities and Exchange Commission.
The deal is expected to officially close on Friday, followed by the launch of shares of the new company directly on the New York Stock Exchange on Monday under the ticker symbol "SPCE."
A former top Facebook executive, Palihapitiya will own 49% of the newly merged Virgin Galactic, with Branson controlling the other 51%.
Virgin Galactic's manufacturing arm, The Spaceship Co., already has one spaceship up and running for testing purposes, the VSS Unity.
The six-passenger SpaceShipTwo model already has two trips to suborbital space under its belt, with Virgin Atlantic gearing up for an official launch next year.
The SpaceShipTwo is carried 50,000 feet above the earth by a plane called the WhiteKnightTwo, before breaking free and blasting into space with its own rocket, according to Space.com.
Tickets for a space ride cost $250,000, about the same as the median priced home in the United States, with 600 people already having booked seats.
Save 57% during our Halloween Sale. Don't let this market haunt you and join Jim Cramer's Investment Club, Action Alerts PLUS. Click here to sign up!