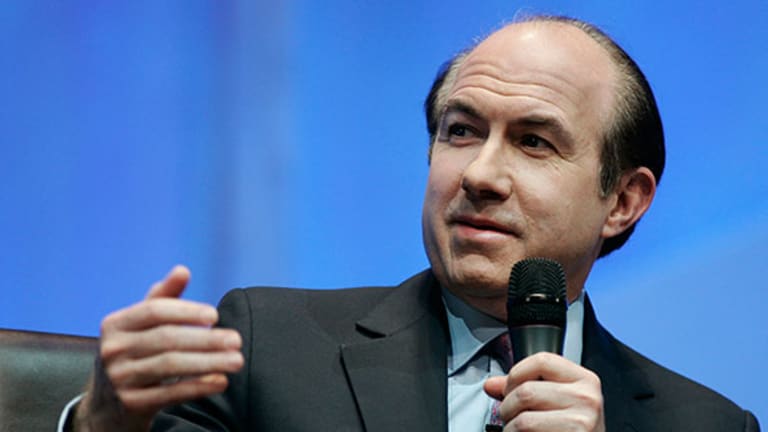 Viacom Surges as Redstone Removes CEO Dauman From Board
Viacom surged Thursday as controlling stakeholder Sumner Redstone removed five directors including CEO Philippe Dauman.
Push finally came to shove.
Viacom (VIAB) - Get Viacom Inc. Class B Report  surged Thursday as Sumner Redstone, the media company's ailing 93-year-old controlling stakeholder, removed five directors including CEO Philippe Dauman from its board, capping more than a year of corporate tug-of-war atop the owner of MTV, Nickelodeon and Comedy Central.
Shares of New York-based Viacom gained 6.8% to close at $45.05. 
Redstone made the move through National Amusements, his privately-held holding company that controls a nearly 80% stake in both Viacom and CBS (CBS) - Get CBS Corporation Class B Report , the cornerstones of his $40 billion media empire. In a statement, National Amusements said that along with Dauman it was removing George Abrams, Blythe McGarvie, Frederic Salerno and William Schwartz.
The next step, if the changes uphold the newly-formed board, would be Dauman's firing. National Amusement pledged to "evaluate the current management team and take whatever steps it deems appropriate to ensure that Viacom has in place strong, independent and effective leadership." For the moment, however, the board remains in place and Dauman has yet to lose his job.
Viacom quickly countered National Amusements, calling the board shake-up "invalid," while blaming the sweeping changes on Sumner Redstone's daughter Shari, the company's vice-chairmans and a board member for "attempting to use her father's control to dismantle his own estate plan to serve her personal interests." Salerno along with Viacom's other independent directors, filed a lawsuit in Delaware Chanery Court Thursday seeking to block the board shakeup while asking for an expedited determination of Redstone's mental capacity.
"It is now clear that Mr. Redstone is being manipulated and used by his daughter in an attempt to accomplish her long-held goal of gaining complete control of Viacom," Salerno said in a separate statement. Salerno, along with Dauman, have repeatedly accused Shari Redstone of "undue influence" over her father while asking a Massachusetts court to independently examine the elder Redstone. 
Anticipating resistance from Dauman and board members loyal to the chief executive, National Amusements separately asked the Delaware Chancery Court to affirm "the validity and effectiveness of these actions," and to make clear that the new directors "were validly appointed and elected as members of the board."
The new directors appointed by National Amusements are Kenneth Lerer, chairman of BuzzFeed; Thomas May, chairman of Eversource Energy; Judith McHale, former CEO of Discovery Communications (DISCA) - Get Discovery, Inc. Class A Report , Ronald Nelson, former co-chief operating officer of DreamWorks SKG, and Nicole Seligman, former president of Sony Corp. (SNE) - Get Sony Corp. Reportand Sony Entertainment.
If the court agrees with National Amusements, Dauman's removal would mark a major victory for Shari Redstone who has long criticized the company's leadership for failing to keep pace with Netflix (NFLX) - Get Netflix, Inc. Report , AMC Networks (AMCX) - Get AMC Networks Inc. Class A Report , Time Warner's (TWX) HBO and others. Shari Redstone was the lone director who opposed the board's decision in February to give Dauman the title of chairman along with chief executive when her father was made chairman emeritus.
Dauman, 62, was appointed CEO in 2006, replacing Tom Freston, who helped found MTV.
Shari Redstone has also been vocal in criticizing the board for awarding Dauman a compensation package in 2015 of more than $54 million despite Viacom's stock price losing half its value over the past two years. Prior to the shares gaining since April 15 on expectations of a management shakeup, Viacom had lost 55% since April 2014. Since April 15, Viacom has gained 18%.
But like so much that has taken place at Viacom in recent weeks, the board changes are likely to be mired in litigation for the foreseeable future. At the heart of the bitter struggle between Shari Redstone and Dauman is the question of the elder Redstone's capacity to make far-reaching decisions about a major corporation.
Dauman has long maintained that he and Sumner Redstone shared a friendship that transcended their working relationship. Dauman managed to become one of seven members of the Redstone trust, a position that some observers maintained was a conflict of interest. 
Shari Redstone, meanwhile, had often clashed with her volatile father, infamous for his bawdy language and impetuous management style. Only in recent years, as the elder Redstone's health deteriorated, has Shari Redstone taken a larger role in both his healthcare and the future of the family's financial holdings.
"He never intended to vest his family members, and in particular his daughter Shari, with control over the NAI board or the Viacom Board, or the power to replace independent directors," Viacom said in a statement. "Indeed, he wanted just the opposite."
For that reason, Dauman, Salerno and other directors have sought to portray Shari Redstone as attempting to make a grab for power and money. Dauman and Abrams sued National Amusements in a Massachusetts court last month after being removed from its board as well as the board of the seven-person trust that will control Redstone's holdings when he dies or is judged to be mentally incapacitated. A maneuver that he also labeled as an attempt by Shari Redstone to take advantage of her father's weakening health to assert control over the company.
Sumner Redstone and National Amusements are expected to ask the Massachusetts court to dismiss that case.