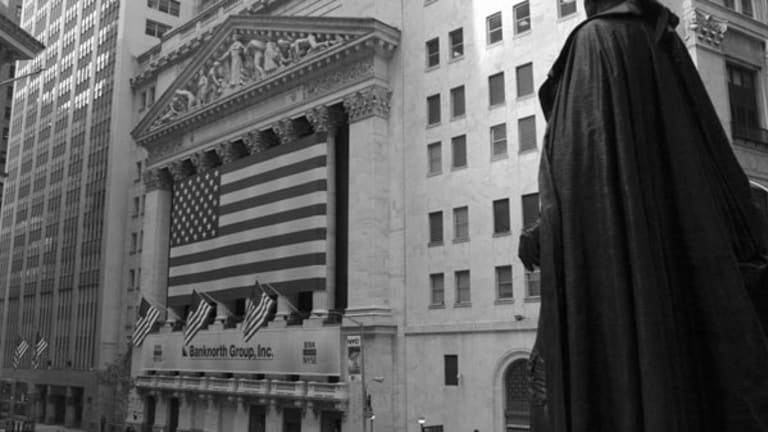 Viacom Earnings Growth Stuck in Neutral
Analysts project EPS will not grow over the next year, and that should give investors pause.
If the outlook for lackluster earnings growth isn't enough to scare investors away from
Viacom
(VIA.B)
, the recent stocks sales of its chairman, Sumner Redstone, might be.
Analysts expect Viacom's earnings to remain stalled in the $2.50-per-share range at least through the end of next year. With earnings of $2.51 a share for the most recent 12-month period, the consensus calls for EPS of $2.49 for the current year ending Dec. 31 and $2.53 for fiscal 2009.
TheStreet.com Ratings quantitative model, which evaluates a merely company's financials, assigns Viacom a "D" grade, which equates with a "sell" recommendation.
Compounding the lackluster earnings outlook for Viacom is the prospect of Redstone, Viacom's founder and chairman, dumping boatloads of its shares. Last month he unloaded $322 million in Viacom and
CBS
(VIA.B)
shares because of a need to restructure $1.6 billion in family debt.
Redstone controls Viacom's "A" class of shares
(VIA) - Get Via Renewables Inc. Report
, which have voting authority. The majority of the firm's stock is represented in nonvoting "B"
(VIA.B)
shares.
All the firm's stockholders do not seem convinced that Redstone won't have to unload more shares, despite the chairman's denials that he will need to part with more of his holdings.
Viacom reaches more than 520 million households in 160 countries with its MTV Networks division -- which includes such stations as MTV Music Television, MTV2, VH1, VH1 Classic, Country Music Television, Logo, Nickelodeon, Comedy Central, Spike TV and TV Land -- and its BET division.
The firm's filmed entertainment division produces, finances and distributes motion pictures under the Paramount Pictures, DreamWorks Pictures, Paramount Vantage, Paramount Classics, MTV Films and Nickelodeon Movies brands.
Viacom competes with major communications and entertainment heavyweights such as
Walt Disney
(DIS) - Get The Walt Disney Company Report
, the Twentieth Century Fox film division of
News Corp.
(NWS) - Get News Corporation Report
, the NBC and Universal Pictures divisions of
General Electric
(GE) - Get General Electric Company Report
, the Sony Pictures unit of
Sony
and
Time Warner
(TWX)
.
Richard Widows is a senior financial analyst for TheStreet.com Ratings. Prior to joining TheStreet.com, Widows was senior product manager for quantitative analytics at Thomson Financial. After receiving an M.B.A. from Santa Clara University in California, his career included development of investment information systems at data firms, including the Lipper division of Reuters. His international experience includes assignments in the U.K. and East Asia.