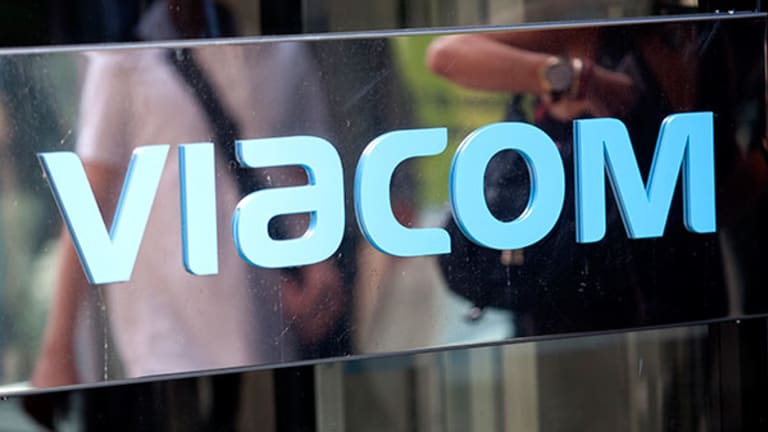 Viacom CEO Philippe Dauman Vows to Push Ahead With Paramount Stake Sale
CEO Philippe Dauman took a defiant tone Thursday pledging to push ahead with a minority sale of Paramount Pictures while framing the ongoing legal disputes as "transitional times."
Viacom (VIAB) - Get Viacom Inc. Class B Report CEO Philippe Dauman wouldn't talk about the court cases that have embroiled the television and film company in a very messy and public legal fight over corporate control.
He didn't mention his chief nemesis Shari Redstone, though he did refer to his longtime boss Sumner Redstone, the 93-year-old chairman emeritus whose health lies at the center of the company's many legal disputes, as "my great friend for 30 years."
Speaking Thursday at the Gabelli Movie & Entertainment Conference, Dauman sought to alleviate investor concerns that Viacom's networks are bleeding advertising revenue or viewers. He said ad sales for the company's fall programming, the so-called upfronts, are achieving percentage price increases in the "high-single-digits" while advertising volume is growing in the "mid-to-high single digits."
Concerning the sale of a minority interest in Paramount Pictures, Dauman said he and the company's board are moving toward the sale of a 49% stake in the film studio despite recent moves by National Amusements, Redstone's holding company that controls nearly 80% of Viacom and CBS (CBS) - Get CBS Corporation Class B Report , to prevent a sale from taking place.
"Paramount has had a tough year, that's no secret," he said.
Dauman told investment firm executives that negotiations have gone from more than 40 entities to "a more limited group." He asserted that the company sees the sale of a minority stake as essential if it is to raise much-needed cash to invest in new programming and pay down its debts. A minority stake sale, he added, could generate "$10 or more" in after-tax equity value to Viacom shareholders.
"Recent events have slowed down the process," Dauman said. "Our oringal target of mid-June is going to slip somewhat but we are going to continue to explore the strategic value of unlocking value with a  strategic partner."
As of March 31, Viacom's total debt was $12.53 billion, a slight increase from six months earlier. Cash on hand stood at $480 million, a decrease from $506 million on September 30. 
At Viacom, three of its six largest networks have had executive shakeups over the past 18 months as the networks invest in new programming. Dauman asserted that Viacom's MTV, Nickelodeon and Comedy Central, its largest networks, are poised for higher ratings and advertising sales. 
"We have multiple brands that resonate with marketers, advertisers and more importantly with consumers," Dauman said. "There's a lot of vitality going on at all those networks."
Such an outlook might seem to run counter to shareholder sentiment that has been decidedly pessimistic about Viacom's future for at least two years. 
Viacom has fallen 49% since June 2014, revenue has been declining for five years, and analysts who follow the company have lowered their 2017 earnings estimates, excluding some costs, by 21%, according to data compiled by Bloomberg. 
Dauman has been also struggled with programming losses, or misses. Jon Stewart left Comedy Central to start his own programming platform at Time Warner's (TWX) HBO as did John Oliver, while Samantha Bee departed for Time Warner's TBS.
To finance its debt, Dauman needs cash, which is why he and Mario Gabelli, the conference host, support a minority stake sale in Paramount Pictures, which has struggled in recent years. 
Like so much at Viacom right now, decisions about Paramount's future probably won't be made until after the legal proceedings are resolved. And that could take time. Little wonder that Wall Street remains uncertain about investing in the company.
"Viacom remains the hottest topic of conversation, but at this point, it's just gossip," Wells Fargo media analyst wrote in a June 3 investor note. "There is no way to really invest in the Redstone Family Feud."
If a Massachusetts court does rule in the coming weeks that Redstone is competent to make decisions about Viacom, it appears likely Dauman will be removed. It's also likely that over time such a ruling would lead to a wholesale replacement of the entire Viacom board.
Lawyers representing Dauman and board member George Abrahms argued in a Massachusetts probate court on Monday that both men were illegally removed last month from the seven-person Redstone trust that will control Viacom and CBS when the media mogul becomes incapacitated or dies. Both men were also removed from the board at National Amusements.
Dauman and Abrahms have asked the court to make an independent ruling on Redstone's competency. Attorneys representing the trust have countered that regardless of Redstone's competency, four of the seven members of the trust supported Dauman and Abrahms' removal. 
True to form, Dauman played down any negative to spin a positive picture for a television and film company that has mostly struggled in recent years. 
"We have multiple brands that resonate with marketers, advertisers and more importantly with consumers," he said. "Once we get through these transitional times, there's a lot we can build on."