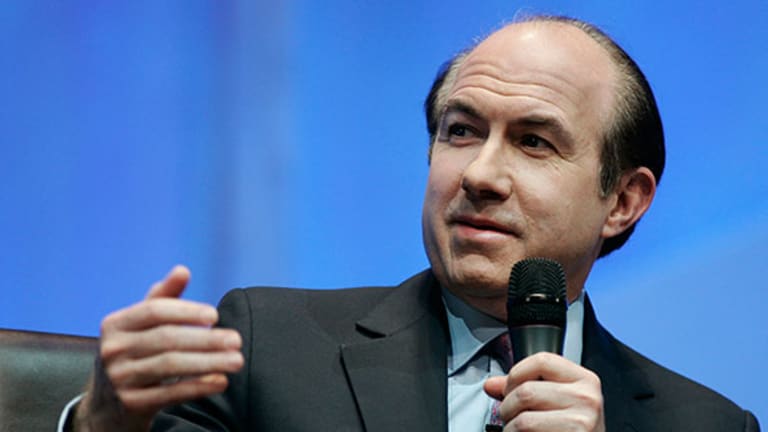 Viacom CEO Philippe Dauman Goes to Court to Remain on Redstone Trust
The embattled chief executive is turning to a Massachusetts court in a bid to stay atop the media company.
Embattled Viacom (VIAB) - Get Viacom Inc. Class B Report CEO Philippe Dauman will have his day in court on Tuesday.
Dauman is betting that a Massachusetts judge will side with his argument that Sumner Redstone's daughter, Shari, is exerting "undue influence" on her ailing 93-year-old father and that she illegally orchestrated Dauman's removal last month from a seven-person family trust that will control Viacom and CBS (CBS) - Get CBS Corporation Class B Report when the media mogul becomes incapacitated or dies.
The long-running tug-of-war between Dauman and Shari Redstone will get a hearing before a judge who specializes in estate planning and the ever-touchy issue of an elderly person's mental competency. Shares of New York-based Viacom were falling 1% on Tuesday to $44.98, reflecting shareholder concern that the owner of MTV, Nickelodeon and Paramount Pictures may remain in legal disputes for the foreseeable future.
The case was brought last month by Dauman and Viacom board member George Abrams after both were removed from the trust and the board of the Redstone's National Amusements Inc., the privately-held movie theater chain that controls a nearly 80% stake in Viacom and CBS. 
At the center of the dispute is the question of Redstone's ability to make decisions over the many layers of his media holdings. As Dauman said in a Monday filing: "He is a 93-year-old man suffering from numerous physical ailments, including an inability to speak, stand, walk, eat, write or read. He suffers from a progressive neurological disease characterized by dementia."
Dauman called on the probate court in Canton, Mass., where the trust was originally created, "to conduct an examination" of Redstone's health as soon as possible, asserting that Redstone's family is preventing an independent examination of the former Viacom chairman in order to remove Dauman and Abrams from positions of power within the company.
Dauman, who has been Viacom's chief executive since 2006, maintains Redstone has been incapacitated for weeks, even months, and that the decision to remove Dauman from the trust should be voided. 
Redstone's attorneys on Friday, however, said the majority of the trustees who will oversee his media holdings, valued at $40 billion, supported Dauman's removal. The media mogul's lawyers said that even if a court ruled that he was no longer of sound mental health, the majority on the trust nonetheless would remove Dauman.
Besides Shari Redstone, the other members of the trust backing Dauman's removal are her son, Tyler Korff; David Andelman, a CBS and National Amusements board member; and Leonard Lewin, a family lawyer.
Shari Redstone has often criticized Dauman's management of Viacom, which has lost 48% of its market value over the past two years.
Chief among her criticisms have been Dauman's decision to spend nearly $10 billion between October 2012 and March 2015 buying back Viacom shares as the company's stock began to tank. In retrospect, that cash could have been spent on any number of acquisitions, including buying DreamWorks Animation (DWA) , which recently agreed to a sale to Comcast (CMCSA) - Get Comcast Corporation Class A Report for $3.8 billion.
Dauman, meanwhile, wants the company to sell a minority stake in Paramount Pictures in hopes of better funding future projects and improving distribution. The notion of a Chinese investor has often been floated with the built-in attraction of gaining expanded entry into the world's second-largest market. 
Yet National Amusements said on Monday that it had changed its corporate bylaws to prevent Viacom from selling a minority stake in the film studio, a move first reported by The New York Times. The move illustrates yet another dispute between Dauman and the Redstones even as the Viacom CEO maintains that the elder redstone is being coerced by his daughter. 
For her part, Shari Redstone also repeatedly castigated Viacom's board for awarding Dauman a compensation package that placed him among the country's highest-paid CEOs despite one of the media's industry poorest-performing stocks. She was also the only board member to oppose giving Dauman the title in addition to chief executive when Redstone was made chairman emeritus in February.
Dauman's 2015 compensation package was valued at more than $52 million.
Redstone attorneys, in Friday's filing, argued that Damuan would have unchecked authority within Viacom if he were to hold a seat on the trust in addition to being chairman and CEO of the company. Shari Redstone was the lone Viacom board member to oppose the board's decision in February to hand Dauman the title of chairman after Sumner Redstone stepped down for health reasons.