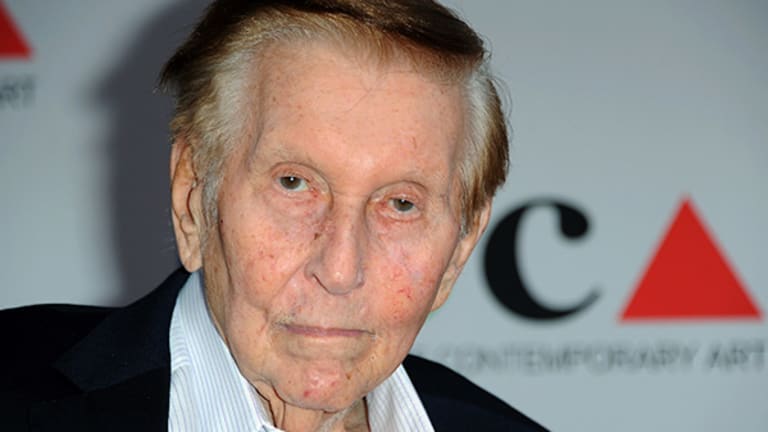 Viacom CEO Escalates Offensive Against Shari Redstone
Philippe Dauman took aim at the Viacom vice chairman as he presses a Massachusetts court to take up his case to regain power over the media conglomerate.
Philippe Dauman took aim at the Viacom vice chairman as he presses a Massachusetts court to take up his case to regain power over the media conglomerate.
As if things hadn't already gotten personal.
Viacom (VIAB) - Get Report CEO Philippe Dauman and director George Abrams took repeated shots at Shari Redstone in a court filing on Monday, charging the vice chairman with "undue influence" over her father, Chairman Emeritus Sumner Redstone, after years of being his "long-estranged daughter."
Dauman and Abrams argued that Redstone, 93 and ailing, never wanted his children to have a deciding role in Viacom's management, choosing instead for the company to be run by "professionals." Shari Redstone, they charged, has shown a blatant disregard for succession plans that the two Viacom board members claim their longtime boss intended for the owner of MTV, Nickelodeon and Paramount Pictures.
"Mr. Redstone developed a succession plan that would empower professionals -- rather than family members who did not share his business acumen -- to control and manage [National Amusements Inc.], Viacom and CBS," the filing said. "Mr. Redstone chose not to transfer his remaining interests in Viacom to his children outright and instead transferred his interests in NAI into [a family trust]."
In the filing, Dauman and Abrams asked a Massachusetts probate court to reject a motion by Sumner and Shari Redstone to throw out a lawsuit filed last month by the directors asking to be reinstated to the boards of two corporate entities that control Viacom and CBS (CBS) - Get Report .
The Redstones last month removed Dauman and Abrams from the board of National Amusements, the holding company that owns nearly 80% of the controlling shares in Viacom and CBS, as well as the seven-person trust that will oversee the $40 billion media empire when the elder Redstone dies or becomes mentally incapacitated. (National Amusements also moved on June 16 to remove Dauman and Abrams from Viacom's board.)
The duo's filing comes three days before the Canton, Mass. probate court is expected to make a ruling on the Dauman and Abrams lawsuit. The Viacom CEO and director are pressing the court to have Sumner Redstone examined by an independent medical specialist to determine his mental capacity. Viacom has repeatedly maintained that Shari Redstone is taking advantage of her father's declining state to wrest control of the company from its management team.
"Redstone submitted to the overmastering effect of Shari's undue influence by upending his carefully crafted and longstanding succession plan for leaving control of his companies in the hands of independent trustees, and by replacing those trustees with individuals who are beholden to Shari and who will thus allow her to control Mr. Redstone's business holdings."
Dauman and Abrams were replaced on the Redstone trust last month with two Shari Redstone allies, Thaddeus Jankowski, general counsel of National Amusements, and Jill Krutick, a former Salomon Smith Barney equity analyst.
This latest missive serves to accentuate the bitter struggle at play for control of Viacom. For her part, Shari Redstone has said that she has no intention to run Viacom or be involved in its daily operations. Instead, she maintains that Viacom, whose shares have lost nearly 50% of their value over the past two years, is in dire need of new management. Dauman became CEO in 2006.
Dauman also is contesting the Redstones' June 16 action to remove him from Viacom's board along with four other directors loyal to him, including Abrams. Both Viacom and the Redstones asked the Delaware Court of Chancery to rule on the veracity of the newly formed board. The Delaware court has said it will defer to the Massachusetts court to make a decision as to whether to have Sumner Redstone examined by an independent medical specialist.
"My thinking is that once the smoke clears you're going to hear a lot of chatter about CBS and Viacom getting together again," said Jim Cramer, TheStreet's founder.
Cramer said David Faber, co-host of CNBC's Squawk on the Street, is extremely plugged in to the discussion and he believes the situation has to "run its course," Cramer said. "There's no hurry there."
On a day when markets continued to adjust to the fallout of Britain's Thursday vote to leave the European Union, Viacom shares closed 5.2% lower at $43.64. The S&P 500 index I:GSPC  declined 1.8% after losing 3.6% on Friday while the Dow Jones Industrial Average lost 261 points on Monday, or 1.5%.