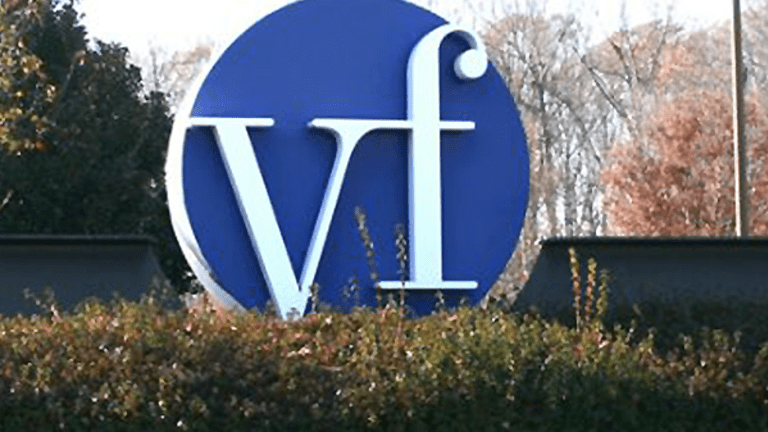 VF Corp. Has Broken Out on the Upside -- Did You Buy It?
Looking to go long on VFC? Try a buy order around this level.
We covered VF Corp. (VFC) - Get V.F. Corporation Report recently when the chart looked bullish and it was upgraded by our quantitative service, Quant Ratings. Prices have climbed nicely and I hope some of our Real Money readers went long.
Now that prices have broken up through the neckline of the base pattern, a fresh look is warranted. Let's review the charts and indicators again.
In this daily bar chart of VF Corp. we can see how VFC has closed above the $58 level, which is a "neckline" going back to November. Prices are above the rising 50-day simple moving average line and the flat 200-day moving average line.
The daily On-Balance-Volume (OBV) line has been trending upward since January/February and looks like it made a new high for the move up, confirming the new high in price.
The trend-following Moving Average Convergence Divergence (MACD) oscillator just turned upward and crossed to a fresh go long signal. There is a bullish golden cross of the 50-day and 200-day moving averages in June, but we pointed that out in our last update.
In this weekly bar chart of VFC, above, we can see that prices are above the now rising 40-week moving average line. Prices made a new high close for the move up and the weekly OBV line is pointed up and telling us that investors have been strong accumulators of VFC shares.
The weekly MACD oscillator is above the zero line now for an outright go long signal on this timeframe.
In this Point and Figure chart of VFC, above, we can see the breakout at $58.06 and the upside price target of $68.23.
Bottom line: If you are long VFC, I would raise sell stop protection to $55. Price targets are $64 and then $68. Not long VFC and looking to go long? Try a buy order around $58.15 in case there is a short-term profit taking pullback.
Click here to sign up for Quant Ratings, where you can read our full report on VFC or more than 4,000 other stocks that our service rates in real time every market day. However, please note that our Quant Ratings service assesses stocks using a proprietary computer model that runs a variety of factors through quantitative and technical analysis. Ratings do not necessarily reflect the opinions of Jim Cramer or other columnists, who may use different criteria to grade stocks.
(This article originally appeared at 8:49 ET on Real Money, our premium site for active traders. Click here to get great columns like this from Bruce Kamich, Jim Cramer and other writers even earlier in the trading day.)
Employees of TheStreet are restricted from trading individual securities.