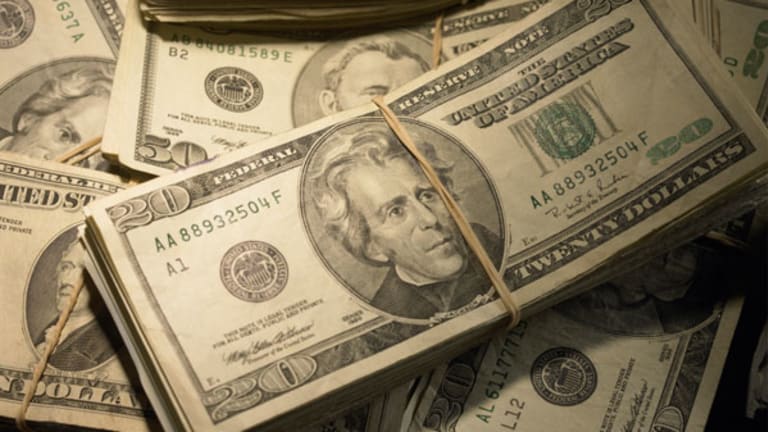 Versace: Preparing for the Earnings Deluge
There is no shame in booking profits.
This column originally appeared on Real Money Pro at 11:30 a.m. EDT on April 24.
NEW YORK (
) --This week is the gauntlet when it comes to earnings and it only gets worse day by day.
On Thursday, we will see more than 400 companies report their results. As we get ready for that, it pays to recap some of the key things we learned so far this week.
Here we go:
E. I. du Pont de Nemours and Company (DD) reported strong March quarter results largely due to strong sales in its agriculture business, which benefited from lingering drought conditions and expectations for more ahead. While we'll hear from fertilizer companies like Potash (POT) later this week and more like Agrium (AGU) in the coming ones, DuPont's results point to favorable results at these companies as well as Syngenta AG (SYT) .
As part of
AT&T's
(T)
modest miss for the March quarter, the company also updated its capital spending plans. While it will spend $21 billion this year, management lowered its spending forecast for 2014 and 2015 to $20 billion for both years, down from the prior $22 per year. What's a few billion among friends you might ask, well if you are
Cisco
(CSCO)
it may not be a big deal, but if you are a company like
Juniper
(JNPR)
that had total revenue of $4.4 billion in 2012 you should be concerned.
While it would be simple to prattle on about Apple (AAPL) given its better than expected results and comparatively weaker outlook, the simple fact is that in the near term the company is a replacement-story-driven company. CEO Tim Cook teased a new product category -- the much discussed iWatch perhaps -- but until it's announced and there is some sense as to what it is as well as how widely adopted it might be, the iPhone and iPad are the primary drivers.
Longer term, it will be interesting to see if the analyst community starts to value Apple not as a hardware company, but as a hardware-software company. While I haven't done it yet, a sum of the parts valuation that includes Apple's hardware business (and adjusting for growing competitive factors); the software business, which includes iTunes -- more than $4 billion in revenues during the March quarter; and the premium associated with more than 500 million credit cards on file would prove insightful.
Apple's shipments of iPhones and iPads in the March quarter were stronger than Wall Street expectations. Couple this with Samsung's shipment performance in the quarter and it spells good things for companies like Qualcomm (QCOM) and Skyworks (SWKS) that count both as key customers. Those two companies -- Qualcomm and Skyworks -- will report their March results this week; both should deliver solid results, and their guidance and outlook discussion will prove insightful not only to Apple, but to the growing threat that is low cost smartphone vendors in China.
Consumer facing company Procter & Gamble (PG) beat expectations but delivered a weaker than expected outlook. Add this to the weaker-than-expected results reported by Nestle and Danone as well as the growing trend of companies, including PG, to stretch out vendor payment terms. Because of this, I have no regrets in recommending Real Money Pro subscribers exit their International Flavors & Fragrances (IFF) positions on April 18. Remember, there is no shame in booking profits.
As of publication, Versace held no positions in any of the companies mentioned in this article.