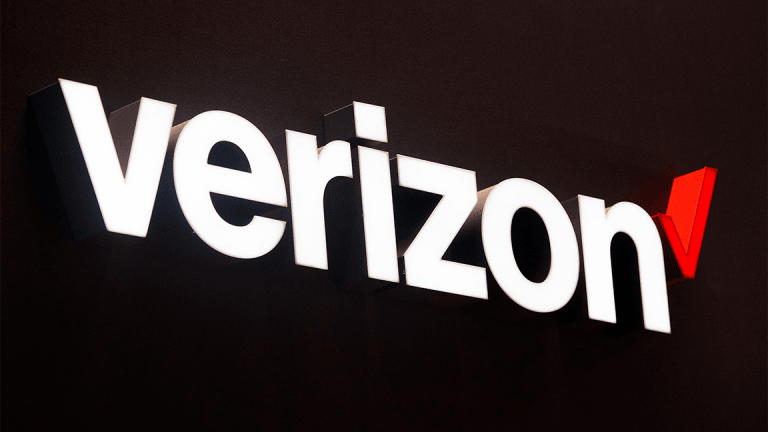 Verizon Slides on Morgan Stanley Downgrade
Verizon falls Wednesday after Morgan Stanley downgrades shares of the telecommunications giant to equal weight from overweight.
Verizon Communications Inc. (VZ) - Get Report slipped 2.40% to $57.45 Wednesday after Morgan Stanley downgraded shares of the telecommunications giant to equal weight from overweight.
Morgan Stanley's Simon Flannery said in a note that for 2019 "we expect Verizon to report just 1% EPS growth ... on broadly flat revenues" and noted that the company's stock is "already priced at a premium."
Flannery said he expects Verizon's 2019 EPS to grow by 1% with "broadly flat" revenue in part due to the investments in 5G. He added that "we expect limited 5G Home revenues in 2019 as Verizon awaits standards based equipment around the middle of the year."
While Verizon has actively marketed itself as the first carrier to 5G, Flannery said, this may spur higher spending than currently estimated by consensus. He also expressed concerns an increased competitive environment.
The downgrade follows Verizon's announcement Tuesday that the cost of its employee buyout plan will range between $1.8 billion and $2.1 billion and will be recorded in the fourth quarter. Verizon said that it was initiating an employee buyout plan that would reduce its headcount by 10,400 through June 2019, with nearly half of those employees exiting this month.
The company filed an 8-K Tuesday detailing the cost of the buyouts as well as a company segment that wasn't pulling its weight. Verizon identified its media business, which was branded "Oath," as a struggling segment in the Securities and Exchange Commission filing.