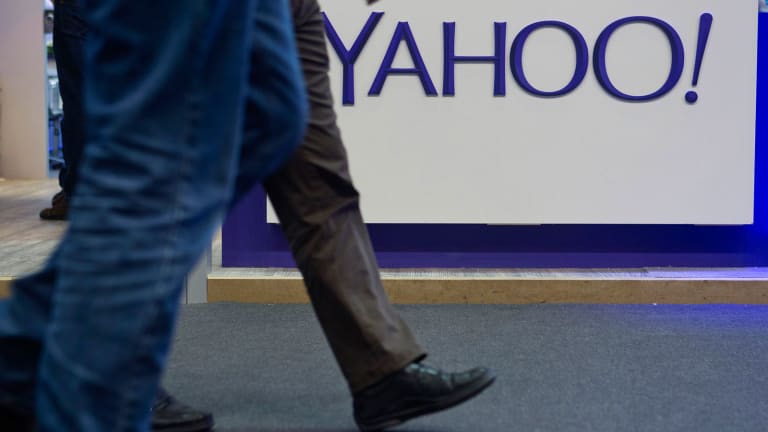 AT&T Bids for Yahoo!'s Internet Business, but Will Have to Battle Verizon for It
CEO Lowell McAdam tells investors at a JPMorgan conference that Yahoo! would bring Verizon's digital media business much-needed size.
AT&T (T) - Get AT&T Inc. Report made a bid for Yahoo! (YHOO) and continues to be a contender to acquire the Sunnyvale, CA-based company's core internet business, according to sources cited by Bloomberg Wednesday.
Shares of AT&T are slightly higher by 0.31% to $38.62 in mid-afternoon trading on Wednesday.
Previously, the Dallas-based telecommunications giant had decided not to make an offer, sources said in April.
AT&T remained in the process via its stake in digital advertising company YP Holdings, which had proposed a merger with a subsidiary spun out of Yahoo's core business, Bloomberg noted.

But YP is no longer pursuing such a deal, one of the sources said.
Verizon Communications (VZ) has long been the frontrunner to buy the Internet giant.
Verizon (VZ) - Get Verizon Communications Inc. Report CEO Lowell McAdam acknowledged on Tuesday that buying Yahoo! would add size and scope to the company's fledgling mobile-advertising business.
"We can't talk about Yahoo!, but that's a possibility," McAdam said at an investor conference in Boston hosted by J.P. Morgan (JPM) - Get JPMorgan Chase & Co. Report . "That's a possibility to gain greater scale."
Verizon has emerged as the top contender for Yahoo!, the curiously enticing Internet services company that has long struggled to become the No. 1 provider in an array of services that includes search, mail, news and finance, digital advertising and its Tumbler platform. 
Sentiment was high at the conference that Verizon should buy Yahoo! if the two sides can agree on a price. Verizon is keen to combine Yahoo! with AOL, the company it acquired a year ago on the belief that it can help Verizon grab a large share of an automated advertising market largely controlled by Alphabet's (GOOG) - Get Alphabet Inc. Class C Report Google. 
Yahoo! CFO Ken Goldman cut to the chase in his own presentation at the J.P. Morgan conference. CEO Marissa Mayer and "the bulk of the major folks" at the company as well as the board have been keenly focused on selling the company.
"It is a very robust process," Goldman said. "This clearly composes the majority of our time. It is our collective goal that we find a way that wherever this ends up that ultimately Yahoo! will do better with the benefit of wherever it goes than staying independent." 
Goldman wouldn't comment on how far along the sale process might be, choosing not to estimate "an inning" that might help shareholders gauge the timing of a deal.
"It's going very, very well," Goldman added. "We continue to work tirelessly to get to the right place."
Yahoo!'s quest for a buyout partner comes after the company reported an operating loss of $167 million for the quarter ended in March amid an 11% revenue decline. The disappointing results for a company with revenue of more than $35 billion highlights Mayer's struggles to compete with Google, Facebook (FB) - Get Meta Platforms Inc. Class A Report and even AOL.
Illustrative of Yahoo!'s troubles, its Tumbler blogging platform has faced many of the same challenges as Twitter (TWTR) - Get Twitter, Inc. Report . Millions of users and many millions of engagement hours have yet to generate revenue to assuage critics of Mayer's decision to spend $1.1 billion to acquire Tumbler in June 2013. Engagement, Goldman said, has jumped 30% from a year ago.
"Tumblr has had some fits and starts," Goldman said. "The engagement has been very good. The area where wer have not done as well, frankly, is on the revenue monetization."
McAdam certainly has the means to make a deal. Verizon's market cap exceeds $200 billion and the company held roughly $5.8 billion in cash on its balance sheet as of March 31. Its annual revenue stands at $130 billion.
But more than having the money to buy Yahoo!, McAdam is eager to grow Verizon beyond broadband and mobile services. He's partnered with the National Football League and National Basketball Association on mobile distribution as well as acquired a 24.5% stake a year ago in AwesomenessTV, the video production platform owned by Hearst and DreamWorks (DWA) , which agreed to be acquired last month by Verizon rival Comcast (CMCSA) - Get Comcast Corporation Class A Report .
McAdam also is eager to get more out of the company's $4.4 billion acquisition of AOL in June 2015, which has given Verizon a collection of automated advertising assets to jump-start its digital media business. Among AOL's tasks is getting more revenue out of Verizon's go90 video service targeted at teens and 20-somethings.
But AOL's so-called stack of programmatic platforms has proved to be a "string of pearls," in the words of one conference attendee. While AOL built or acquired an array of platforms to handle the real-time selling and buying of digital advertising, mainly video, it needs greater size to successfully leverage the wealth of data it gets from its more than 110 million mobile customers.
Still, AOL's first quarter showed that Verizon's foray into digital advertising is gaining a foothold. 
"[AOL] is the kind of thing that you start to build scale around the content piece," McAdam said. "For both video and our Internet properties, let's feed them at the right pace, not too fast and not too slow, but I think it can be pretty big." 
Maybe getting bigger will include a Yahoo! acquisition.
Verizon shares on Tuesday morning were up 32 cents, or 0.64%, to $49.46. Yahoo! shares were up 68 cents, or 1.85%, to $37.34.