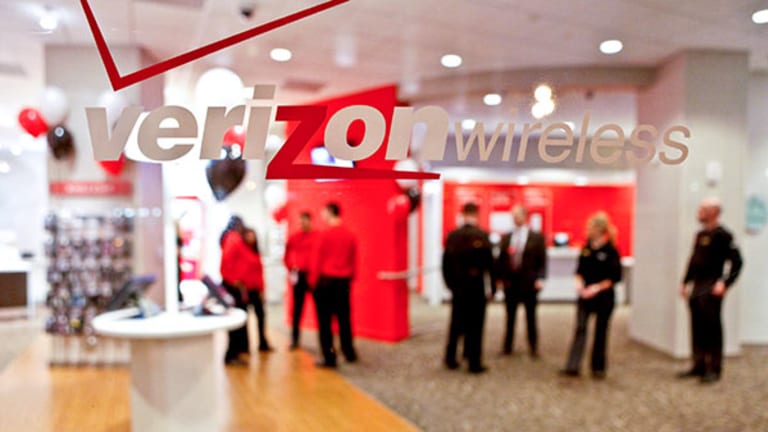 Verizon Rises on 5G Testing Plan, Saga Communications Falls: Telecom Winners & Losers
The Dow, S&P 500 and Nasdaq each gained more than 2% Tuesday.
NEW YORK (TheStreet) -- Shares of Verizon Communications (VZ) - Get Report rose by 2.4% Tuesday, closing at $45.89, after the company announced it expects to begin testing 5G technology next year.
"5G is no longer a dream of the distant future," said Roger Gurnani, executive vice president and chief information and technology architect for New York-based Verizon, in a release. "We feel a tremendous sense of urgency to push forward on 5G and mobilize the ecosystem by collaborating with industry leaders and developers to usher in a new generation of innovation.
"The expected benefits of 5G," Gurnani continued, "include about 50 times the throughput of current 4G LTE, latency in the single milliseconds, and the ability to handle exponentially more Internet-connected devices to accommodate the expected explosion of the Internet of Everything."
Verizon introduced 4G LTE, or fourth-generation long-term evolution, wireless network technology six years ago.
If all goes as planned, Verizon could begin a commercial rollout of 5G in 2017, CNET reported.
Straight Path Communications (STRP) shares rose by 10.6% Tuesday, closing at $24.44. The company, based in Glen Allen, Va., owns and leases fixed wireless spectrum licenses in the U.S.
Straight Path reported net income of $798,000 on total revenue of $2.8 million for the fiscal quarter ending April 30, 2015, compared with a net loss of $277,000 on total revenue of $2.7 million for the prior three months, which ended Jan. 31, 2015.
Straight Path shares have declined in the past two months from their high of $33.17 on July 1.
Shares of Saga Communications (SGA) - Get Report declined by 1.9% Tuesday, finishing the day at $33.83. The company, based in Grosse Pointe Farms, Mich., operates and buys television and radio stations in the U.S.
The company reported net income of $4.4 million on total revenue of $34 million for this year's second quarter, compared with net income of $2.1 million on total revenue of $29 million for the three months that ended March 31.
But the company posted a year-over-year decline in annual earnings from $15.2 million on Dec. 31, 2013 to $14.9 million on Dec. 31, 2014.
The company announced last month that it had obtained a new $100 million revolving credit line. Saga Communications' most recent stock high was $40.50 on July 31.
This article is commentary by an independent contributor. At the time of publication, the author held no positions in the stocks mentioned.