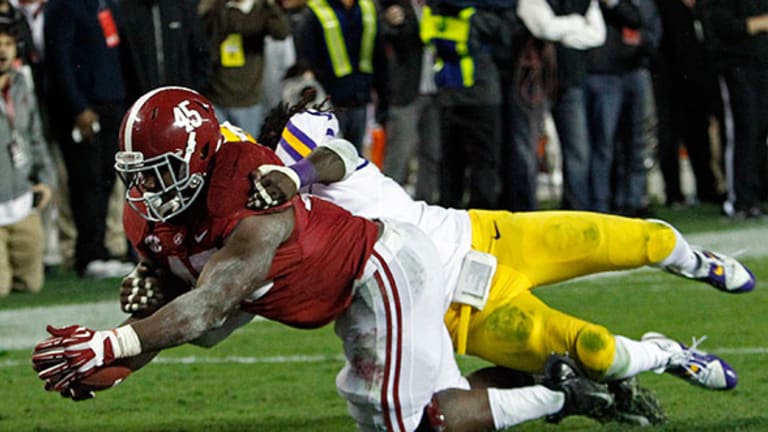 Varsity Brands Wins Big in Battle Between Alabama, Clemson Cheerleaders
Clemson and Alabama cheerleaders will be showcasing Varsity Brands' merchandise during Monday night's championship game.
Cheerleaders from Clemson and Alabama will not only be representing their universities during Monday night's championship football game, they will also be showcasing Varsity Brands, which trains and supplies both squads, said the company's CEO Jeff Webb.
"The cheerleading part of it is central to what we do and it's at the heart of this whole school spirit concept," said Webb.  
Webb conceived of the company in 1974 while he was a yell leader at the University of Oklahoma. After decades of growth, Varsity Brands has evolved into three business units -- Herff Jones, Varsity Spirit and BSN Sports -- with Varsity Spirit generating revenues of $350 million and employing over 850 people. Webb said the company, which was acquired by private equity player Charlesbank Capital Partners in 2014, has combined sales in excess of $1.2 billion.
Alongside the significant uniform business, Webb said there are 300,000 participants at the cheerleader summer training camps run by Varsity. Varsity also sponsors cheerleading competitions on ESPN.
"It's intense, it's very athletic, there is skill involved and they get the benefits of being a sports participant but also being a leader on the sidelines," said Webb.
Webb said Nike (NKE) and Under Armour (UA) compete with Varsity in some categories, and could get into the space in a bigger way if they wanted, but on the whole they leave the company to its niche.
"There is so much customization in cheerleading uniforms that it's not a great fit for those companies," said Webb. "Plus they don't have the other things like camps and competitions that help drive the model that we've used to be successful."
Webb said Varsity partners with schools, as opposed to sponsoring select programs like the major sneaker companies do with college basketball and football. In his view, by helping the school with signage and branding it creates a deeper tie between Varsity and the school itself, not just the cheerleading team.
So which university will Webb be cheering for on Monday night?
"We have to be neutral. We love all the colleges," said Webb.