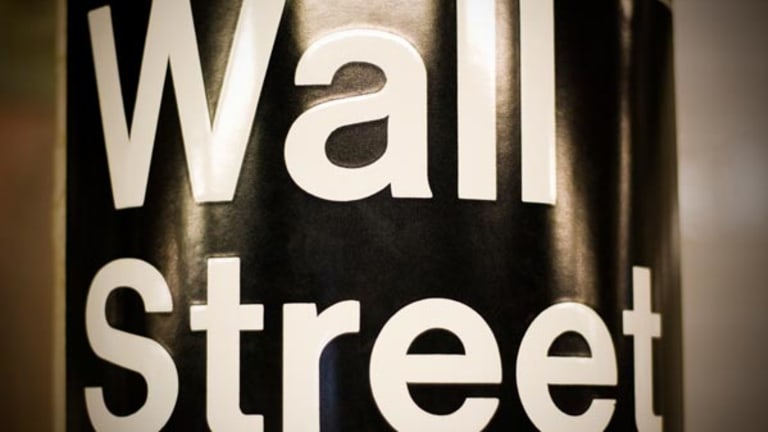 Vanguard's Best Funds in December
A breakdown of the best-performing Vanguard mutual funds for the month of December.
As some investors prefer to park their money directly with specific fund families in order to avoid some of the transaction fees of switching between mutual funds, we at
TheStreet.com
Ratings have been looking at the best-performing Vanguard mutual funds for the month of December.
Vanguard's fund with the highest one-month total return for December is the
Vanguard Extended Duration Treasury Index Fund
(VEDIX) - Get Vanguard Extended Dur Tre Idx IsPl Report
, which returned 22.37%.
The fund holds U.S. government debt with maturities going out 20 to 30 years. Through most of November and December the yield of 30-year bonds was in freefall due to panic buying. The yield bottomed at 2.51% on Dec. 18 and didn't rebound, to just over 3%, until the new year. After a one-year run-up of 55.62%, the prices of government bonds have less upside potential than downside risk.
The second-best fund within this family,
Vanguard REIT Index Fund
(VGSIX) - Get Vanguard Real Estate Index Inv Report
, gained 17.39% for the month. This fund holds U.S. real estate investment trusts like
Simon Property Group
(SPG) - Get Simon Property Group, Inc. Report
, up 11.85% in December;
Vornado Realty Trust
(VNO) - Get Vornado Realty Trust Report
, up 12.91%;
Public Storage
(PSA) - Get Public Storage Report
, up 15.78%; and
HCP
(HCP) - Get HashiCorp, Inc. Class A Report
, up 34.35%.
Sure, the real estate market has been grim with mass quantities of foreclosures and lackluster home sales holding down property prices. The S&P/Case-Shiller Index of property prices in 20 major U.S. cities dropped another 18% in October. Pending previously owned home sales dropped 4% in the month of November to the lowest level on record and completed purchases declined 8.6%. The median home price is 13% below November 2007.
The silver lining is that the average 30-year fixed-rate mortgage being offered at 5.07% is hovering near a record low. And, mortgage application activity picked up in November and December, with the last full week of December hitting a five-year high.
The fact that 79.8% of applicants were seeking refinancing to either cut cost or save their home from foreclosure bodes well for stabilizing the quantity of homes being offered for sale. Low real estate prices and low borrowing costs may be enticing the bottom fishers trying to get ahead of a REIT rebound.
The
Vanguard Precious Metals and Mining Fund
(VGPMX) - Get Vanguard Global Capital Cycles Inv Report
, third best in December, returned 15.50% in the month. The fund directly holds a global portfolio of metals and mining shares including 11.2% in
Lonmin
(LNMIY)
, 9.3% in
Johnson Matthey
(JMPLY)
, 9.2% in
Eramet
(ERMAF)
and 6.5% in
Impala Platinum Holdings
(IMPUY)
.
During the month of December, the spot price of gold rose 7.8% to $882.05 an ounce, building its way back up from its Oct. 24 low of $682.41. Silver also bottomed in late October and has slowly and steadily worked its way up by 10.6% to $11.39 in the month.
The U.S. dollar index, a basket of euros, Japanese yen, British pounds, Canadian dollars, Swedish Krona and Swiss Francs, shed 6.0% in December in a volatile search for direction.
In the short run, low interest rates and potential deflation as well as tapped-out consumers are bearish for the U.S. dollar. However, a proposed stimulus package of $775 billion to $1 trillion may be inflationary in the long run, forcing the U.S. government to pay higher rates to borrow such a large sum. Gold and other precious metals investments, priced in U.S. dollars, do better under inflation than deflation.
Platinum crashed 67.7% from it March 6, 2008, high of $2,301.50 on concerns about the flailing automobile industry, a major user of platinum in pollution-controlling catalytic systems. Up 6.0% to $934.50 an ounce in December, platinum is making a comeback as the auto companies are getting their bailout loans.
Source:
TheStreet.com
Ratings, Fore more information, check out an
.
Kevin Baker became the senior financial analyst for TSC Ratings upon the August 2006 acquisition of Weiss Ratings by TheStreet.com, covering mutual funds. He joined the Weiss Group in 1997 as a banking and brokerage analyst. In 1999, he created the Weiss Group's first ratings to gauge the level of risk in U.S. equities. Baker received a B.S. degree in management from Rensselaer Polytechnic Institute and an M.B.A. with a finance specialization from Nova Southeastern University.