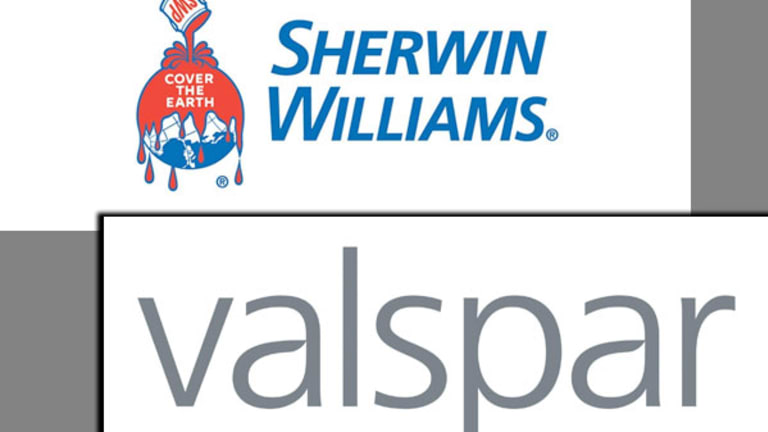 Valspar Merger With Sherwin-Williams Gets Extended Antitrust Review
Antitrust divestitures could trigger a deal price reduction.
The $9 billion merger of Valspar (VAL) with Sherwin-Williams (SHW) received a second request from U.S. regulators, which extends the antitrust investigation of the deal.
The companies said Wednesday that they anticipated the extended Hart-Scott-Rodino review and continue to expect the deal will not close until the first quarter of 2017. The merger agreement does include a potential price cut if divestitures required to obtain antitrust clearance are above a certain threshold.
The Federal Trade Commission, not the Department of Justice, has taken up the antitrust investigation of the paint producers, which may suggest there is some retail aspect to the review. The DOJ may be expected to review a transaction that was chemicals or commodities focused.
Both companies provide branded paint and related products to contractors and the general public. Sherwin-Williams also has retail operations with roughly 4,000 outlets largely in North America where it sells its products. Valspar retails through independent hardware and home improvement chains. The companies also compete in industrial coatings businesses.
Neither Sherwin-Williams nor Valspar would comment on the scope of the request for additional information.
In the merger agreement, Sherwin-Williams agreed to divest or license assets of either Valspar or Sherwin-Williams representing up to $1.5 billion of net sales. But the buyer is not required to divest its Sherwin-Williams brand or the Krylon or Ronseal trademarks or businesses related to these names, except in Australia. The agreement further sets out that if Sherwin-Williams has to divest in excess of $650 million of net sales, based on Valspar's 2015 fiscal year revenues, excluding Australia, then the purchase price for the merger drops from $113 per share for Valspar shares to $105 per share.
The deal spread Thursday was $6.22, or 5.8%, assuming the full $113 deal price. If the merger closed Jan. 31, 2017, that represents an annualized return of 8%.
The deal also requires antitrust approvals in Australia, Brazil, Canada, China, Ecuador, the European Union, Mexico, Russia and Vietnam.