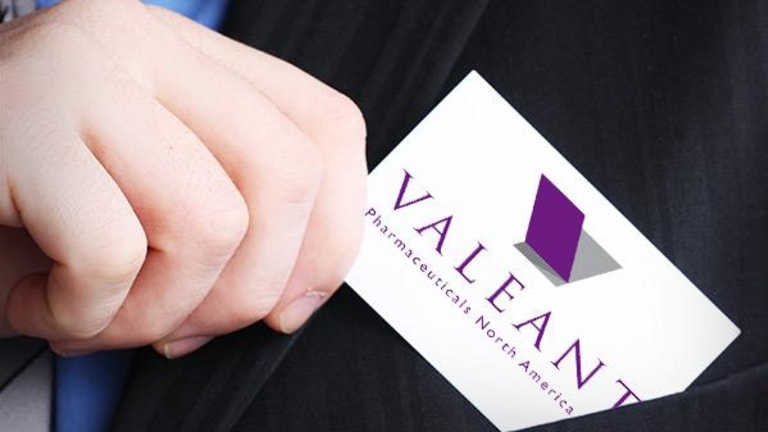 Valeant's Downtrends Are Still Intact
Bill Ackman may be done selling, but the trend remains.
This article originally appeared at 08:45 ET on Real Money, our premium site for active traders. Click here to get great columns like this from Bruce Kamich and other writers even earlier in the trading day. 
Valeant Pharmaceuticals (VRX) is back in the news again, or did it ever leave? Now everyone knows that the hedge fund manager Bill Ackman (Pershing Square Capital Management) has exited his 10% long position in the embattled drug company.
Another case of throwing in the towel or what technical analysts call "capitulation" at a bottom? Certainly it is a case of a big player bailing out -- size doesn't make you right -- but does this improve the technical picture? Let's take a look at the charts and indicators this morning.
In this daily bar chart of VRX, above, using a "log scale" we can see the persistent downtrend over the past 12 months. VRX has stayed below the downward sloping 200-day moving average line the entire time, but there were a couple of times when VRX was able to rally above the 50-day average. Both averages are pointed lower.
Matching the price declines is the On-Balance-Volume (OBV) line. This indicator has been moving lower and lower because the volume of shares traded has been heavier on days when VRX has closed lower (we subtract a bigger number than what is seen on the rare up day). A declining OBV line is a sign of aggressive selling.
Bill Ackman may be done selling, but the downtrends are still intact. Because of scaling issues, it is hard to see if momentum is slowing, but we can see that prices are extremely oversold looking at the slow stochastic indicator in the lower panel. An oversold security can get more oversold. The stochastic indicator and others like it are more useful in sideways markets. An oversold condition may mean that sellers will not press the stock too much here, as an oversold bounce could develop.
In this weekly chart of VRX, above, also on a "log scale" we can see that prices remain well below the declining 40-week moving average line. The weekly OBV line is weak. In the lower panel is the 12-week momentum study, which actually shows a bullish divergence between the lower lows in price but higher lows in momentum since late 2015. Part of this divergence is due to the fact that prices are so low, so there is less room to fall. While a bullish divergence might help to create the start of a bottom, a key reversal to the upside and a rising OBV line would be better.
In this Point and Figure chart, above, we only get part of the huge decline. Today's price weakness before the NYSE open in VRX is not displayed on this chart, so you may ask what is the point? The point is there is now a large area of overhead resistance from around $13 to $17 on VRX.
Bottom line: VRX first needs to stop falling. Next it needs to make a higher low, which will give us a logical place for a sell stop. After the decline ends, VRX will likely need a long repair process, aka a base pattern. Remember that it will probably be more profitable to buy a stock making a new 52-week high than to bottom pick a stock like VRX.
Employees of TheStreet are restricted from trading individual securities.