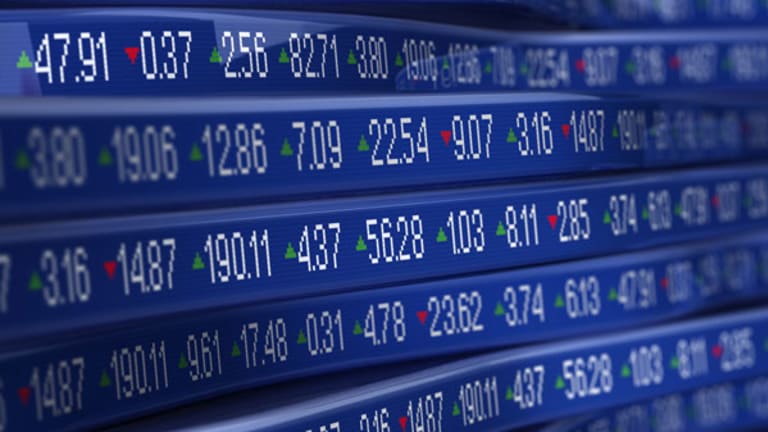 U.S. to Gain From Emerging Markets Woes, Say Fund Managers
US markets will ultimately benefit from the emerging markets rout that underpinned global equity losses for a third day on Monday, fund managers say.
NEW YORK (The Street) --- U.S. markets will ultimately benefit from the emerging markets rout that underpinned global equity losses for a third day on Monday, fund managers say.
Emerging market stocks are suffering their worst start to a year since 2009 amid a sell-off in the currencies of Turkey, South Africa and Brazil as indebted developing nations struggle with a softer global growth outlook. Making matters worse, access to 'easy money' from stimulus programs is being wound back, exposing countries already running current account deficits.
With emerging market economies on their heels, commodity prices have been dropping, a potential boon to U.S. companies and equities. Meanwhile, the selling in developed market stocks by global investors seeking to cover their losses in emerging markets is a temporary phenomenon, said Wells Fargo Funds Management chief portfolio strategist Brian Jacobsen. 
"Longer term we'll see continued declines in commodity prices which will feed through to input costs for businesses - a positive for profit growth for US companies and our markets," Wisconsin-based Jacobsen said in a phone interview. Wells Fargo oversees around $238 billion in funds under management.
Jacobsen expects a reversal bounce if the Federal Reserve decides not to continue cutting its massive bond-buying program on Wednesday.
He said fears of another emerging markets debt-crisis were probably overblown, citing factors such as better debt-to-GDP ratios, more debt held in local currency bonds which provided easier financing and greater flexibility with exchange rates.
Raymond James chief investment strategist Jeff Saut predicts a fall of between 5-7% or 10-15% for US markets, depending on the extent of losses in emerging markets. He said there was a real possibility of another debt crisis in emerging markets, which would drag on US stocks.
"Baby boomers desperately seeking to recoup their savings (after the global financial crisis) piled into emerging markets and now the chickens have come home to roost," Florida-based Saut said in a phone interview. "But longer term we are in a secular bull market (for the US)."
Saut cautions investors not to jump into US markets or add to their holdings yet - instead, predicting support for the S&P 500 at levels around 1,758. The equity strategist, who helps oversee $400 billion in funds under management, said the Federal Reserve was now unlikely to add to the wind-back of bond purchases on Wednesday.
Several remain bullish on the longer-term outlook for emerging markets.
Anthony Moro, head of emerging markets for BNY Mellon's depositary receipts business, says compelling valuations in emerging markets means they retain longer-term appeal.
He gives the example of oil companies based in Brazil or Russia versus the US. Aside from governance issues and cost bases, all these companies are doing the same thing - extracting oil and selling it. Yet emerging market oil companies trade on a valuation around three times lower than those in the US, Moro notes.
"We'll have volatility in markets over the next six months but the valuation story is too compelling," the NewYork based executive said in a phone interview."
Like Jacobsen, he downplays the prospect of another full-blown debt crisis for emerging markets but acknowledged continued outflows from those regions in the short-term.
In the meantime, BlackRock recommends diversifying into international stocks. The world's largest money manager noted that 
during a week of negative news, Europe had surprised with a surge in manufacturing data.
"For investors overly focused on U.S. stocks, we would suggest increasing exposures to other large developed markets in Europe and Japan [with an] overweight positions to both of those regions," BlackRock's Global Chief Investment Strategist Russ Koesterich told clients in a note. BlackRock has $4.3 trillion in assets under management.
More broadly, Moro said there was still strong evidence of emerging market issuers coming to the US to raise capital. Last year saw a jump in capital raisings for foreign companies using depositary receipts, with 51 transactions from companies based in 20 countries according to BNY Mellon. This represents 65% a jump on the prior year when there were 31 capital raisings by issuers from 12 countries. BNY Mellon oversees $1.6 trillion in assets under management.
-- By Jane Searle in New York