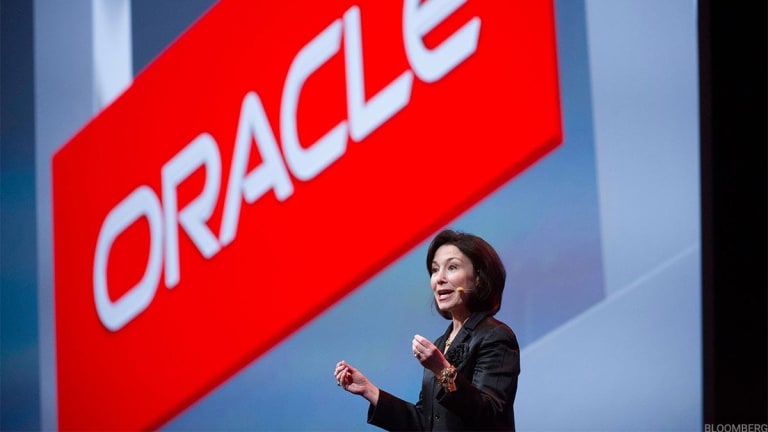 U.S. Tech Giants Are Taking a Hit From the Dollar's Rally
Tech firms such as Oracle, Red Hat and Akamai have blamed the dollar's rise for guidance cuts issued this month, and others may soon follow.
Following several quarters of boosting the profits of U.S. multinationals, the dollar is now starting to hinder them.
Tech companies certainly aren't unscathed, as the outlooks delivered by Oracle (ORCL) , Red Hat  (RHT) and Akamai Technologies (AKAM) this month make clear.
Since mid-April, the dollar has rallied strongly against the euro, the pound, the yuan and a number of other foreign currencies. Whereas the dollar was worth 0.81 euros and 6.28 yuan as of April 16th, it's now worth 0.86 euros and 6.58 yuan, respectively.
Rising interest rates, and the belief that additional Fed rate hikes are on the way, likely have a lot to do with the dollar's rally. By curbing money supply growth and making dollar-based assets such as Treasuries more attractive to foreign investors, higher rates give the dollar a boost.
Trade tensions might also be contributing to the rally, by making risk-averse investors pull out of foreign currencies deemed vulnerable to a trade war, and perhaps also by raising expectations of reduced dollar outflows related to trade deficits.
Last week, the dollar's rally led Oracle, which in March had forecast currency swings would act as a 3% tailwind to its May quarter revenue growth, to forecast that forex would act as a 1% headwind to its August quarter revenue growth. In addition, Red Hat declared currency swings to be the reason it's cutting its fiscal 2019 (ends in Feb. 2019) revenue guidance to a range of $3.375 billion to $3.41 billion from a prior range of $3.425 billion to $3.46 billion.
And on Tuesday morning, Akamai cut both its Q2 and full-year guidance, while blaming forex. The content delivery network (CDN) provider now expects 2018 revenue of $2.675 billion to $2.705 billion, down from prior guidance of $2.69 billion to $2.72 billion. Shares are down 2.5% to $75.68 as of the time of this article.
Just about every large-cap U.S. tech company is impacted to some extent by a stronger dollar. Here's a look at the international exposure of some well-known U.S. tech firms:
Apple (AAPL)  - In fiscal 2017 (ended in Sep. 2017), Apple received 63% of its revenue from foreign markets.
Alphabet/Google (GOOGL) - Last year, Google received 53% of its revenue from outside of the U.S..
Netflix (NFLX)  - The company's international streaming operations accounted for 50% of its 2017 revenue. That percentage will likely be higher in 2018.
Booking Holdings (BKNG)  - The international operations of Booking, formerly known as Priceline, accounted for 89% of its 2017 gross profit. A large portion of this comes from Europe.
IBM (IBM) - Big Blue received 53% of its 2017 revenue from markets outside of its Americas segment. A portion of its Americas revenue also of course comes from markets other than the U.S.
Conversely, if you look at sales and profit growth rates in dollars instead of local currencies, the dollar's rally also impacts major foreign tech companies that get a lot of their revenue (if not the vast majority of it) from outside the U.S., such as Alibaba (BABA) , Tencent (TCEHY) , Samsung (SSNLF) , SAP  (SAP) and Nokia (NOK) .
During its March quarter, Alibaba's revenue rose 61% annually in local currency (acquisitions helped a bit), but 76% in dollars. Given the dollar's recent gains against the yuan, however, this trend could soon reverse itself, which would be a negative for American investors, since it implies lower profits as measured in dollars.
The guidance delivered by Oracle, Red Hat and Akamai is quite likely a sign of things to come. As earnings season kicks off in a couple of weeks, look for many other tech firms to tweak their guidance on account of the dollar's recent rally.
Apple and Alphabet are holdings in Jim Cramer's Action Alerts PLUS member club. Want to be alerted before Jim Cramer buys or sells AAPL or GOOGL? Learn more now.