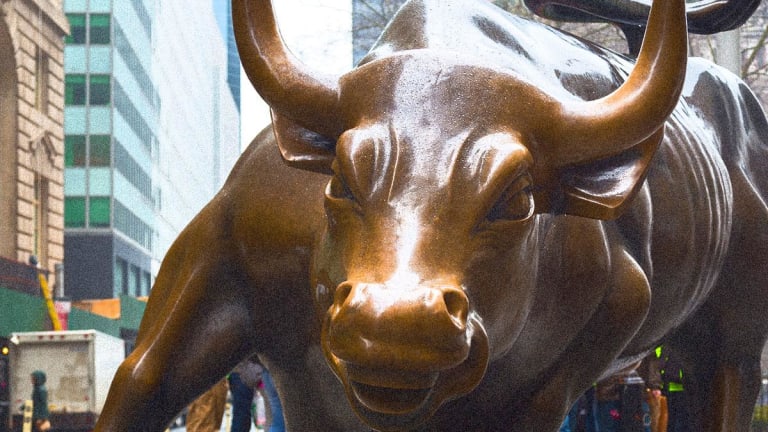 U.S. Stocks Test Records in Longest GDP Boom in History - What's Next for 2019?
The U.S. economy is days away from its longest expansion in history, thanks in part to a dovish central bank and robust tax cuts. But with corporate earnings slowing, consumer confidence waning and global risks mounting, investors are asking if the 10-year boom will survive the second half of an extraordinary year for financial markets.
The U.S. economy is days away from its longest expansion in history, thanks in part to a dovish central bank and robust tax cuts, but with corporate earnings slowing, consumer confidence waning and geopolitical risks mounting, investors are asking if the 10-year boom will survive the second half of an extraordinary year for global financial markets. 
July will mark the 121st consecutive month of growth for the U.S. economy, currently humming along at a 2% quarterly clip, according to the Atlanta Fed's GDPNow tracker. U.S. stocks, meanwhile, are once again flirting with all-time highs as investors bet on near-term rate cuts from the Federal Reserve and a breakthrough in trade talks between Washington and Beijing at this weekend's G-20 summit in Japan.
The S&P 500 is the world's leading equity benchmark over the first half of the year, too, with the broadest measure of U.S. stocks riding a 2019 gain of 16.7% after hitting an all-time high of 2,964.15 earlier this week, while the Dow Jones Industrial Average is on track for its best June performance since the 1930s. 
Cracks in the narrative, however, are starting to appear, and investors are adding to risk-free assets such as U.S. Treasury bonds as trade risks mount, Gulf tensions escalate and global manufacturing data suggests a pronounced second-half slowdown.
In fact, according to recent Bank of America Merrill Lynch data, bonds have outperformed stocks in three key markets -- the U.S., Europe and Japan -- over the past 12 months as investors express "no conviction on the path of the economy, earnings, equities or the trade war" while at the same time "everyone believes rates are going lower."
The Federal Reserve is doing its best to manage expectations of faster and deeper rate cuts, with Chairman Jerome Powell insisting the central bank is "insulated" from market and political pressures. Futures prices, however, still suggest at least two and possibly three rate reductions between now and the end of year. The European Central Bank also has primed markets for further monetary easing -- which is likely to include fresh bond purchases -- and the Bank of Japan has signaled much of the same.
U.S. corporate profits, meanwhile, are quietly suggesting a notable slowdown in the coming reporting period, with more than 87 S&P 500 companies issuing negative guidance and FactSet data suggesting collective earnings will fall 2.6% over the three months ending in June, marking the first back-to-back quarterly decline in three years.
"Bond and equity markets are arguing with each other," Russell Investments surmised in its recent third-quarter outlook report. "Bond markets see trade-war escalation, weak global data and declining inflation expectations. Equity markets see Fed easing, China stimulus and a trade deal with China ahead of U.S. President Donald Trump's 2020 re-election campaign."
"The bond market isn't always right, and the equity market story has some appeal, but there is one heavyweight indicator on the side of the bond market -- the inverted yield curve. This has predicted every U.S. recession over the past 50 years. The inversion needs to be sustained for a couple of months to provide a strong signal, but it makes a persuasive case for caution."
Benchmark three-month Treasury bill yields have been trading north of 10-year note yields since late May, when the so-called curve inversion kicked in as equity markets retreated in the wake of a collapse in U.S.-China trade talks and a string of grim manufacturing data readings from the world's biggest economies. 
The inversion has more or less held since then, however, even with a more optimistic outlook on trade talks as well as a planned meeting between presidents Trump and Xi Jinping Friday in Osaka, as 10-year notes rallied under the 2% level for the first time since December 2016.
"There is a view out there that equities appear to be pricing in a very different macro background to what bonds are discounting, with many seeing stocks as extremely complacent regarding the 2H growth outlook," said JPMorgan equity strategist Mislav Matejka in a recent client note. "We do not believe that the recent collapse in bond yields is necessarily a bad omen for future performance of stocks. After all, when the US 10-year yield spiked to 3.2% last September, the next 3 months equity performance was a 20% fall, so the opposite might in fact hold this time around."
Near-term stock performance is likely to depend on both the outcome of the G-20 summit, which at best could bring a cessation to new trade tariffs as the U.S. and China hash out their differences, and at worst trigger a new round of tit-for-tat levies that Fitch Ratings suggests could clip at least 40 basis points from global growth prospects.
Domestic jobs data, which is due next week, as well as the Fed's ongoing monitoring of inflation pressures and house prices, also will be major market focuses heading into the central bank's meeting at the end of july, from which investors are expecting at least a 25-basis-point reduction in the Fed's key lending rate.
"This has so far been an eventful year," said Brad McMillan, chief investment officer at Commonwealth Financial Network. "Despite the turmoil -- in particular, the political risks -- the economy and financial markets have continued to grow. This growth is usual when the underlying fundamentals are sound, and they are."
"The solid fundamentals should continue to support markets through the remainder of 2019, with moderate appreciation likely," he added, while cautioning that domestic political risks, a messy Brexit conclusion and myriad risks in Europe and elsewhere could blow the markets off course.
However, "even if growth does slow (here and abroad) or we see any of the other potential issues (known or unknown), the underlying strength of the economy is likely to limit the damage," McMillan noted. "We've seen many similar situations in the not-so-distant past and they didn't knock the economy or markets off their paths."