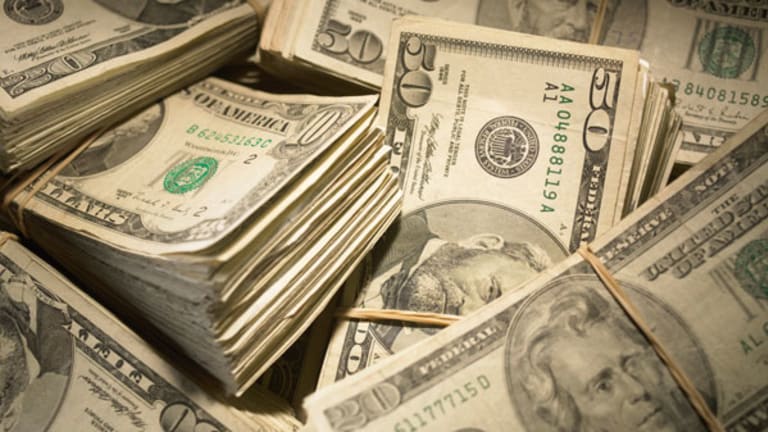 U.S. Oil Industry's Biggest Winners? Pipeline Builders
The boom in North Dakota is strengthening demand for energy transportation.
(TheStreet contributor Frank Byrt traveled to North Dakota to write a series on the domestic energy boom in that state.)
WILLISTON, N.D. (
) -- A daylong tour of North Dakota's Bakken oil shale region, the nation's fastest-growing oil field, makes it obvious that the greatest need here is for infrastructure of all kinds, but especially for pipelines to transport crude oil to refineries.
That lends itself to bright investment outlooks for three pipeline firms that are expanding rapidly to bring Bakken crude to market.
North Dakota, now the nation's fourth-largest onshore oil producer, is on pace to double its oil production by 2015 to more than 1 million barrels a day, which will soon vault it up those rankings and close to the leader, Texas.
Currently, about a quarter of North Dakota's daily oil production is shipped by rail, according to the state-run North Dakota Pipeline Authority. Truck hauling follows in terms of volume shipped, but that means oil is hauled great distances out of the region to rail service, where it is sent to Gulf Coast refineries.
Tanker truck traffic clogs the roads here day and night as trucks also bring water to the site of new wells being drilled in the Bakken, as they require millions of gallons for use in the hydrofracking process to help crack open the underground formations that hold the oil.
Unlike the federal government's stance, pipeline building gets a full-speed-ahead from the state of North Dakota, as Gov. Jack Dalrymple urged industry leaders at a June conference to build pipelines as quickly and safely as possible to take the burden off the state's highways, which are being chewed up by the heavy-truck traffic.
More pipelines would also create more markets for the state's oil and natural gas and be a much more efficient and less costly means of transport, a big savings that would help make Bakken-produced oil and gas the nation's cheapest resource. Of course, it would also pad the bottom lines of the big exploration and production companies now rapidly ramping up their activities here.
Two of the leaders are Canadian firms:
TransCanada
(TRP)
and
Enbridge
(ENB)
.
Enbridge, already one of the largest crude-oil transporters in North America, is competing head-to-head with TransCanada, which is well-known as the backer of the controversial Keystone XL pipeline project.
Enbridge is also aggressively building tank-storage capacity in the Bakken region and increasing its storage capacity by 2 million barrels at its Cushing, Okla., facilities, the community where West Texas Intermediate (WTI) prices are set.
TransCanada Corp.
(TRP)
is likely going to be the biggest player in the pipeline sector by far in a few years when the Keystone XL pipeline project gets the green light, which company executives have said is only a matter of time.
In January, the U.S. State Department rejected the company's application to build Keystone XL, which would carry heavy crude from Alberta oil sands and the Bakken to southern refineries. The government said it needed more time to review environmental concerns.
TransCanada said it is filing a new application and expects to have the pipeline in service by the end of 2014.
As part of its efforts, TransCanada told the State Department that what had been the Cushing to Gulf Coast portion of Keystone XL will be constructed as a separate project, which lets it escape from the presidential permit process. Subject to approvals, it is expected to be in service by late 2013 at a cost of $2.3 billion, according to analysts.
A relative late-comer to the Bakken pipeline business is
Oneok
(OKE)
. Oneok isn't among those producing oil and gas in North Dakota, but it is investing billions of dollars to build pipelines that will bring those products to market.
To store the huge surplus of oil in the region, giant, two-story oil-storage tanks are cropping up in North Dakota farmers' wheat fields, along with the oil derricks and the pump jacks of producing wells. Enbridge's tanks are seen most frequently throughout the Bakken region surrounding Williston.
Many of the largest exploration and production firms in this area are also building their own storage, which can also help them put oil aside to serve as a hedge when crude prices are low. They include Norway's international oil giant,
Statoil ASA
(STO)
, which bet big on the Bakken with its $4 billion acquisition of the U.S. exploration and production firm Brigham Exploration late last year, and two of the region's top producers,
Continental Resources
(CLR)
and
Hess
(HES)
.
Here are summaries of the three leading oil pipeline firms that are adding capacity in the Bakken oil shale fields of North Dakota:
3.
Enbridge
(ENB)
Company profile:
Enbridge, with a market value of $32 billion, is a major player in the transportation and distribution of crude oil and natural gas throughout North America.
The company's Liquids Pipelines segment operates common carrier and contract crude oil, natural gas liquids and refined products pipelines and terminals. Through its limited partnership (
Enbridge Energy Partners
(EEP)
), it operates the U.S. portion of the Lakehead pipeline system, the world's longest crude pipeline, which stretches 3,300 miles from the Canadian oil fields in Alberta to Chicago, points east, and is currently expanding its pipelines toward the Gulf Coast. The company has several other smaller crude pipelines in the U.S. as well as a sizable natural gas gathering and processing business.
Dividend yield:
2.73%
Investor takeaway:
Its shares are down 7% this year, but have a three-year, average annual return of 17%. Analysts give its shares five "buy" ratings, one "buy/hold," and 11 "holds," according to a survey of analysts by S&P.
Morningstar analyst David McColl writes that "while its main rival, TransCanada, has been seeking approval of the Keystone XL pipeline, Enbridge has taken some of TransCanada's thunder with its 50% acquisition of the Seaway Pipeline, which competes with TransCanada's Gulf Coast Pipeline that runs from Cushing (Okla.) to the Gulf Coast and was originally part of the proposed Keystone pipeline system."He also notes that Enbridge's assets produce "steady cash flows with little sensitivity to volumes or commodity prices."
2.
TransCanada Corp.
(TRP)
Company profile:
TransCanada, with a market value of $32 billion, is is among the largest pipeline operators in North America, owning more than 35,000 miles of natural gas pipelines.
Dividend yield:
3.89%
Investor takeaway:
Its shares are up 6.4% this year and have a three-year, average annual return of 19%. Analysts give its shares two "buy" ratings, four "buy/holds," nine "holds," and one "weak hold," according to a survey of analysts by S&P.
S&P has it rated "buy," with a $49 price target. It's currently at $45.60.
1.
Oneok
(OKE)
Company profile:
Oneok, with a market value of $9 billion, processes, transports and distributes natural gas and natural-gas liquids across the country. The company owns 47.7%, including the general stake and incentive distribution rights, of pipeline master limited partnership Oneok Partners.
Dividend yield:
2.74%
Investor takeaway:
Its shares are up 5% this year and have a three-year, average annual return of 39%. Analysts give its shares four "buy" ratings, four "buy/holds," and five "holds," according to a survey of analysts by S&P.
S&P has it rated "strong buy," with a $50 price target. Tanjila Shafi, an S&P Capital equity analyst who covers the industry, said in a research note last week that the company has earmarked $3.6 billion to $4.2 billion for projects in the Bakken shale region. Those projects include the $450 million to $550 million Bakken Pipeline project, a 525-mile pipeline connecting natural gas liquids gathering systems in the Bakken to the interstate pipeline system. It is also building three natural gas processing plants in the region and the Bakken Crude Express Pipeline, a 1,300-mile pipeline transporting oil produced in the Bakken to the U.S. oil distribution hub in Cushing, Okla.
Disclosure: TheStreet's editorial policy prohibits staff editors and reporters from holding positions in any individual stocks.