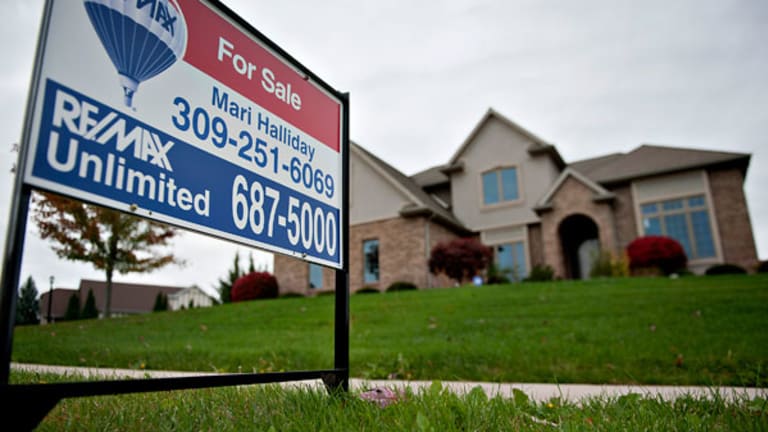 U.S. Housing: It 'Has to Move Higher'
Despite certain parts of the country getting too expensive for a lot of buyers, the U.S. housing market is back.
NEW YORK (
) -- An apparent surge in home prices has prompted concerns the country's housing market might be getting too hot, especially in more desirable places such as California and Arizona.
Such worries though are hardly warranted -- an overheated housing market isn't about to happen anytime soon, even though U.S. housing prices jumped 10.9% year-over-year in March, according to the S&P/Case-Shiller 20-city home price index.
Although we've seen some blips in some data points recently, the year-over-year trends are still good, according to
Zillow
(Z) - Get Report
chief economist Dr. Stan Humphries. "Annualized, you're still seeing 10% to 15% year-over-year growth," Humphries said in a recent interview.
Inventories are in large part to thank for the housing market turnaround. Builders aren't building many new homes, and resales are still pretty tight, especially in some of the hotter markets.
Nationally through the end of February, sales were down 17% year-over-year, with the hotter markets, such as Los Angeles, Las Vegas, Phoenix, San Francisco, Portland, and others showing inventories down even more, in some cases, by as much as 40%.
Buyers are stepping up in droves because of low-interest rates, driven by the Federal Reserve's policies. "Buyers are being influenced mightily by zero-interest rate policy and quantitative easing," said
DoubleLine's
Jeffrey Gundlach in a recent
with
TheStreet
. "Those things together create a market that is much higher, therefore there is confidence in it."
Humphries echoed those thoughts, particularly, as they relate to the Federal Reserve's purchases of mortgage-backed securities. "The high affordability is attributable to low refinancing rates, as we sit around 3.5% on a 30-year fixed mortgage," Humphries noted. There are some concerns about affordability, particularly if the Fed continues to target 6.5% unemployment as its goal, a figure which may not be achieve until mid-2015.
"If we drive at these rates until 2015, we're going to push prices up above fundamental levels, and markets will be overpriced," Humphries said.
Not only are low rates fueling the surge but investors themselves are doing their part. Hedge funds, private equity funds such as
Blackstone
(BX) - Get Report
, and others are buying up single-family homes in droves, further adding to the inventory squeeze. Investors were the ones who were buying homes in foreclosed markets, however that's had a negative impact on home ownership rate. That's fallen from 70%, which is the average, to 64% or 65%.
Investors have been buying foreclosed homes, getting into the markets as early as 2009 or 2010, purchasing the properties with cash, financing them at attractive rates. In turn, the people who've owned those homes in the past are being thrown out, and the houses are then being rented. To a lesser extent, retirees and second-home buyers are also taking additional supply off the market.
As prices continue to rise because of little-to-no new supply, home prices, relative to income, are starting to look overvalued again in some areas of the country. Despite those initial concerns, prices will continue to go higher, due to a lack of supply to eventually bring the supply and demand balance back in order.
The Southern California market, particularly in areas such as Newport Beach, Irvine, and other places in Orange County, Calif., saw a 5-year lack of supply, said
Tri Pointe Homes
(TPH) - Get Report
Chief Operating Officer Thomas Mitchell, a Irvine, CA.-based homebuilder in a recent interview. "There's a lot of pent up demand there. I think people postponed buying decisions for a long time, and now that they have confidence that the economy is on somewhat stable footing, and with mortgage rates being as low as they are, they're saying now is the best time possible to buy. They're jumping in."
2013 seems poised to become another good year for housing, with Humphries expecting continued price appreciation. Home prices were up 5.8% year-over-year per Zillow's index. From February 2013 to February 2014, Zillow is calling for home prices to increase 3.2%. That's down from 2012, but it's still trending higher, something many homeowners couldn't fathom just two short years ago.
Homebuilders can't just ramp up supply though many are trying their best to do just that. Homes were being built at replacement levels for the past three or four years, and now that the job market is on stable footing, and the economy is as well, consumers are increasingly becoming confident.
One area of concern is the lack of construction workers. Many have either relocated to different areas, or out of the industry altogether, and that's making it hard to ramp up additional supply. In its April jobs report, the Bureau of Labor Statistics
just 4,379 people found jobs in the construction industry. That's not anywhere close to what the industry needs to ramp up production to get close to the 2 million annual new homes that were built in years past.
Recent figures for housing starts put the annual rate around 1 million or 1.2 million units. "We're still way below where we need to be," said
DoubleLine
portfolio manager Brendt Stallings in a recent interview. "I believe when you look at GDP and where housing relates to it on a normalized level, it's still a couple hundred basis points below normalized levels. That's a huge tailwind, if that even gets back to halfway back to normal. The housing recovery we've seen is still in the very early stages."
There's also the issues of negative equity holding back the supply, and letting the market appreciate further. Humphries said Phoenix still has 40% negative equity in a lot of its homes, and the same is true for areas such as Detroit, and parts of Southern California and some markets in Florida. "The liquidity that exists in the housing market is usually at 5-7% of homes. Now, it's likely at 3% to 4% because of negative equity."
The downtrodden cycle was broken by negative equity being erased, and investors only helped move this cycle faster, as they scooped up homes left and right, thanks to low interest rates and an easy monetary policy.
A 7.4% interest rate on a 30-year fixed mortgage would get national affordability back to its historical level. That's way below where we are now, with 12.6% of peoples' incomes being spent on housing. A 7.4% interest rate would get you to 20% of income spent on housing, which would be a dangerous level, especially for markets such as LA, San Francisco, San Jose, Sacramento, Boston, and Washington D.C. We won't be back to 7.4% anytime soon, but some experts believe that rates could be at 5% by the end of 2015, or perhaps mid-2016. At a 30-year fixed rate of 5%, the aforementioned markets would be slightly overpriced, Humphries says, but that doesn't mean people should stop buying houses. "Expectations need to be tempered, and people should not stop buying homes if they're going to live in them for a long period of time."
That's not something investors need to worry about anytime soon, though. Housing has been talked about positively by not only economists, but has been a predominant theme for investors as well. Steve Eisman mentioned U.S. housing as a theme at the Ira Sohn Conference in New York in early May, and interest rates aren't likely to rise anytime soon.
With money fleeing zero-interest rates, and people wanting a return on their investment, real estate has become one of the sectors where investors are increasingly confident they'll not only get a return of assets, but a return
on
assets. "Real estate is the new gold," Gundlach said. Gold went up because it went up, and real estate went up because it's going up, and there's kind of a panic. Doubtless, it will lead to affordability problems, which will lead to headwinds for the housing market down the line. But first, it has to move higher."
--
Written by Chris Ciaccia in New York
>Contact by
.