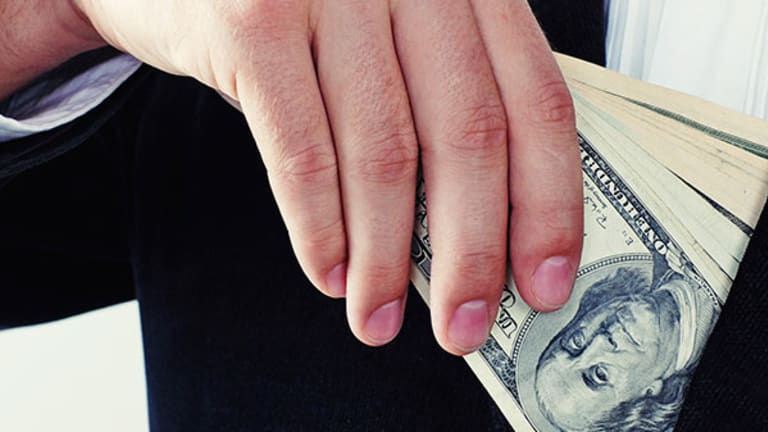 U.S. Dollar Is Now the Safe Haven Asset, Not Gold
Gold has been trading in range around $1,200 this year.
NEW YORK (TheStreet) -- For most of 2015, gold has been trading in range around $1,200 as it struggles to find conviction to the up or downside as interest rate hike speculation and Greece's ability to pay debt is trumping fundamentals. It has mostly been more of a technical trade.
Commodities are priced in U.S. dollars, so as the greenback moves higher, instruments like oil and gold generally move lower, and the inverse applies due to the strong correlation in the moves. Commodities move on other fundamentals such as supply and demand in addition to the U.S. dollar.
Tom Vitiello of Aurum Options Strategies told Jill Malandrino that gold has been under pressure this week due to the dollar's movement, but also because of weakness in the Chinese market, which has moved the entire metals complex lower. Gold was able to hold the $1,145 on Tuesday and that could be why there is a little rally on Wednesday from a technical perspective.
There was also a lot of short covering at the lower levels where most of the open interest was. Even though there is a lot of macro uncertainty in the market place, Vitiello said investors seem to be looking to the dollar as the "safe haven" investment versus gold, especially with the Fed dialing back on liquidity.
In terms of interest rates, Vitiello said traders were pricing in a move in the September Fed meeting, but with uncertainty around Greece's ability to honor its debt and the slide in the Chinese market, they are now looking a bit further out.
Key levels to watch is the old low of $1,140 and should that break to the downside, Vitiello said $1,040 could be the next stop. On the upside, $1,250 is the key resistance level and if that gets passed it may be time to get more directionally bullish based on the price action.