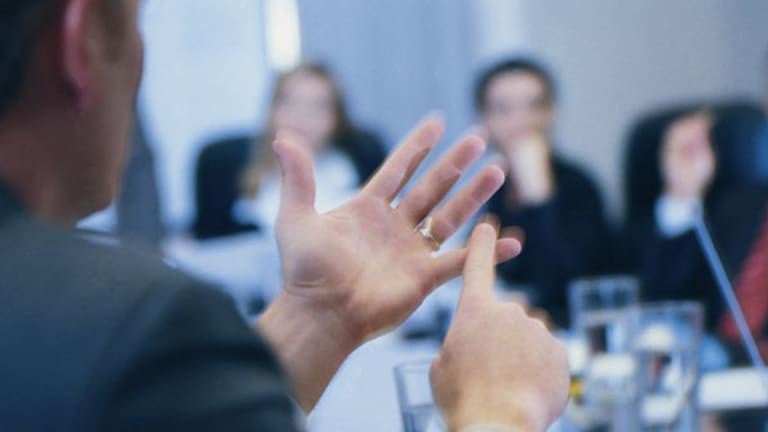 US Cellular Chief Tries the High Road
Mary Dillon brings a rewards approach to wireless as U.S. Cellular launches friendlier terms to a hardline industry.
Editor's note: This story was part of TheStreet's 10-part Top Business Leaders of Tomorrow series.
NEW YORK (
) --
U.S. Cellular
(USM) - Get United States Cellular Corp Report
chief Mary Dillon loves her customers so much she's willing to let them go. Well, once they've completed a two-year contract, anyway.
That seems to be the hope behind U.S. Cellular's new "Belief Project," which is a selection of calling plans the Chicago-based wireless company launched this month. The offering assumes that people will be so happy with the phone service, so larded up with reward points and so eager to cash in on an 18-month phone upgrade that they won't need a contract to keep them from straying.
More Top Leaders: SanDisk's Shuki Nir>>
Loyalty programs have been part of the marketing playbook for years -- think credit card points, airline miles. But the approach is new to telecom.
And so is Dillon.
Mary Dillon, CEO US Cellular
Dillon's job at the so-called super-regional wireless shop is to establish a distinct image that sets U.S. Cellular apart from the rest of the pack. This isn't necessarily easy in a market of strong identities like
Apple
(AAPL) - Get Apple Inc. (AAPL) Report
iPhone seller
AT&T
, "Droid shop"
Verizon
(VZ) - Get Verizon Communications Inc. Report
and "price-cutter"
Sprint
(S) - Get SENTINELONE, INC. Report
.
But Dillion's past should serve her well as she takes on these wireless titans. Prior to accepting the top job at U.S. Cellular in May, Dillon was trying to sell a healthier image of fast food as the hard-charging marketing chief of
McDonalds
(MCD) - Get McDonald's Corporation (MCD) Report
. Though she won't necessarily be bringing the dollar menu to wireless, she said she does see some industry parallels.
"Food and cell phones are two of the most important things to people -- well, maybe families are first, but I'd put food and cell phones next," said Dillon. "People care about quality and value."
Dillon said she brings to the wireless industry a customer focus that she learned at McDonalds, and prior to that, her marketing efforts behind products like Propel and Snapple at Quaker Oats. She calls U.S. Cellular's customer focus plan a "human coverage" strategy, a slight twist on the wireless industry's obsession with network coverage maps.
With reward points, lower contract termination penalties and shorter phone upgrade periods, Dillon's approach is intended to make customers feel more respected, a key point U.S. Cellular says is lacking elsewhere in the business.
The oddly named Belief Project is an outgrowth of the company's "believe in something better" ad campaign that preceded Dillon's arrival at U.S. Cellular this spring.
Dillon said she is very much behind the thrust of the campaign, which attempts to address a perception that subscribers are not held in high regard by their carriers and have to be locked into contracts, then penalized if they leave.
Dillon wants to turn that view around a bit. One of the accomplishments she points to at McDonalds was the creation of the Global Moms Advisory Panel, where she solicited the views of parents. "Successful brands focus on customer needs and imagine what those future needs look like," said Dillon.
Dillon's softer approach to wireless: U.S. Cellular has a $150 early contract termination fee, among the lower penalties in the industry, which can run as high as $350. The company caps overage charges at $50 a month, somewhat lessening the costs that kick in when users exceed the minutes or data limits of their plans. After two years, users can change their calling plan without having to sign another contract.
And finally, subscribers are eligible to use reward points to buy new phones at promotional prices after they've completed 18 months with the service. The industry norm is a new phone with a new two-year contract.
For existing customers it's a loyalty perk, but Dillon sees it as an enticement to lure customers from other carriers. The net effect, Dillon hopes, is a reduction in the amount of customers that leave the service. U.S. Cellular has a monthly churn or defection rate of 1.4%, a respectable number comparable to the 1.1 and 1.2 levels of Verizon and AT&T.
"We hope," said Dillon, stressing the point of the "belief" campaign, "that they will look at us when they consider something better."
--Written by Scott Moritz in New York.>To contact this writer, click here: Scott Moritz, or email: scott.moritz@thestreet.com.To follow Scott on Twitter, go to http://twitter.com/moritzdispatch.>To send a tip, email: tips@thestreet.com.
Top Business Leaders of Tomorrow:
United Guaranty's Eric Martinez