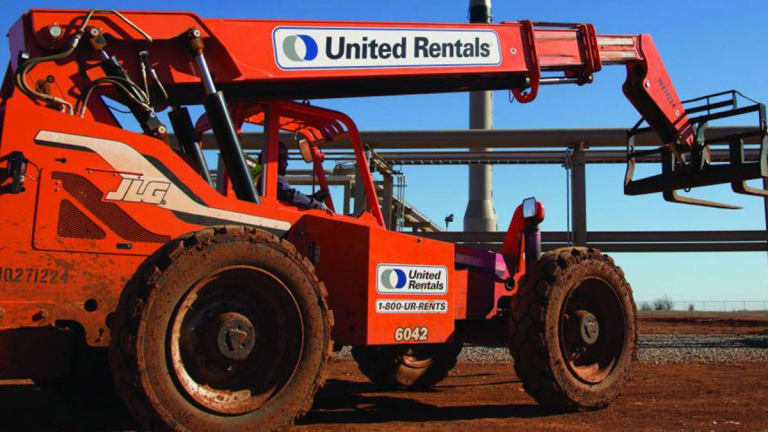 URI Gets Big Lift After Analyst Upgrade of Construction Equipment Renter
Goldman analyst Jerry Revich raises his price target for United Rentals to $165 a share, up from $128 previously, with inventory in the construction rental equipment sector showing signs of stabilization.
Shares of United Rentals (URI) barreled forward Friday after the construction equipment rental giant earned an upgrade from a top analyst.
United Rentals' stock price rose 3.29% to $129.21 after Goldman Sachs boosted its rating on the stock to buy from hold.
Goldman analyst Jerry Revich also raised his price target for United Rentals to $165 a share, up from $128 previously, which envisions an upside to the equipment rental firm's stock of roughly 29%.
While the economy shows signs of slowing, inventories of used construction equipment are "stabilizing" and manufacturers are poised to start cutting back on production of new equipment, which should provide a boost to United Rentals, which supplies contractors with everything from boom lifts and air compressor to track loaders, the Goldman report noted.
The Goldman report also cited favorable multiples. United Rental's stock price also sports relatively low share price to earnings and share price to sales ratios, making it more of a buying opportunity, according to Zacks Investment Research.
"Valuations are near historical lows on an asset value basis," the Goldman analyst wrote. "We believe the risk-reward is skewed to the upside with asset-based valuations near cyclical lows while machine inventories have stabilized."
Revich also lifted his rating on Herc Rentals (HRI) to buy from sell, citing the same factors.
Shares of Herc rose nearly 9% on Friday, to $49.26.