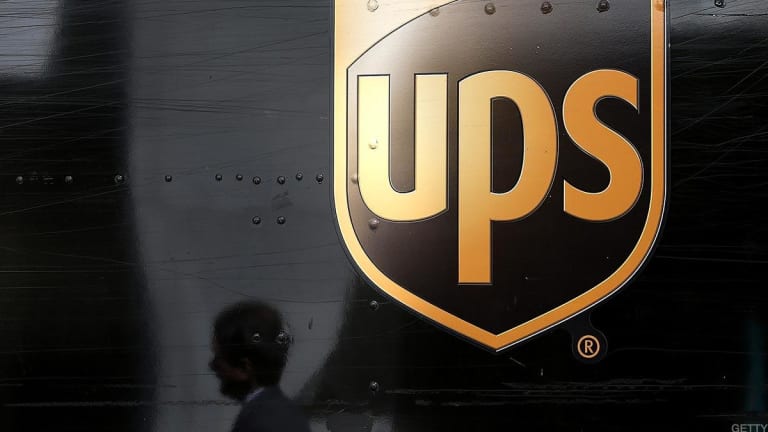 UPS Rises After Second-Quarter Earnings Beat
The Atlanta-based company reported adjusted earnings of $1.94 per share on revenue of $17.46 billion.
UPS delivered. 
United Parcel Service Inc. (UPS)  shares rose on Wednesday as it reported top- and bottom-line beats for the second quarter.
The Atlanta-based package shipping giant said net income rose to $1.49 billion, or $1.71 on a per share basis. Earnings, adjusted to exclude a pre-tax charge of $263 million due to costs related to the Voluntary Retirement Plan, came in at $1.94 a share, and revenue rose 9.6% to $17.46 billion. Those results beat analyst forecasts calling for earnings of $1.93 a share on revenue of $17.33 billion.
For the full year, UPS said it continues to expect 2018 adjusted earnings in the range of $7.03 to $7.37 a share. The reiterated outlook, despite the solid second quarter beat, may be giving investors pause in the early going.
The company raised its free cash flow target to $5 billion and anticipates capital expenditures between $6.5 billion and $7 billion.
"UPS is focused on executing our strategic imperatives for improved efficiency and high-quality growth," Richard Peretz, UPS's chief financial officer, said in a statement. "We remain confident in our ability to achieve our full-year adjusted earnings per share target."
Shares of UPS rose 1.6% to $114.28 at 9:35 a.m. New York time. The stock had fallen by about 1.3% before erasing those losses in early trading.
UPS saw U.S. domestic revenue increased 6.3% to $10.35 billion, driven by e-commerce demand and increased revenue per piece. But the business unit reported a drop in operating profit due to planned increases in pension expense and cost for network projects.
The international segment, meanwhile, posted revenue of $3.6 billion and operating profit of $618 million, which was the company's "highest second-quarter operating profit ever," UPS said.
For the supply chain and freight segment, revenue jumped 16% to $3.5 billion.
"UPS is making great progress on our transformation initiatives to enhance profitable growth and improve operating leverage," said David Abney, UPS Chairman and CEO. "We are confident that our strategies will position the company to provide improved value for customers and shareowners."