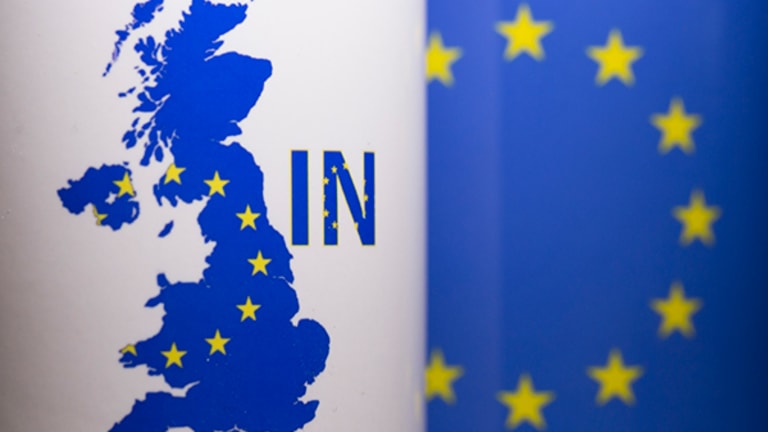 Publish date:
Upcoming Brexit Vote Rattles U.S. Markets; 'Yes' Vote Could Trigger Even Bigger Selloff
New polls showing a potentially close vote on the Brexit referendum rattled U.S. markets this week. A bigger selloff could be ahead if Brits say yes to leaving the EU.
New polls showing a potentially close vote on the Brexit referendum rattled U.S. markets this week. A bigger selloff could be ahead if Brits say yes to leaving the EU.
Concerns that the Brits may vote to leave the European Union in next week's Brexit referendum is riling the U.S. equity markets, with the S&P 500 plunging more than 2% over the past week. And experts warn even more turmoil may lie ahead - including a possible full-blown correction - if those fears become a reality.
Until recently, U.S. equity investors have largely ignored the Brexit referendum, on the belief that Brits wouldn't pull the trigger on voting day and would ultimately remain in the EU. But recent polls are showing that momentum appears to be growing for those wanting to leave the EU and that a much tighter - and less certain - vote is at hand.
"Polls show the 'leaves' are 47%, the 'stays' are 42% and there's 13% undecided," said John Blank, chief equity strategist at Zacks Investment Research. "Nobody has a clear majority."
And that's causing global markets to swoon and traders to rethink their strategies. The euro and British pound have both sold off against the U.S. dollar.
Even the Federal Reserve has delayed plans to raise interest rates, partly due to uncertainty over Brexit.
"There's significant uncertainty over what will happen," said Robert Baur, chief global economist at Principal Global Investors. And the markets hate uncertainty, he said.
The VIX, which is the S&P 500 volatility index or so-called "fear gauge," surged more than 50% from around 14 last Thursday to more than 22 on Tuesday, making it more expensive for investors to buy options to hedge against future stock price declines. Often, the VIX rises as the S&P 500 falls. So far, the S&P 500 has tumbled about 2% during that period.
Many experts are bracing for an even bigger selloff in the U.S. equity markets if the "yes" vote prevails on June 23.
"I would expect the market to have a further pullback of 3% to 5%," said Michael Palumbo, author of the book Calculated Risk, founder of Third Millennium Trading LLP (which specializes in stock options) and principal at MJP Capital.
Another expert is even more bearish. Axel Merk, president and chief investment officer at Merk Investments LLC, believes a "yes" vote could be the catalyst that pushes the U.S. markets into a full-blown correction. "I think US markets are extremely overdue for a 20% correction off the highs," said Merk. "Maybe Brexit will do it."
Brexit supporters contend the U.K. would be better off on its own, where it can set its own economic and political agenda without interference from the EU, and impose stronger immigration policies. These have been particularly sensitive issues among Brits in light of Europe's migration crisis and terrorist attacks.
However, a "yes" vote would create uncertainty in the markets over the European banking system, the global economy, foreign currency exchange rates, trade and the risk that other countries might also exit the EU, said Baur. After all, leaving the EU could mean a sharp dropoff in trade, investment and economic growth both in the U.K. and Europe. Baur sees a surge in demand for U.S. treasuries, investment grade bonds and healthy dividend-paying U.S. stocks as jittery investors seek out stable, less-risky assets.
U.S. banks, with global businesses, would likely be hit the hardest. Many of their global branches are located in London, and they would no longer be able to use Britain as a gateway for working with Europe. JPMorgan Chase CEO Jamie Dimon indicated earlier this month that as many as 4,000 jobs - or about one quarter of the bank's U.K. workforce - could be chopped if Brits vote to leave the EU.
"If you want to bet on Britain staying, you want to buy [banking stocks], if you want to bet on them leaving, then you want to sell them," said Merk.
On the flipside, a vote to remain in the EU would likely trigger a rebound in U.S. stocks. "I think they could rally 5%," said Palumbo.
Blank sees similarities between the Brexit vote and the upcoming U.S. presidential election, where the conservative party in Britain, like Donald Trump, is aligning itself with the poor and those who are angry over immigration. "With Trump, you have a very rich guy who's supported by a lot of radicalized people who are worried about immigration and trade," said Blank. "It's the same pattern."
He sees striking similarities between Trump and Britain's Brexit crusader, Boris Johnson - from the "rumpled hair" to the "flamboyant" personality. "It's kind of interesting, isn't it?" he said. "I don't know why people sign up for crazy guys pushing ideas like this."
Blank is confident that as the rhetoric subsides and people head to the polls, clearer heads will prevail - both in Britain and at home. "It's a curious and similar parallel to the U.S.," he said. "The politics to this are very similar to what we're going to see in November in the U.S."
This article is commentary by an independent contributor. At the time of publication, the author held TK positions in the stocks mentioned.