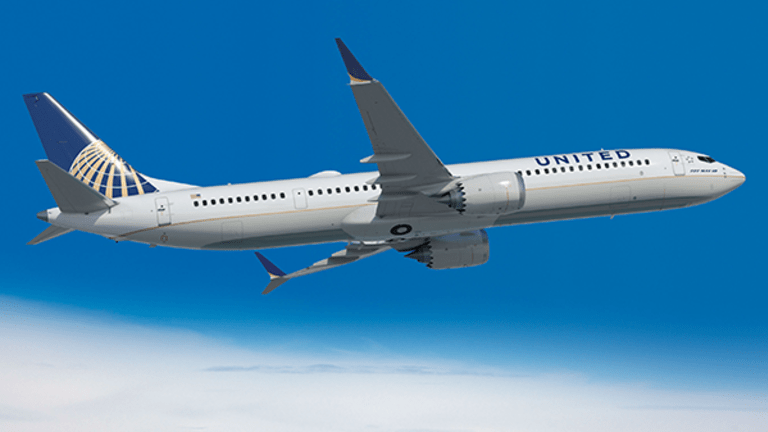 United Jumps on Boeing MAX 10 Bandwagon While Delta Takes More Airbus A321s
In the Paris Air Show battle between the Boeing MAX 10 and the Delta A321, United and Delta made opposing picks.
United Continental Holdings Inc.  (UAL) - Get Report and Delta Air Lines Inc.  (DAL) - Get Report  jumped into the order game at the Paris Air Show, with United suddenly becoming the biggest customer for Boeing Co.'s (BA) - Get Report MAX 10 aircraft.
Delta announced Tuesday at 8:33 a.m. ET that it will add 10 aircraft to its existing order for Airbus A321s. Ten minutes later, United said it will convert 100 of its current MAX orders to MAX 10 orders.
The announcements came suddenly, but they were not total surprises. Both carriers have said they were considering aircraft acquisitions.
On Tuesday, the two picked different entries in the competition that so far has been the focus of the Paris Air Show, as Boeing introduced the MAX 10 specifically to compete with the A321.
Speaking at American Airlines' annual meeting last week, CEO Doug Parker noted that American's average mainline fleet age is far lower than the average age at its three primary competitors.
At the end of 2017, Parker said, the average age of American's mainline fleet will be 10 years. That compares with 16.7 years at Delta, 14.4 years at United and 10.4 years at Southwest Airlines Co.
Southwest is an all-Boeing airline. Perhaps it will have something to say before the air show is over.
United said it has flown nearly every version of the 737 that Boeing has produced. The carrier expects to begin taking delivery of the MAX 10 in late 2020.
"The 737 MAX 10 will enable us to continue using larger and more efficient aircraft within our domestic network and better meet the needs of our customers today and into the future," said Andrew Levy, chief financial officer, in a prepared statement.
United also said it will also take four additional 777-300 ER aircraft. It has now ordered 18 777-300 ERs and began taking delivery last year.
Thanks to United, Boeing said, "The 737 MAX is the fastest-selling airplane in Boeing history."
As for the competitors, Delta said the 10 additional A321s will bring the total number of A321s on order to 122. That it has agreed to add 10 aircraft to Delta's existing order for Airbus A321s.
"The A321 is fast becoming a favorite aircraft of our customers and employees alike," said Greg May, Delta senior vice president, in a prepared statement.
Chief Airbus salesman John Leahy said the manufacturer is "most gratified" with the expanded Delta order.
It should be, particularly given the opportunity to take a slight bit of the shine off the United announcement.
United's shares fell 1.7% to $77.27 by Tuesday's close.
This article is commentary by an independent contributor. At the time of publication, the author held no positions in the stocks mentioned.