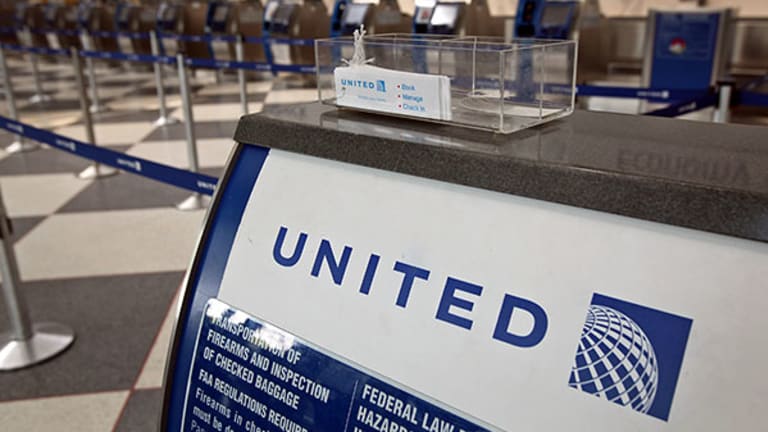 United Airlines Might Be Having an Identity Crisis That Is Worrying Wall Street
Shares of United have fallen 25% in two months and the airline's fare war with Spirit is blamed for undercutting industry pricing.
Story was updated at 10:03 a.m. to include share price and newly issued analyst report. 
Wall Street may be tiring of the hopeful turnaround story for United Continental Holdings Inc. (UAL) - Get Free Report .
United has been raising hopes ever since it emerged from bankruptcy in 2006 and merged with Continental in 2010. Over the next five years, on earnings call after earnings call, CEO Jeff Smisek and his team said results were insufficient and would soon improve.
Smisek left in 2015. Since then, Wall Street has been tantalized by the combination of empathetic labor relations pro Oscar Munoz as CEO and combative network genius Scott Kirby as president.
In 2016, United shares rose 27%, third best among the eight large airline stocks. Shares are up 27% since Kirby signed on in August 2016.
But recently, perceptions have seemed to alter. Since July 7, when it reached an all-time high, the Standard & Poor's Airline Index is down 16%. Over the same period, United shares are down 25%.
United shares closed Friday at $59.80, down 18% year to date, third-worst among the eight large airlines. Only Southwest Airlines Co. (LUV) - Get Free Report has a gain -- its shares are up 10%.
On Monday, Buckingham Research analyst Dan McKenzie downgraded shares to neutral from buy, citing Pacific weakness and planned capacity expansion with 50-seat aircraft. In Monday morning trading, shares fell about 2%.
During an investor presentation on Sept. 6, United Chief Financial Officer Andrew Levy reiterated United's commitment to lead peers in margin by 2020.
But Levy also disclosed that United had cut its third-quarter unit revenue guide from flat to between negative 2% and negative 5%. He attributed about a third of the decline to the impact of Hurricane Harvey. The rest reflected competitive battles, primarily with ultra-low cost competitor Spirit Airlines Co. (SAVE) - Get Free Report .
Most analysts say United's fare war with Spirit has been at the heart of the recent decline in airline share prices.
That decline intensified following the Spirit earnings call on July 27, when the carrier said it had felt an impact from falling ticket prices, particularly in United markets, possibly as retaliation for Spirit price-cutting at Newark International Airport.
Spirit may have irritated United with its pricing, but aviation consultant Kevin Healy, president of Campbell-Hill Aviation Group, said United instigated the fare war.
"While Spirit, or any ULCC for that matter, can be a thorn in the side of network carriers, they can't unilaterally declare or start a fare war," Healy said. "It's somewhat like 'The Mouse that Roared.'"
In a report issued Sept. 5, the day before Levy's presentation, Evercore analyst Duane Pfennigwerth said United appears to be having "an identity crisis.
"Every US carrier has a unit cost advantage to United, the consistently highest cost carrier," Pfennigwerth wrote. "The highest cost carrier sustaining fare wars is a very strange way to set the table for margin expansion into '18."
Pfennigwerth cut his 2017 earnings estimates and price targets for seven carriers. For United, he cut his price target to $62 from $83.
"We still believe the biggest change to the backdrop this year was United's higher growth rate," he wrote. "More aggressive domestic capacity growth this summer plus more aggressive roll-out of basic economy (which caused it to start losing share to American Airlines Group Inc. (AAL) - Get Free Report ) likely had a significant influence on the revenue environment.
Along the way, Spirit got punched and now it is punching back (focused on higher loads over higher yields going forward)," he said. "American has joined the fray and Southwest is admitting it can't ignore lower walk-up pricing in markets like Chicago.
"The problem with hammering down close-in fares is that it spreads," Pfennigwerth said. "When a large carrier actively lowers walk-up fares in a set of markets, other large competitors in those markets are forced to match because it immediately impacts their volumes/load factors."
On Friday, JPMorgan analyst Jamie Baker downgraded American, United and Spirit to neutral from overweight, saying consensus forecasts are unachievable given weak domestic pricing impending fourth-quarter disappointments.
Also Friday, Morgan Stanley analyst Rajeev Lalwani said he polled investors during the previous week on their preferred legacy airline into year-end.
Delta Air Lines Inc. (DAL) - Get Free Report was the favorite with 55%, Lalwani said, while American scored 45%.
"United was out of favor entirely," Lalwani wrote. "United was the least picked name and had no interest, though responders indicated that an eventual turn in the competitive environment would likely push shares higher due to recent weakness."
More of What's Trending on TheStreet:
This article is commentary by an independent contributor. At the time of publication, the author held no positions in the stocks mentioned.