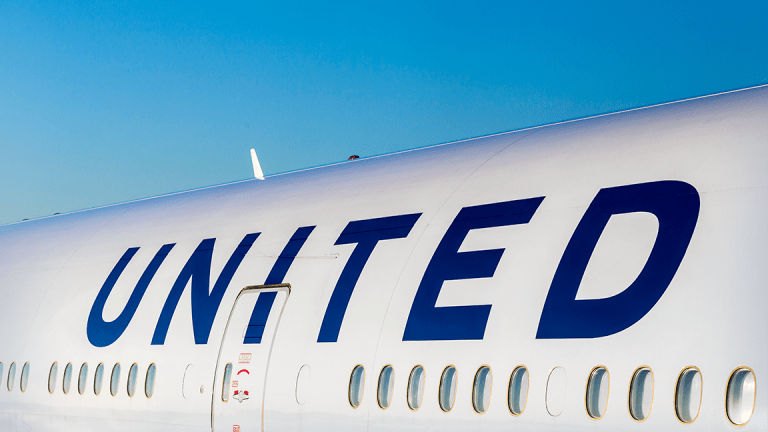 United Airlines Tumbles as Analysts Grill Executives on Earnings Call
United Airlines guides toward fourth-quarter unit revenue that is down slightly due to the December holiday traffic shift.
United Continental Holdings Inc. (UAL) - Get United Airlines Holdings, Inc. Report shares fell Thursday following an earnings call where analysts grew increasingly harsh as they questioned management projections for improved performance.
In early afternoon trading United shares were down nearly 12%.
At an investor day presentation in November 2016, United targeted earnings improvements of about $1 billion in 2017 and about $2 billion in 2018.
But during the call, CEO Oscar Munoz told analysts, "I cannot fully express to you how much in the middle of things we are."
When Citi analyst Kevin Crissey asked whether analysts should reset expectations or whether management could "give us an opportunity to come up with more specifics on how these initiatives are going to play out," President Scott Kirby responded, "We feel pretty good" about most of the initiatives. 
But work remains on the cost side and headwinds lead by hurricanes - which severely impacted United's second largest hub in Houston - remain, Kirby said. Also, the Pacific, where United is by far the leading U.S. carrier, has been hurt by weakness in China, Hong Kong and Guam. Pacific unit revenue declined 10.4% in the third quarter.
Later, Barclays analyst Brandon Oglenski grilled Munoz.
The investor day presentation means "you are drawing a focus," Oglenski said. "Shouldn't we be focused on it?
"Absolute earnings are down more than competitors', relative margin gaps are widening not narrowing [and] the stock is down 20 to 25% vs market his year," he said.
"What happened this year that we didn't anticipate?" Oglenski asked. "What is going to drive positive change for shareholders? Can you commit to higher margins [in 2018]?"
He also questioned whether United capacity expansion has been dilutive to earnings.
Munoz responded, "It's hard to prove to you how well some of our initiatives are working. The headwinds have been consistent.
"We are committed to the things we said [but] in this interim period we are having difficulty explaining this to you - We will make sure we regain the trust."
United has said it needs to expand capacity to reclaim its natural market share in its hubs. That is not dilutive, Munoz said. But the carrier "got ourselves in a hole from a competitive perspective" and now it is making moves that will create the potential for margin and unit revenue expansion.
United, which reported earnings after the market closed on Wednesday, guided toward fourth-quarter passenger revenue per available seat mile between negative 3% and negative 1%.
October and November unit revenue would be approximately flat, while December unit revenue would decline due to a holiday calendar shift.
That is "good enough," wrote JPMorgan analyst Jamie Baker in a note, while Buckingham Research analyst Dan McKenzie said the guidance is "OK All Things Considered" and Bernstein analyst David Vernon said "PRASM watchers will breathe a sigh of relief as the company guided to a higher than expected unit revenue outlook."
Baker wrote, ""UAL afforded a 4Q guide that -- while falling short of sell-side consensus -- appears to have all-but-nailed buy-side expectations.
"We see nothing in United's result or guidance that should diminish recently improved investor sentiment, which appears to have stalled somewhat following results from Delta," he said. Last week, Delta Air Lines Inc. (DAL) - Get Delta Air Lines, Inc. Report guided toward fourth-quarter PRASM between 2% and 4%.
McKenzie said the revenue outlook "is slightly better than what investors were looking for and is encouraging in the context of a fall in leisure demand out of Japan/Guam; a lingering demand impact from three hurricanes, and in the context of elevated capacity in UAL's markets," along with tougher competition from ultra-low-cost carriers and tougher comparisons in Latin America.
Latin American provided the only positive PRASM in the third quarter, up 3.5%.
Domestic was down 4.4%. Pacific was down 10.4%. Atlantic was down 0.4%. Overall PRASM declined 3.7%.
Still, United beat earnings estimates, with third-quarter net income of $637 million on revenue of $9.9 billion. After adjustments, United earned $2.22 a share, better than the consensus estimate of $2.16.
United said it cancelled 8,300 flights in the third quarter due to hurricanes, reducing pretax income by an estimated $185 million.
This story has been updated from 8:25 a.m. ET.
More of What's Trending on TheStreet:
This article is commentary by an independent contributor. At the time of publication, the author held no positions in the stocks mentioned.