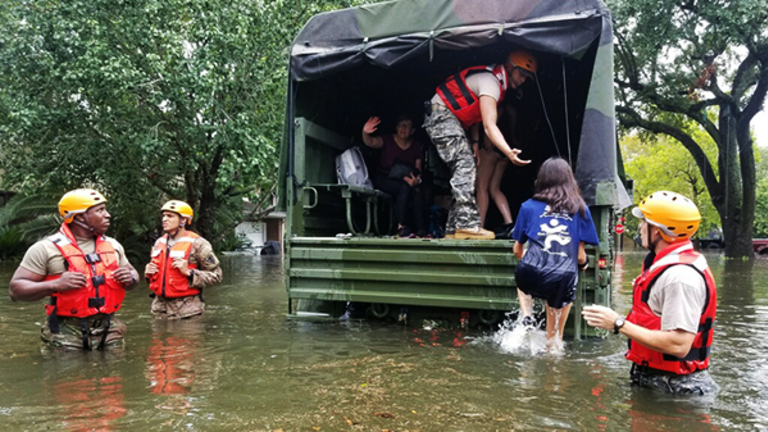 Houston's Airports Will Stay Closed At Least Until Wednesday Thanks to Harvey
United Airlines had hoped to resume Houston flying on Monday.
United Airlines had hoped to resume Houston flying on Monday.
Airlines likely won't be able to resume flying into Houston until Wednesday at the earliest.
The Federal Aviation Administration said Monday that George Bush International Airport and Houston Hobby Airport are expected to stay closed at least until Wednesday due to
.
"Although Harvey has weakened from a hurricane to a tropical storm, it continues to dump rain from southeast Texas to Louisiana," the FAA said in a traffic report issued Monday morning.
 "Airports in are expected to stay closed to the public until Wednesday, and traffic management initiatives are likely at high altitudes for flights in the wider region," the agency said.
In another posting, FAA said George Bush International is expected to reopen at noon Thursday while Hobby is expected to reopen at 8 a.m. Wednesday.
United Continental Holdings Inc.
(UAL) - Get Report
had hoped to resume flying at Houston's George Bush Intercontinental Airport on Monday evening.
Hurricane Harvey, which made landfall late Friday, has lingered over the area, creating devastating floods in Houston and the surrounding area.
Spokesman Charles Hobart said United flew some aircraft into Houston on Sunday, bringing in employees and supplies. He could not specify the exact number of aircraft on the ground in Houston.
Hobart stressed that once flights resume, customers should check their flight status online before going to the airport. "We don't want people coming to the airport and getting stuck there," he said.
Can Houston Airports Open Monday? 'Don't Bet On It,' Top Expert Says
Normally United operates a hub with 483 daily departures including 218 mainline departures at Houston's George Bush Intercontinental Airport.
On Sunday, the FAA closed Bush Intercontinental to all commercial flying.
At Houston Hobby Airport, primary operator Southwest Airlines Co. (LUV) - Get Report said it has suspended flights. Southwest offers 152 daily departures from Houston Hobby.
Travel writer Joe Brancatelli said Monday, "The Hobby situation is worse, obviously, since they have runways under water."
Both carriers said they have implemented travel waiver programs that offer customers flexibility in changing flights for Houston and nearby airports.
Aviation consultant Bob Mann said the airports may be able to open by the Federal Aviation Administration definition "but not as a practical airline matter if airport staff can't get to work.
"Not to mention if customers can't get to the airport, what's the point?" Mann said.
More of What's Trending on TheStreet:
This article is commentary by an independent contributor. At the time of publication, the author held no positions in the stocks mentioned.