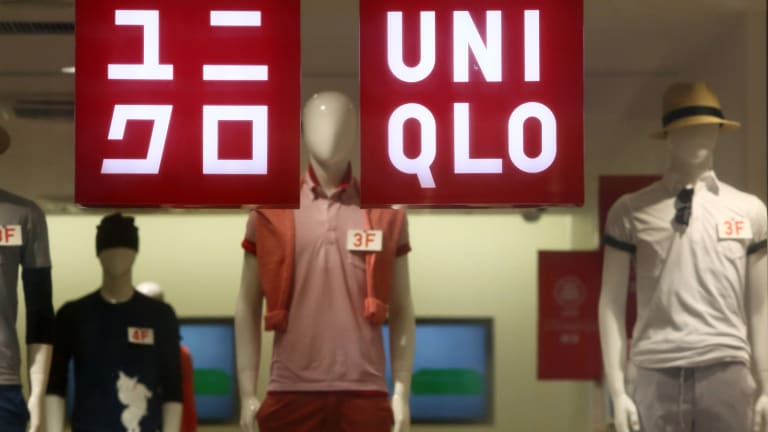 Uniqlo, H&M, Zara, Forever 21 Take Over Malls as Retail's Old Guard Fades
The old guard of apparel retailers in the nation's malls is disappearing. In their place come fast-fashion companies selling cheaply made goods at unbeatable prices.
 NEW YORK (TheStreet) -- Where there had been death, life has started to emerge -- that is, in the nation's malls.
The old guard of mall-based apparel retailers -- stalwarts such as Macy's (M) - Get Macy's Inc Report, J.C. Penney (JCP) - Get J. C. Penney Company, Inc. Report, Abercrombie & Fitch (ANF) - Get Abercrombie & Fitch Co. Class A Report and numerous others -- continue to close up brick-and-mortar stores, hoping to appease shareholders by running more profitable businesses in the era of digital shopping. Store closure announcements for this year have been staggering, some five years after the Great Recession pushed major retailers to shutter hundreds of locations.The old guard of apparel retailers in the nation's malls is disappearing. In their place come fast-fashion companies selling cheaply made goods at unbeatable prices.
By early spring, 14 Macy's locations while have gone dark this year, while struggling fellow mall anchor J.C. Penney expects to close 40 stores by the end of 2015. Beleaguered teen apparel retailerAeropostale (ARO)  will vacate close to 75 stores, and at troubled competitor Abercrombie & Fitch, the total will be about 60. For its part, Gap (GPS) - Get Gap, Inc. (GPS) Report continues to prune its U.S. store base, mostly closing outlets of its namesake brand, but also certain Banana Republic sites. The company has not outlined specific store closure numbers for this year.
But in many instances, the spaces being vacated by the apparel retail champions of yesteryear aren't staying empty for long. Depending on the attractiveness of the malls in question, those sites are being retrofitted to welcome the likes of Uniqlo, H&M, Zara and Forever 21, retailers known for their affordable fashions and ever-changing floorsets each month. And this year is already shaping up to be another one where the changing of the guard in apparel retailing is evident.
On Monday Uniqlo, an apparel chain owned by Japanese-based Fast Retailing, announced it was entering two new markets -- one in the Washington, D.C., metro area and the other in Washington state. Uniqlo also disclosed plans for its first store in Colorado. The Washington store will open this fall, and the other two in the spring/summer of 2016.
Uniqlo, which is known for its $49 lightweight down jackets and sharply priced colorful socks, currently has 39 stores in the U.S. The Washington store will open in Bellevue Square Mall in a 13,000-square-foot site formerly occupied by a J.C. Penney. "We are expanding more by city than within a city because we feel we can be a showroom for tourists and a broader audience," said Uniqlo USA CEO Larry Meyer. Meyer declined to say if future stores would open in former Macy's, Sears (SHLD)  or J.C. Penney locations.
Recently, the company debuted its Shochiku Kabuki apparel line, based on a traditional Japanese performance art form. The eclectic clothing for men and women is chock full of bright, Japanese-inspired graphics, and offers a point of differentiation from competing fast-fashion retailers that tend to focus on less risky collections with top designers. One thing deliberately absent from Uniqlo's clothing are logos.
"Our clothes don't have logos because we feel you're the star," explained Meyer. Abercrombie & Fitch has finally gotten that memo, spending much of 2014 reducing the number of apparel items featuring its moose logo as it has fallen out of favor with teens.
Consumers, however, may not be fully embracing Uniqlo's more aggressive-looking apparel collections. "Uniqlo USA's overall performance fell short of our expectations, with operating losses expanding in the first half of fiscal 2015," noted the company in its six-month performance press release Thursday. Execs blamed sluggish sales of clothing during the fall and winter months for taking a bite out of profit margins, as well as costs related to new store openings. Uniqlo's performance in its first quarter, which ended Nov. 30, also "fell short of plan," according to the company.
Meanwhile, H&M, Zara, and Forever 21 continue to plow ahead alongside Uniqlo in opening new stores in the U.S.
H&M, which arguably put the fast-fashion apparel craze on the map, opened its first U.S. store in 2000 and has since increased that number to 364. The U.S. is H&M's second-largest market behind Germany, where it has 439 stores. The retailer opened eight stores in the U.S. in the first quarter, and sales have surged 28% in local currency. Of its targeted 400 store openings for its 2014-2015 reporting period, H&M says most will be in China and the U.S.
One of those stores will be a 5,700-square-foot site in the New York City tourist destination of Herald Square, pitting the foreign retailer's flashy new store against Macy's nearby flagship location. 
Zara, owned by Spanish-based retailer Inditex, has 53 stores in the U.S., and will set up shop at 12 more this year. The company does not break out its sales for the U.S., and could not be reached for comment. Forever 21 has an ambitious goal to become an $8 billion company and open 600 stores by 2017. The fast-fashion retailer currently has 478 U.S. stores.
Forever 21 declined to comment for this story.
This article is commentary by an independent contributor. At the time of publication, the author held no positions in the stocks mentioned.