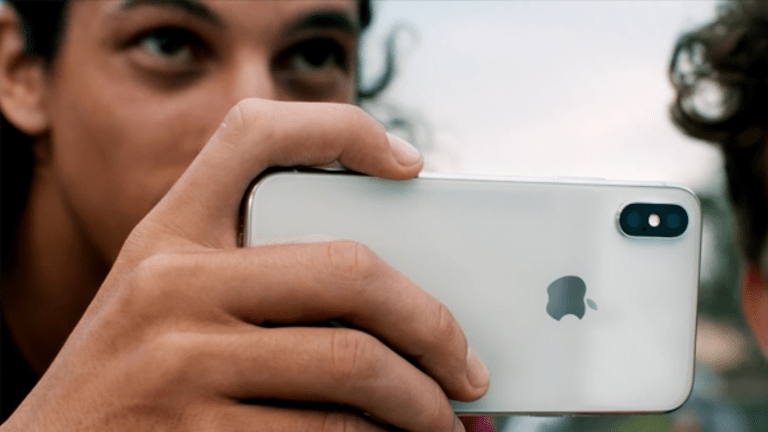 Apple's iPhone X Is So Lame That I See No Reason NOT to Hate the Stock
I see little in Apple's newest iPhone that peers don't already offer, which means its sales could disappoint relative to optimistic expectations.
"I gotta feeling (ooooo hoooo) that tonight's gonna be a good night
That tonight's gonna be a good night
That tonight's gonna be a good, good night...
Go out and smash it (smash it)
Like Oh My God (like Oh My God)
Jump off that sofa (c'mon)
Let's get get off...
Fill up my cup (drink)
Mazel Tov (l'chaim)
Look at her dancing (move it, move it)
Just take it off...
Let's paint the town (paint the town)
We'll shut it down (shut it down)
Let's burn the roof
And then we'll do it again."
--Black Eyed Peas, "I Gotta Feeling"
For Apple Inc. (AAPL) and its iPhone X launch, it was not quite as exciting. The shares slipped by more than $1 after making an all-time high in an initial knee-jerk response to the iPhone X product launch, the introduction of the Series 3 watch that will support cellular connectivity, and the 4K Apple TV. (Apple is a part of Jim Cramer's Action Alerts PLUS charitable trust.)
Apple continues to deliver an expensive smartphone relative to its peers, with many features that are already available from its competition and most of which were anticipated, including face recognition, a full-screen interface and no home button.
The only exception to reality versus anticipation was the later-than-expected availability, which is toward the end of the year (orders will be accepted on Oct. 27 and deliveries are slated for Nov. 3). As a result, analysts could take 3 million to 4 million iPhones out of their December quarter projections and reduce full-year 2018 estimates by about $0.40 a share.
However, the new Apple phone will provide an animated poop emoji so you can talk crap to your friends.
The starting price for the 64GB model of the iPhone X is $999 and $1,149 for the 256GB model. The Apple smartphone continues to be a high-priced aspirational product accompanied by a remarkably effective marketing effort that is stretching its status symbol appeal. However, I see little incremental to the latest product offerings, leaving room for disappointment relative to optimistic expectations. (It is why I initiated an Apple put position yesterday morning and added to that position when the stock was up $2 early in the afternoon).
The expectations of an Apple replacement super-cycle accompanied by higher unit volumes and much higher average selling prices, leading to expectations of a "hockey stick" of earnings growth in the coming fiscal year coupled with a general confidence in sustainable growth from there, have spurred a rise of more than 50% in Apple's one-year forward price/earnings multiple in the last 1 1/2 years.
I clearly have underestimated the strength of and the confidence in the Apple franchise over the last year. Recognition of this has led me to maintain more of a trading-oriented short position, whereas years ago I had more of an investment short position, which proved successful. Nevertheless, I continue to believe that these aggressive "going forward" expectations for Apple and the company's current valuation remain too ambitious.
Bottom Line
Yesterday was a good day, indeed ... for many of us.
(This article originally appeared at 10:30 a.m. ET Sept. 13 on Real Money, our premium site for active traders. Click here to get great columns like this from Jim Cramer, Doug Kass and other writers even earlier in the trading day.) 
More of What's Trending on TheStreet:
At the time of publication, Kass was long DDS, JWN and AAPL puts and short AAPL shares.