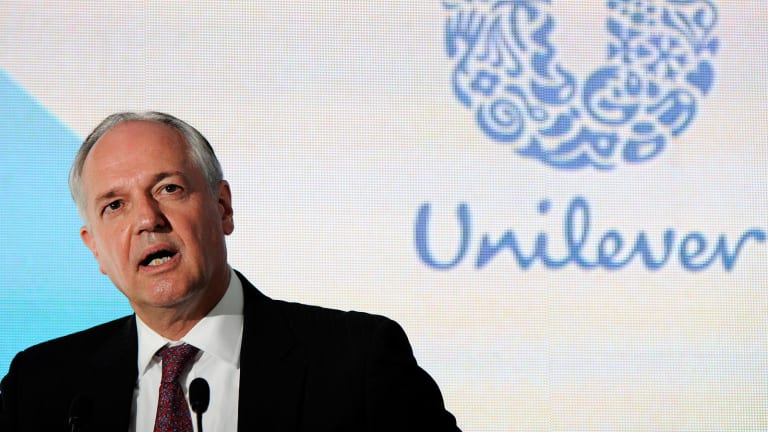 Unilever Set to Change Compensation Structure to Instil Owner's Mindset
Unilever has proposed to change the way executives and directors are paid in a bid to make them act more like owners of the business.
Unilever (UL) - Get Unilever Plc Report has proposed to change the way executives and directors are paid in a bid to make them act more like owners of the business.
The changes will put a greater emphasis on long-term employee stock ownership, Unilever said in its 2016 annual report released late Tuesday, and will be voted on at the company's annual shareholder meeting in April.
The proposals come after a tumultuous week and a half for the Anglo-Dutch consumer goods giant, which rebuffed a $143 billion takeover offer from Kraft Heinz (KHC) - Get Kraft Heinz Company Report  on Feb. 17 and announced a strategic review of its business on Feb. 22.
"Unilever is conducting a comprehensive review of options available to accelerate delivery of value for the benefit of our shareholders," Unilever said last week.
In its annual letter to shareholders the compensation committee said that during the year it undertook an extensive review of the company's reward framework.
The committee said that part of the purpose of the review was to increase shareholding levels throughout management population and align performance with the strategy of the company.
"Through these initiatives we will encourage all our employees fully to adopt an owner's mindset with the goal of achieving our growth ambition, so they can continuously reinvest and share in the future long-term success of Unilever," committee chairwoman Ann Fudge wrote.
Under the proposed new structure CEO Paul Polman will have to increase his shareholding requirement to five times his salary and CFO Graeme Pitkethly will be required to shares worth four times his salary.
Polman will have a base salary of £1.01 million ($1.25 million) in 2017, making his shareholding requirements will be £5.05 million and Pitkethly will see his pay increase 5% to £656,250 and shareholdings of £2.625 million.
In 2016, Polman's total compensation was €8.37 million ($8.24 million) and Pitkethly walked away with €2.08 million.
The reward program will be changed for the senior leadership team below board level, specifically Unilever Leadership Executive and the 'Top 500' managers.
Managers will be encouraged to invest a proportion of their annual bonuses in Unilever shares through the new compensation regime, and will be able to invest their whole bonus. There will also be changes to how executive directors are paid.
Unilever shares were up 0.58% at 09:30 GMT to 3,838 pence each, extending a 24% gain over the past three months.
The company in its compensation report however said that total shareholder return had not been met. "Total shareholder return over the three-year period was in the middle third of the peer group just below the threshold for minimum vesting," the company said.
The compensation committee is comprised of chairwoman Fudge, Vittorio Calao, Michael Treschow, Marijn Dekkers, Nils Andersen and Strive Masiyawa.
According to BoardEx data, a business unit of TheStreet (TST) - Get TheStreet, Inc. Report , chairwoman Fudge a former senior executive at Mondelez (MDLZ) - Get Mondelez International, Inc. Class A Report . Andersen, the ousted CEO of Danish shipping group AP Moeller Maersk, also sits on the board of BP pl (BP) - Get BP Plc Report and was a former independent director Zara-owner Inditex (IDEXY) .
Dekkers, the chairman of Unilever, is also an independent director on the General Electric (GE) - Get General Electric Company Report board.