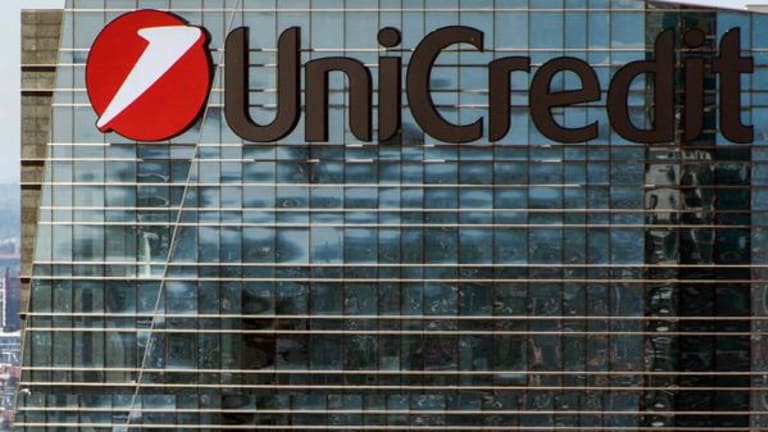 UniCredit Rocked by Warning to Bondholders, Faces Race Against the Clock
The Italian lender must tie up the sale of Pioneer and get its rights issue done inside the first quarter to ensure bondholders get paid.
UniCredit (UNCFF) stock was hit Thursday after the company warned investors it faces a race against the clock if it is to ensure that certain bondholders get paid at the end of the first quarter.
Italy's largest bank said that bad loan provisions and restructuring charges it expects to book for the fourth quarter of 2016 will hit its common equity tier 1 capital ratio. According to its statement, UniCredit's CET1 may fall below the threshold required by the European Central Bank and, without remedial action, will prevent the lender from making an AT1 (Co-Co) coupon payment that falls due around the end of March.
In order to avoid a so-called "available distributable items restriction," the bank must complete the pending sale of Pioneer Asset Management and carry out its planned €13 billion ($13.8 billion) rights issue before the end of the first quarter.
While the restriction does not mean a conversion of the bonds into equity, a missed coupon could see the lender penalized with demands for higher borrowing costs in the AT1 market in future, and was never going to be welcomed by shareholders.
UniCredit stock fell by just more than 2% after the opening bell, to trade as low as €2.57, before paring losses to around €2.60 each. 
Italy's only bank deemed to be globally systemically important, UniCredit, has agreed the sale of multiple assets in recent months raising close to €5 billion.
It brought a drawn out strategic review process to a close in December when it announced a blockbuster set of actions designed to clean up and strengthen its balance sheet.
The bank took around €13 billion of charges relating to loan write offs and employee redundancies. It also said it will flog a majority stake in a €17 billion loan portfolio to institutional investors and that it will raise more than €13 billion by selling new shares.
The announcements came during a high stakes period for the Italian financial sector as the chronic bailout case, Monte dei Paschi (BMDPY) , raced to secure its vaunted rescue before an ECB deadline set for the end of December. That attempt at salvation failed and the Tuscan lender is currently in the process of being bailed out by the Italian government.