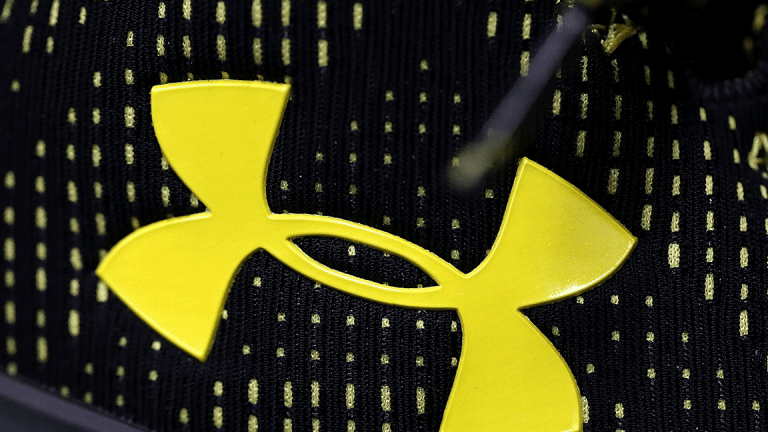 Publish date:
Under Armour Is Tripped Up by Concerns Over North American Sales
Wall Street is worried about growth in the company's North America business segment.
Wall Street is worried about growth in the company's North America business segment.
Under Armour Inc. (UAA) - Get Report shares were down more than 10% Wednesday as the company kicked off its annual investor day amid worries about the company's future growth prospects and softness in the sports apparel maker's North America segment. 
Under Armour has been one of the stock market's success stories this year, jumping more than 70% over the past 12 months, but Nomura Instinet analyst Simeon Siegel told CNBC that the firm was bearish on the company's prospects in the North American market. 
Siegel believes the company's apparel segment, which has been key to its domestic growth, "may have capped," CNBC reported.
The company has been signaling that Nomura's estimation is correct after saying earlier this year that it expects revenue to rise between 3% and 4% this year even as sales in the U.S. fall. 
Nomura isn't the only firm worried about growth. On Tuesday, Canaccord Genuity's Camilo Lyon reiterated his "sell" rating on the stock saying, "Investor expectations already appear elevated, suggesting the company will rapidly return to high single-digit earnings before interest and taxes margins on high single-to-low double-digit revenue growth over the outlook period." He added that he has "serious doubts about ... how Under Armour will get there."
Separately, The Wall Street Journal reported earlier this week that two of Under Armour's marketing executives left the company amid an internal review of its corporate spending practices. 
Ryan Kuehl, senior vice president of global sports marketing, and Walker Jones, senior director of sports marketing, have departed the company, according to Journal sources.