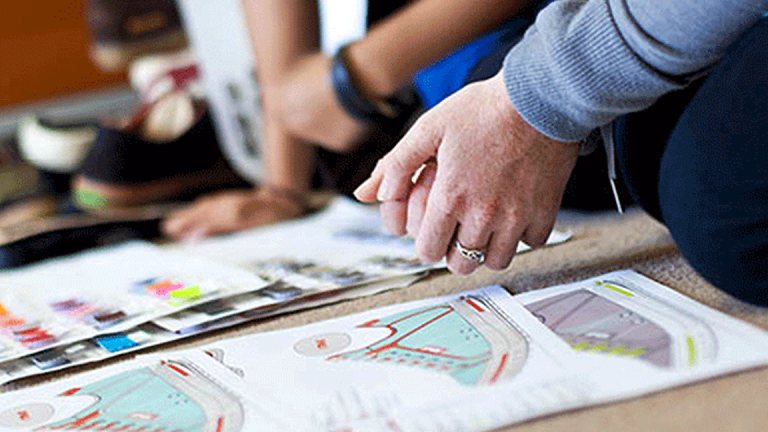 UGG Bootsmaker Says It Can't Find A Buyer
Deckers Outdoor said it contacted 90 potential buyers but was not able to find a buyer.
Deckers Outdoor Corp. (DECK) - Get Report said Thursday that it had contacted 90 potential buyers but was not able to find an acquirer, bringing to close a strategic review that was launched  as the UGG bootsmaker faces a change-of-control proxy fight instigated by Marcato Capital's Mick McGuire.
Deckers share price dropped about 1% in afterhours to $69.50 a share on the news of the failed auction process. The company sought to limit the negative fallout on shares by announcing a $400 million stock repurchase program.
The conclusion of a strategic review comes as McGuire on Sept. 13 escalated an ongoing battle with Deckers by seeking total control of the company's board in a move that he had hoped would drive a serious auction process. However, speaking on CNBC on Oct. 5, McGuire appeared to downplay the possibility that the whole business could be sold by suggesting that the company should consider spinning off smaller brands if it isn't successful at selling the entire business.
"Even in the absence of a sale of the overall business, we see a lot of opportunity to create a lot of shareholder value by focusing on their core UGG business, maximizing the profit margins and ... using the proceeds from exiting some of their non-core businesses and improving the profitability of the core UGG business to return capital to shareholders," McGuire said.
Marcato Capital Files Suit Over UGG Maker's 'Poison Put'
The UGG brand makes up the largest chunk of Deckers Outdoor's revenue, but the company has other footwear brands, including Teva, Hoka and Sanuk, which could be sold or spun off so the company could focus on the UGG brand. Nevertheless, Deckers CEO David Powers appeared to suggest that Deckers may not be thinking about spinning off or selling its secondary brands any time soon.
In response to a an analyst question about whether the business would consider a sale or spin off of these brands, Powers said that the company is focused on its existing plan. "The board and management feel like the best plan is to double down on the plan we have in front of us we think that will return the most shareholder value over the next few years," he said. "The process evaluated all options and ultimately did not result in a sale of the company."
Greenlight's Einhorn Says Tesla Shares 'Deserve Much Worse'
Powers comments and the conclusion of the company's sales effort are unlikely to appease McGuire or end a bitterly fought proxy fight, which is set to come to a conclusion Dec. 14. McGuire on Monday filed a lawsuit in Delaware Chancery Court seeking to block Deckers from unleashing a so-called poison put that requires more than $100 million of liabilities to come due if the company approved the activist fund's majority slate of director candidates.
Marcato points to Deckers' calculations that any move to trigger a change-in-control provision would result in millions of dollars in accelerated equity awards and deferred compensation payments to executives. In addition, Marcato also argued in its lawsuit that Deckers, as of Sept. 30, owes roughly $103 million under an amended credit agreement that would come due upon a change in control of the board. The poison put, the activists argue, is part of a corporate strategy to discourage investors from backing Marcato's slate of director candidates. 
In addition, companies often launch stock buyback plans when faced with activists, in hopes that the capital distributions will encourage long-term institutions to back the company-backed director candidates rather than the activist slate.
Deckers reported $49.6 million in net income, or $1.54 a share, in the quarter, up from $39.3 million and $1.21 a share in the same period last year. A consensus of analysts polled by FactSet had expected the company to earn $1.18 a share in the quarter.
More of What's Trending on TheStreet:
America's Love for Pumpkins by the Numbers: Video