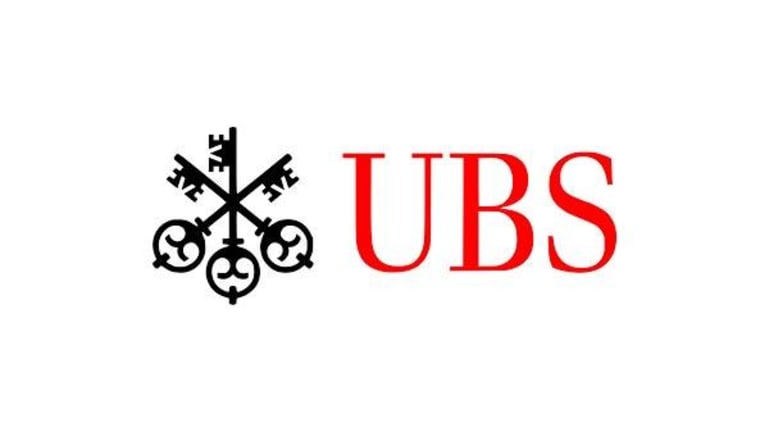 UBS Warns on Outlook as Net Falls After Charges
Profit at the bank beat forecasts by several measures but bottom-line earnings disappointed.
 Swiss lender UBS ( (UBS) posted a mixed set of quarterly earnings on Friday and warned of challenges ahead.
The lender, which had comfortably beat forecasts in the previous quarter, said third-quarter adjusted pretax profit rose by 33% to Sfr1.3 billion ($1.3 billion), above the consensus forecast of Sfr1.16 billion as compiled by Factset. Reported pretax profit rose by 11% to Sfr877 million, above a consensus for Sfr837.8 million. However, net profit fell more than expected to Sfr827 million from Sfr2.07 billion a year earlier, when results were flattered by a tax benefit, as regulatory costs came in higher than anticipated and the bank took Sfr419 million in provisions for litigation and other matters.
Star performers in the third quarter included the institution's Wealth Management Americas business and its personal and corporate banking unit. But investment banking profit almost halved to Sfr342 million as higher advisory revenues failed to compensate for lower equity and debt markets business.
The bank said macroeconomic uncertainty and geopolitical tensions are tempering clients' appetite for transactions, and noted that lower than expected, and even negative, rates present "headwinds." It sees no let-up in these areas and said tougher regulatory capital standards will increase its costs.
"We delivered a strong performance across our businesses, despite seasonality and continued macroeconomic, geopolitical and market headwinds. Our strong position allows us to focus on helping our clients navigate the current environment. We will continue to execute with discipline and manage risk and resources prudently," said UBS CEO Sergio Ermotti in a statement.
The bank said its common equity Tier One capital ratio was down to 14% as of Sept. 30 from 14.3% a year ago. Its adjusted return on tangible equity fell to 10.1% from 19.5%. It recently scrapped a firm  target to achieve 15% but maintains that as an aspiration. The bank said it had achieved Sfr1.5 billion in annualized cost savings in the third quarter, up from Sfr1.4 billion in the previous three months. It aims to slash Sfr2.1 billion in costs from the business by the end of next year.
Its shares closed up 1.7% in Zurich at Sfr13.93 on Thursday. The stock has fallen 26% in the past year, whereas rival Credit Suisse is down 39%.