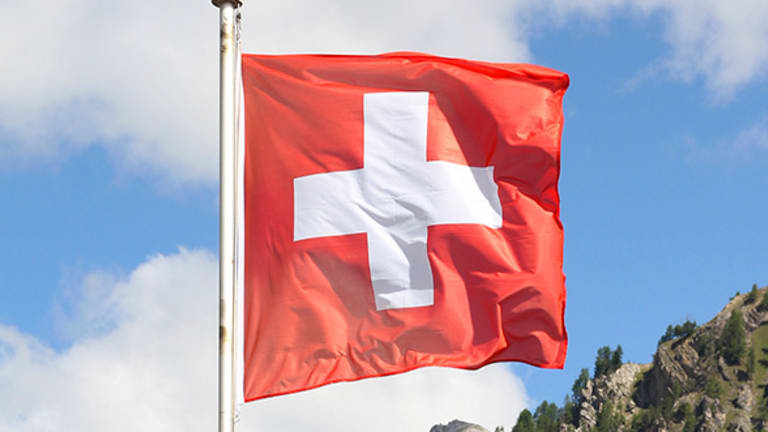 UBS Beats Quarterly Earnings Expectations, Warns on Outlook
The Swiss bank says it's on track with a program of cost cuts.
Swiss lender UBS (UBS) - Get Report  comfortably beat earnings expectations in the second quarter but warned of tough market conditions ahead.
UBS said net profit slipped to Sfr1.03 billion ($1.05 billion)  from Sfr1.2 billion a year earlier. The result easily beat the Sfr668 million average forecast of analysts polled by Bloomberg.
In the earnings bulletin, the bank made no mention of a surprise rescue proposal that struggling Italian lender Monte dei Paschi di Siena said it had received from the Swiss institution and one-time Intesa Sanpaolo chief and Italian industry minister Corrado Passera.
UBS said it cut another Sfr200 million of costs in the quarter, putting CEO Sergio Ermotti on track to cut Sfr2.1 billion of costs by the end of 2017. But it issued a gloomy prognosis about the banking outlook.
"Sustained market volatility, underlying macroeconomic uncertainty and heightened geopolitical tensions, exacerbated by the impact of the UK referendum vote to end EU membership, continued to contribute to client risk aversion and generally low transaction volumes. These conditions are unlikely to change in the foreseeable future," UBS said.
Lower-than-expected, and even negative, interest rates, and a strong Swiss franc are additional headwinds, as are changes to Swiss bank capital requirements, and pending changes to requirements globally, it warned.
The Swiss National Bank predicted in June that both UBS and Credit Suisse would need to raise Sfr10 billion of capital.
In the second quarter personal and corporate banking was UBS' best-performing division, reporting adjusted operating profit of Sfr463 million, up from Sfr414 million a year earlier.
Adjusted pretax profit in its wealth management division - on which UBS is pining its fortunes - fell to Sfr606 million from Sfr769 million a year earlier, though profit at UBS' Americas wealth management division rose to Sfr281 million from Sfr231 million. Adjusted pretax profit in UBS' investment banking unit fell to Sfr447 million from Sfr617 million.
The company achieved a tangible return on equity of 10.1% in the quarter, up from 8.5% the previous quarter. It earlier scrapped a target to achieve a 15% return in 2018 but still aspires to that goal eventually. UBS had a core Tier One equity ratio of 14.2% at the end of the quarter.
UBS shares were down SFr0.10 at Sfr13.56 in Zurich by late morning on Friday.